Gau's Father's House
Talk

2
13,959 pages on
this wiki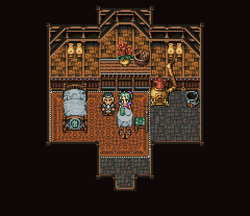 Gau's Father's House (ガウの親父の家, Gau no Oyaji no Ie?) is a location in Final Fantasy VI located north of the Veldt. Inside lives Gau's Father, who is insane. He always thinks that anyone who enters the house is the repairman and asks him or her to fix his appliances.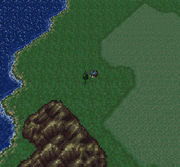 After falling off a raft on the Lethe River, Sabin washes ashore near here. Shadow is with Interceptor near the home, and offers to accompany Sabin to help him traverse the Imperial Camp to the south in order to get to Doma. There is a traveling merchant who stops by here on a chocobo.
If the player returns here in the World of Ruin with Sabin and Gau in the party, there is a scene where Sabin tells Gau he believes the man living here to be his father. The party then goes to Jidoor, where the party teaches Gau proper manners and dresses him in fine clothing before presenting him to his father. Gau's father recounts his twisted version of how he remembers Gau's birth, believing it to be a dream, but Gau is happy that his father is alive nonetheless.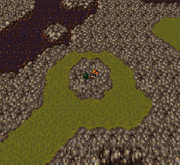 Monster Formations
Edit
World of Balance

Edit

Plains

Forest

World of Ruin

Edit

Barrens
The background theme that plays at Gau's Father Home is called "What?".