Gathering
Talk

0
13,964 pages on
this wiki
Relm

: I couldn't miss the chance to practice my drawing!
This article is in need of a few pictures. Perhaps you can help by

uploading

and adding a picture or two.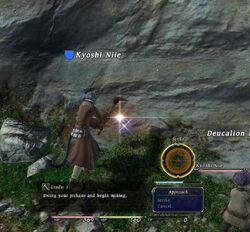 Gathering is an activity present on Final Fantasy XI and Final Fantasy XIV. In both games, players can find appropriate resource nodes and, using the correct tool, acquire materials and items generally used for Synthesis.
Final Fantasy XIEdit
See also: Fishing (Final Fantasy XI).

In Final Fantasy XI, players can level up the fishing craft, as well as partake in the harvesting, excavation, logging and mining hobbies. Additionally, it's possible to acquire items on the islands off the coast of Bibiki Bay via clamming, and dig buried treasure while riding a Chocobo.
Harvesting, Excavation, Logging, and Mining
Edit
Harvesting, excavation, logging, and mining are collectively referred to by players as HELMing, and are all done in a very similar manner. First, the player must acquire one or more (hopefully, a LOT more) of the appropriate implement necessary: a Sickle for harvesting, a Pickaxe for excavation and mining, or a Hatchet for logging. Next, the player must travel to the area where they wish to HELM. The type of gathering that can be done and the items available are entirely dependent on the area; only a couple at most such activities can be done in one area (such as logging and harvesting in Yuhtunga Jungle) and most areas cannot be HELMed at all. Then, the player must locate the appropriate type of targetable point; these spawn at random, only have a few spawned at one time, and do not appear on Wide Scan, but only spawn in a limited number of predetermined locations. Finally, the player must use the HELMing tool on the gathering point. This may or may not succeed in extracting a random material; the attempt may or may not break the tool whether it succeeds or fails; and upon success, the gathering point may or may not despawn and respawn somewhere else.
While HELMing, one's chances of success may be increased and chance of tool breaking decreased by acquiring certain items. The Field Tunica set (tunica, gloves, hose, and boots) gives enhanced chances of success when worn, but it has nearly nonexistent defense and offers no other stats. (The Worker's Tunica set is the high-quality version, and offers very slightly better defense.) The Field Torque likewise increases success but has no other stats. Certain key items sold by the Pioneer's Union in Western Adoulin--the Critical Chop, Critical Smash, and Critical Slice techniques--give a chance to obtain a higher quality result than normal with the appropriate HELMing tool, much like the gathering version of a Critical Hit. The Pioneer's Union also sells other key items--the Cherished Axe, Cherished Pick, and Cherished Sickle--that give a random chance to prevent a tool breaking. Chances of success are decreased by gathering fatigue, which builds up as the player gathers in the same zone.
Clamming requires players to play a simple minigame involving correctly guessing when to stop filling the clamming bucket. Each attempt costs gil. Wearing the swimsuits obtainable at during the Sunbreeze Festival seasonal event increases chances of success and lowers the chance of your bucket being swept out to sea in an 'incident'.
Chocobo Digging
Edit
In order to dig up items with a chocobo, one must be riding a chocobo, and have one Gysahl Greens for every dig attempt one wishes it to make. Chocobo digging does not require finding any sort of gathering point but chocobos can only be ridden in certain zones. One merely selects the dig command from one's character's context menu. Chocobo digging works more like fishing in that it has a skill associated with it (although digging skill total is hidden and nothing in the game even hints at it existing). Like fishing, chocobo digging skill lowers delay allowed between attempts (which is the only way that it can be measured at all). Also like fishing, there is a (completely hidden, and unhinted-at) 'pool' of items (different for each zone) that can be gathered at any given time that is shared by everyone digging in the entire zone; if the item pool runs out, no one will be able to dig anything until it refills (every 60 minutes).
Chocobo digging results are affected primarily by digging skill. Chocobo digging, like fishing, is subject to a hidden daily limit imposed by fatigue. Wearing the Blue Racing Silks obtainable from Chocobo Racing will greatly ease this limit. The Egg Helm obtainable from the Egg Hunt seasonal event adds various eggs and egg-related items to the list of items obtainable by digging. Weather effects will add crystals and elemental ores to the items list as well.
Certain zones have Goblin Diggers that will wander very widely all over the zone; ever so often, they will stop to bury their 'treasure'--actually mostly junk like Rotten Meat, Fingernail Sacks, Chicken Bones, but sometimes Beastcoins. The goblin will jump up and down (presumably to pack down the loose soil) when they do this. If a player has their chocobo dig in the exact spot where the goblin buried their junk, they can dig it up. The items obtained can be given to a male hume named Orlando who lives in Mhaura and collects goblin junk; this counts towards the repeatable quest "Orlando's Antiques".
Main article: Scavenging
Conceptually, scavenging is quite similar to gathering, in that the player must find certain points to extract materials used for equipment synthesis from. The main difference is simply that it takes place in battle instead of out of it.
Final Fantasy XIVEdit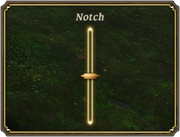 In Final Fantasy XIV, gathering is the primary activity related to the Disciplines of the Land. Each discipline has two resource types they can explore, requiring the use of a main hand tool for one type and an off-hand, secondary tool for the other. Once an appropriate node is found, players can either click on it, or select the option from the micro menu or the main menu.
When gathering from their main resource type, each discipline has to choose their desired depth and complete a hot-and-cold minigame to determine success or failure. While the window layout is slightly different, the minigame is nearly the same for all of them; a small selection moves around the window and the player must press confirm on the point he wants to hit, and a message will say if the attempt hit something or not. If not, the message will say if the attempt was closer/farther to the item than the previous one. Players can try as many times as they want until their "remainder" bar is depleted, and the rate of depletion is based on player stats, level, node grade and item rarity.
Once a gathering attempt ends, players are given the chance to try again on the same node for a certain number of times based on their level and stats, or until the node is depleted, in which case the character ceases gathering and can move around again. Secondary resource nodes work in the same way but skip the minigame entirely, instead relying in random chance to determine success or failure.
Each discipline learns certain abilities that affect gathering, ranging from increasing the number of shards obtained to granting bonus experience on successful attempts. Those abilities only need to be set, and may activate at random during main hand gathering with no cost or cooldown. Once an ability is activated, it remains active until the player uses all remaining tries on the node. Each discipline also learns abilities that can be used to track nodes around the zone and sneaking around enemies, which are placed on the regular action palette.
Gathering is cancelled if the player is hit by an enemy. Players cannot trade, teleport, join or leave parties while gathering. Gathering is the only way to obtain dyes and materia catalysts, as well as some rare materials and most types of fish.
Each possible gathering material has a certain depth sweet spot that vastly increase the chance of obtaining the desired material.
Resource Types
Edit
Miner - Main: Mineral Deposits (mining), Sub: Rocky Outcrops (quarrying)
Fisher - Main: Schools of Fish (fishing), Sub: Shallow Waters (spearfishing)
Botanist - Main: Mature Trees (logging), Sub: Lush Vegetation (harvesting)

Fishing works slightly different from the other gathering activities, as it can be done on any body of water instead of specific places, and can be done even inside towns or the boat between Limsa Lominsa and Ul'dah. However, certain fish types can only be found on appropriated areas identified by a shiny glow similar to the other resource nodes, known as schools of fish. When fishing outside of a school of fish, players can fish indefinitely at the same location.
Items obtained when fishing vary not only by chosen depth, but also by the lure used, and lures can be lost.

Gathering Node Grades
Edit
There are 5 different node grades, distributed amongst all areas of Eorzea. Within one area, all resource nodes and bodies of water are of the same grade and provide the same loot, with the exception of guildleves nodes, that have a slightly different loot table than the rest of the area. Mor Dhona has no gathering nodes.
Grade 1 Areas
Edit
Bentbranch (The Black Shroud)
Bearded Rock (La Noscea)
Black Brush (Thanalan)
Grade 2 Areas
Edit
Emerald Moss (The Black Shroud)
Skull Valley (La Noscea)
Drybone (Thanalan)
Grade 3 Areas
Edit
Tranquil Paths (The Black Shroud)
Bloodshore (La Noscea)
Horizon's Edge (Thanalan)
Grade 4 Areas
Edit
Humblehearth (The Black Shroud)
Cedarwood (La Noscea)
Nophica's Wells (Thanalan)
Camp Glory (Coerthas)
Grade 5 Areas
Edit
Nine Ivies (The Black Shroud)
Treespeak (The Black Shroud)
Bald Knoll (La Noscea)
Iron Lake (La Noscea)
Nanawa Mines (Thanalan)
Broken Water (Thanalan)
Halatali (Thanalan)
Camp Dragonhead (Coerthas)
Gathering Stats
Edit
Gathering: Reduces the depletion rate of the Remainder gauge.
Perception: Increases a player's chance to find higher-quality items.
Output: Reduces the amount of time a fisher must wait for a bite.
Additionally, each class receives a bonus from two main stats that increase the ease of gathering and finding items:
Fisher: Dexterity and Piety
Miner: Vitality and Mind
Botanist: Strength and Intelligence