Gast Faremis
Talk

5
13,966 pages on
this wiki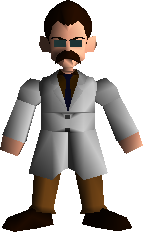 (Gast Faremis, ガスト・ファレミス?, lit. "Gasuto Faremisu") was a researcher in Final Fantasy VII. He was the head of Shinra's Science Research Department. Unlike his colleagues, the later successor, Professor Hojo and Dr. Hollander, he pursued wisdom for its own sake, rather than using it to gain power. In the original Final Fantasy VII his name is given as simply Professor Gast, but the Ultimania guides gives Gast's full name as "Gast Faremis".
Story
Gast drew the wrongful conclusion that Jenova was a Cetra, and Shinra sent Hojo and Lucrecia Crescent to assist him in his research to create the Jenova Project. His research led Hojo to inject Lucrecia with Jenova cells, in order to make a new race of Cetra through Hojo and Lucrecia's unborn child. This child was called Sephiroth. Gast, however, leaves the project upon discovering that Jenova is not, in fact, a Cetra at all. Gast continues his research on the Cetra in his laboratory at Icicle Inn, where he meets Ifalna, the last remaining Cetra.
He records the interviews he conducts on Ifalna, where he learns the truth about Jenova and the Promised Land. He later seems to have fallen in love with Ifalna, and they have a baby: Aeris. They are tracked down by the Shinra, and Hojo kills Gast trying to capture Ifalna and Aeris.
Trivia
Gast is one of the few people Sephiroth respects in Final Fantasy VII. On that note, it is ironic that Sephiroth slays Gast's only child and legacy.