Garuda (Final Fantasy IX)
Talk

0
13,959 pages on
this wiki
Final Fantasy IX Enemy
Garuda
ガルーダ (Garūda)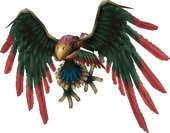 Statistics
Level
HP
MP
35
3,521
1,216
Strength
Defense
Evade
16
27
4
Magic
M. Defense
M. Evade
16
10
6
Attack
Spirit
Speed
48
27
26
EXP
AP
Gil
6,933
2 - 3
1,279
| | |
| --- | --- |
| Location | Oeilvert, Esto Gaza, Popo's Heights (Forest) |
| Class | Flying |
| Steal | Ore, Hi-Potion, Ether, Phoenix Pinion |
| Item Dropped | Ore, Phoenix Down, Ether |
| Card Dropped | Gimme Cat |
| Abilities | Aerial Slash, Firaga, Stop, Maelstrom |
| Status Immunity | Silence, Confusion, Berserk, Vanish |
| Eat | White Wind |
| Other Information | {{{Other Information1}}} |
Garuda
ガルーダ(精霊) (Garūda (Seirei))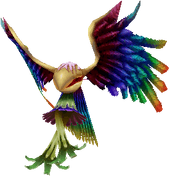 Statistics
Level
HP
MP
42
6,583
1,570
Strength
Defense
Evade
18
10
5
Magic
M. Defense
M. Evade
18
10
6
Attack
Spirit
Speed
56
30
27
EXP
AP
Gil
N/A
40
N/A
| | |
| --- | --- |
| Location | Popo's Heights |
| Class | Flying |
| Steal | N/A |
| Item Dropped | Diamond |
| Card Dropped | Shiva Card |
| Abilities | N/A |
| Status Immunity | Berserk, Confuse, Death, Doom, Freeze, Heat, Mini, Petrify, Poison, Sleep, Stop |
| Eat | {{{Eat2}}} |
| Other Information | {{{Other Information2}}} |
Garuda
ガルーダ (Garūda)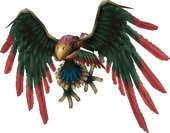 Statistics
Level
HP
MP
{{{level3}}}
{{{HP3}}}
{{{MP3}}}
Strength
Defense
Evade
{{{Strength3}}}
{{{Defense3}}}
{{{Evade3}}}
Magic
M. Defense
M. Evade
{{{Magic3}}}
{{{Magic Defense3}}}
{{{Magic Evade3}}}
Attack
Spirit
Speed
{{{Attack Power3}}}
{{{Spirit3}}}
{{{Speed3}}}
EXP
AP
Gil
{{{Exp3}}}
{{{AP3}}}
{{{Gil3}}}
| | |
| --- | --- |
| Location | {{{Location3}}} |
| Class | {{{Class3}}} |
| Steal | {{{Steal3}}} |
| Item Dropped | {{{Win3}}} |
| Card Dropped | {{{Card3}}} |
| Abilities | {{{Attack3}}} |
| Status Immunity | {{{Status3}}} |
| Eat | {{{Eat3}}} |
| Other Information | {{{Other Information3}}} |
Garuda
ガルーダ (Garūda)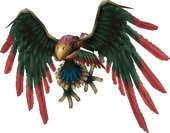 Statistics
Level
HP
MP
{{{level4}}}
{{{HP4}}}
{{{MP4}}}
Strength
Defense
Evade
{{{Strength4}}}
{{{Defense4}}}
{{{Evade4}}}
Magic
M. Defense
M. Evade
{{{Magic4}}}
{{{Magic Defense4}}}
{{{Magic Evade4}}}
Attack
Spirit
Speed
{{{Attack Power4}}}
{{{Spirit4}}}
{{{Speed4}}}
EXP
AP
Gil
{{{Exp4}}}
{{{AP4}}}
{{{Gil4}}}
| | |
| --- | --- |
| Location | {{{Location4}}} |
| Class | {{{Class4}}} |
| Steal | {{{Steal4}}} |
| Item Dropped | {{{Win4}}} |
| Card Dropped | {{{Card4}}} |
| Abilities | {{{Attack4}}} |
| Status Immunity | {{{Status4}}} |
| Eat | {{{Eat4}}} |
| Other Information | {{{Other Information4}}} |
The Garuda is a flying enemy from Final Fantasy IX. It can be found in Oeilvert and Esto Gaza, and early in the game in Popos Heights. Despite its appearance, it is remarkably hardy and knows several deadly spells. One of these, Maelstrom, reduces a targeted party member's health to a single digit without fail and ignores Reflect.
Single Garudas attack in the "bridge" area of Oeilvert containing the first unlockable hologram generator. Later, in Esto Gaza, they appear in pairs. It is extremely useful to equip several of your party members with the Locomotion ability in order to negate the Stop spell, which is preferable to Garuda's other attacks.
The Garuda is weak against wind and shadow property attacks.
A friendly Garuda can be found in Popo's Heights on the Mist Continent as part of a sidequest. It requests a Lapis Lazuli and will reward the party with 40 AP if obliged. Regular lone Garudas at this spot may also be used for grinding levels early if care and lots patience is taken.

Card 048
Location: Treno, Card Stadium