The Garden (ガーデン, Gāden?) refers to the three educational institutions in Final Fantasy VIII. Each trains youths into becoming specialized military forces, and is headed by two individuals, an administrator, referred to as master, and a headmaster.
There are three Gardens in the world: Balamb Garden in Balamb, Galbadia Garden in Galbadia and Trabia Garden in Trabia. Occupants of one's Garden refer to their home Garden as simply "Garden", while the other establishments are often referred to with shorthand that has the Garden's first letter adjoined to the word "Garden": B-Garden, G-Garden and T-Garden.
The Garden Code
Edit
Among the articles and text-based lessons drilled into each student is the Garden Code. A series of articles that informs the student on possible actions that could be performed during a given situation.
(For example: Article 8, Line 7 dictates:
8:7... In the event that returning to the assigned Garden is not possible, report to the nearest Garden).
Gardens require students to wear cadet uniforms for formal occasions or external operations where the Garden is represented. The uniforms of each Garden are in similar design with patterned shoulder pieces and silver linings. The Garden logo appears partway down the right sleeve. The main difference between the uniforms is the color: Balamb Garden's consists of a navy blue base with yellow accent, Trabia Garden's a light blue base with purple accent and Galbadia Garden's black base with red accent.
Upon graduation, SeeD members receive their own formal uniforms.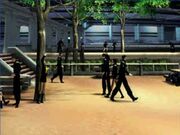 Children between the ages of five and fifteen years old may apply to become a cadet. To become a student, one must pass an interview. Students are allowed stay with their family and commute, or in the dorms. Cadets take classes in general education, athletics, combat, magic, and (in Balamb Garden) Guardian Force use.
When cadets turn 15, they may attempt to become SeeD. Students from the other Gardens can transfer to Balamb to take part in the SeeD field exam after completing the written exam in their home Garden. Students have until age 20 to pass the SeeD exam before they are required to leave the Garden.
During schooling each student is assigned to a group that reflect upon what they are studying and/or in accordance to their chosen profession.
Attack Magic Operative: Students who specialize in attack magic, such as elemental spells. They're usually MG level 1.
Indirect Magic Operative: Students who specialize in indirect/support magic (ie: Esuna, Haste, Slow, etc). They're usually MG level 1.
Fire Platoon: Students who are part of an emergency "fire brigade", acting as emergency personnel.
Sabers: Students who specialize in bladed weapons such as swords, spears or knives.
Restore Magic Operative or Medics: Students specialized in healing techniques and spells. Organized into rescue teams.
The level of competence in their studies is reflected by a level 'ranking' featured after their group title. (ie. Fire Platoon Lvl 3, Indirect Magic Operative Lvl 2). By logic, there are more specializations, but they are unmentioned.
The Garden staff responsible for the administration and overseeing conduct and ethics. Each Garden has a set of faculties with different uniforms; Balamb Garden's is dressed in white and red robes with a yellow, face-covering headgear, Galbadia Garden's in tracksuits while Trabia's in standard military garb.
Faculty classification systems within the Gardens follow that of a standard real-world school (i.e. principal, instructor, faculty, doctor, etc.), but there are one or two extra ranks:
Headmaster: Overseer of the Garden's military operations, and the one with the final say on which missions are accepted by the Garden.
Instructor: Instructors must complete their education in the Garden to obtain a license. They oversee the students' education and organize both written and field examinations.
Garden Faculty' Overseer of the Garden's day-to-day functions, such as the enforcement of rules. In Balamb Garden the faculty answer straight to Garden master rather than to headmaster.
Doctor: The doctors are in charge of organizing the Garden healthcare services. The doctor seen in Final Fantasy VIII is Balamb Garden's Dr. Kadowaki.
Garden Master: The position held by the major income source and contributor to a Garden.
All Gardens support a program which helps graduates enlist in armies all over the world. This program was created by Martine, the Galbadia Garden's headmaster.
There are three Gardens in the world of Final Fantasy VIII. Balamb Garden, located in the Balamb Island at the center of the map, Galbadia Garden, located to the north of the Galbadian Continent, and Trabia Garden, located in the remote northern mountain regions of the Bika snowfield.