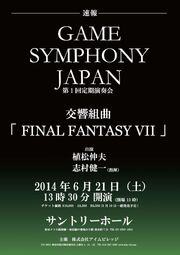 Game Symphony Japan is a tour of concerts, whose first symphony concert features music from Final Fantasy VII. It will be held in Tokyo on June 21st, featuring pieces by the composer of Final Fantasy VII, Nobuo Uematsu, who also serves as executive music advisor for Game Symphony Japan and will make an appearance at the performance, which will be conducted by Kenichi Shimura. The performance will take place at the Suntory Hall in Tokyo's Akasaka neighborhood.
The organizers have set out to recreate the Final Fantasy VII narrative through the musical selection to recreate the sensation of playing through the game. Ticket prices range from 6,500 to 10,000 yen (US$64-$98), depending on seat location. The doors open at 1 p.m., and is scheduled to last around two and a half hours.

This article or section is a stub about an album or song in or relating to Final Fantasy VII. You can help the Final Fantasy Wiki by expanding it.