Funguar
フンゴオンゴ (

FungoOngo

?)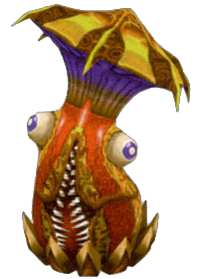 Statistics
Level
HP

0.15(Lv)² + 3(Lv) + 300

Level
HP

0.15(Lv)² + 3(Lv) + 300

1
303
19
411
STR

([2.6(Lv)] + [(Lv) / 5] - [(Lv)² / 200] + 18) / 4

MAG

([3(Lv)] + [(Lv) / 5] - [(Lv)² / 300] + 3) / 4

STR

([2.6(Lv)] + [(Lv) / 5] - [(Lv)² / 200] + 18) / 4

MAG

([3(Lv)] + [(Lv) / 5] - [(Lv)² / 300] + 3) / 4

5
1
17
15
VIT

((Lv) / 20) - [(Lv) / 2] + (Lv) + 1

SPR

((Lv) / 20) - [(Lv) / 2] + (Lv) + 1

VIT

((Lv) / 20) - [(Lv) / 2] + (Lv) + 1

SPR

((Lv) / 20) - [(Lv) / 2] + (Lv) + 1

2
2
11
11
SPD

((Lv) / 8) - [(Lv) / 16] + 2

EVA

((Lv) / 12) - [(Lv) / 24]

SPD

((Lv) / 8) - [(Lv) / 16] + 2

EVA

((Lv) / 12) - [(Lv) / 24]

2
0
3
1
EXP

3(Lv)² + 17

AP
EXP

3(Lv)² + 17

AP
20
1
74
1
Funguar
フンゴオンゴ (

FungoOngo

?)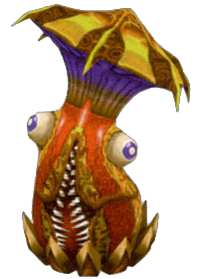 Statistics
Level
HP

0.15(Lv)² + 3(Lv) + 300

Level
HP

0.15(Lv)² + 3(Lv) + 300

20
420
29
513
STR

([2.6(Lv)] + [(Lv) / 5] - [(Lv)² / 200] + 18) / 4

MAG

([3(Lv)] + [(Lv) / 5] - [(Lv)² / 300] + 3) / 4

STR

([2.6(Lv)] + [(Lv) / 5] - [(Lv)² / 200] + 18) / 4

MAG

([3(Lv)] + [(Lv) / 5] - [(Lv)² / 300] + 3) / 4

18
16
23
23
VIT

((Lv) / 20) - [(Lv) / 2] + (Lv) + 1

SPR

((Lv) / 20) - [(Lv) / 2] + (Lv) + 1

VIT

((Lv) / 20) - [(Lv) / 2] + (Lv) + 1

SPR

((Lv) / 20) - [(Lv) / 2] + (Lv) + 1

12
12
17
17
SPD

((Lv) / 8) - [(Lv) / 16] + 2

EVA

((Lv) / 12) - [(Lv) / 24]

SPD

((Lv) / 8) - [(Lv) / 16] + 2

EVA

((Lv) / 12) - [(Lv) / 24]

3
1
4
1
EXP

3(Lv)² + 17

AP
EXP

3(Lv)² + 17

AP
77
1
104
1
Funguar
フンゴオンゴ (

FungoOngo

?)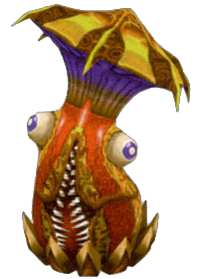 Statistics
Level
HP

0.15(Lv)² + 3(Lv) + 300

Level
HP

0.15(Lv)² + 3(Lv) + 300

30
525
100
2,100
STR

([2.6(Lv)] + [(Lv) / 5] - [(Lv)² / 200] + 18) / 4

MAG

([3(Lv)] + [(Lv) / 5] - [(Lv)² / 300] + 3) / 4

STR

([2.6(Lv)] + [(Lv) / 5] - [(Lv)² / 200] + 18) / 4

MAG

([3(Lv)] + [(Lv) / 5] - [(Lv)² / 300] + 3) / 4

24
24
62
72
VIT

((Lv) / 20) - [(Lv) / 2] + (Lv) + 1

SPR

((Lv) / 20) - [(Lv) / 2] + (Lv) + 1

VIT

((Lv) / 20) - [(Lv) / 2] + (Lv) + 1

SPR

((Lv) / 20) - [(Lv) / 2] + (Lv) + 1

17
17
56
56
SPD

((Lv) / 8) - [(Lv) / 16] + 2

EVA

((Lv) / 12) - [(Lv) / 24]

SPD

((Lv) / 8) - [(Lv) / 16] + 2

EVA

((Lv) / 12) - [(Lv) / 24]

4
1
8
4
EXP

3(Lv)² + 17

AP
EXP

3(Lv)² + 17

AP
107
1
317
1
| Lv | HP | STR | MAG | VIT | SPR | SPD | EVA | EXP |
| --- | --- | --- | --- | --- | --- | --- | --- | --- |
| 1 | 303 | 5 | 1 | 2 | 2 | 2 | 0 | 20 |
| 2 | 306 | 5 | 2 | 2 | 2 | 2 | 0 | 23 |
| 3 | 310 | 6 | 3 | 3 | 3 | 2 | 0 | 26 |
| 4 | 314 | 7 | 3 | 3 | 3 | 2 | 0 | 29 |
| 5 | 318 | 8 | 4 | 4 | 4 | 2 | 0 | 32 |
| 6 | 323 | 8 | 5 | 4 | 4 | 2 | 0 | 35 |
| 7 | 328 | 9 | 6 | 5 | 5 | 2 | 0 | 38 |
| 8 | 333 | 9 | 7 | 5 | 5 | 3 | 0 | 41 |
| 9 | 339 | 10 | 7 | 6 | 6 | 3 | 0 | 44 |
| 10 | 345 | 11 | 8 | 6 | 6 | 3 | 0 | 47 |
| Lv | HP | STR | MAG | VIT | SPR | SPD | EVA | EXP |
| --- | --- | --- | --- | --- | --- | --- | --- | --- |
| 11 | 351 | 12 | 9 | 7 | 7 | 3 | 0 | 50 |
| 12 | 357 | 12 | 10 | 7 | 7 | 3 | 1 | 53 |
| 13 | 364 | 13 | 11 | 8 | 8 | 3 | 1 | 56 |
| 14 | 371 | 14 | 11 | 8 | 8 | 3 | 1 | 59 |
| 15 | 378 | 14 | 12 | 9 | 9 | 3 | 1 | 62 |
| 16 | 386 | 15 | 13 | 9 | 9 | 3 | 1 | 65 |
| 17 | 394 | 16 | 14 | 10 | 10 | 3 | 1 | 68 |
| 18 | 402 | 16 | 14 | 10 | 10 | 3 | 1 | 71 |
| 19 | 411 | 17 | 15 | 11 | 11 | 3 | 1 | 74 |
| 20 | 420 | 18 | 16 | 12 | 12 | 3 | 1 | 77 |
| Lv | HP | STR | MAG | VIT | SPR | SPD | EVA | EXP |
| --- | --- | --- | --- | --- | --- | --- | --- | --- |
| 21 | 429 | 18 | 17 | 13 | 13 | 3 | 1 | 80 |
| 22 | 438 | 19 | 18 | 13 | 13 | 3 | 1 | 83 |
| 23 | 448 | 19 | 18 | 14 | 14 | 3 | 1 | 86 |
| 24 | 458 | 20 | 19 | 14 | 14 | 4 | 1 | 89 |
| 25 | 468 | 21 | 20 | 15 | 15 | 4 | 1 | 92 |
| 26 | 479 | 21 | 21 | 15 | 15 | 4 | 1 | 95 |
| 27 | 490 | 22 | 21 | 16 | 16 | 4 | 1 | 98 |
| 28 | 501 | 23 | 22 | 16 | 16 | 4 | 1 | 101 |
| 29 | 513 | 23 | 23 | 17 | 17 | 4 | 1 | 104 |
| 30 | 525 | 24 | 24 | 17 | 17 | 4 | 1 | 107 |
| Lv | HP | STR | MAG | VIT | SPR | SPD | EVA | EXP |
| --- | --- | --- | --- | --- | --- | --- | --- | --- |
| 31 | 537 | 25 | 24 | 18 | 18 | 4 | 1 | 110 |
| 32 | 549 | 25 | 25 | 18 | 18 | 4 | 1 | 113 |
| 33 | 562 | 26 | 26 | 19 | 19 | 4 | 1 | 116 |
| 34 | 575 | 26 | 27 | 19 | 19 | 4 | 1 | 119 |
| 35 | 588 | 27 | 27 | 20 | 20 | 4 | 1 | 122 |
| 36 | 602 | 28 | 28 | 20 | 20 | 4 | 2 | 125 |
| 37 | 616 | 28 | 29 | 21 | 21 | 4 | 2 | 128 |
| 38 | 630 | 29 | 30 | 21 | 21 | 4 | 2 | 131 |
| 39 | 645 | 29 | 30 | 22 | 22 | 4 | 2 | 134 |
| 40 | 660 | 30 | 31 | 23 | 23 | 5 | 2 | 137 |
| Lv | HP | STR | MAG | VIT | SPR | SPD | EVA | EXP |
| --- | --- | --- | --- | --- | --- | --- | --- | --- |
| 41 | 675 | 31 | 32 | 24 | 24 | 5 | 2 | 140 |
| 42 | 690 | 31 | 33 | 24 | 24 | 5 | 2 | 143 |
| 43 | 706 | 32 | 33 | 25 | 25 | 5 | 2 | 146 |
| 44 | 722 | 32 | 34 | 25 | 25 | 5 | 2 | 149 |
| 45 | 738 | 33 | 35 | 26 | 26 | 5 | 2 | 152 |
| 46 | 755 | 34 | 35 | 26 | 26 | 5 | 2 | 155 |
| 47 | 772 | 34 | 36 | 27 | 27 | 5 | 2 | 158 |
| 48 | 789 | 35 | 37 | 27 | 27 | 5 | 2 | 161 |
| 49 | 807 | 35 | 37 | 28 | 28 | 5 | 2 | 164 |
| 50 | 825 | 36 | 38 | 28 | 28 | 5 | 2 | 167 |
| Lv | HP | STR | MAG | VIT | SPR | SPD | EVA | EXP |
| --- | --- | --- | --- | --- | --- | --- | --- | --- |
| 51 | 843 | 36 | 39 | 29 | 29 | 5 | 2 | 170 |
| 52 | 861 | 37 | 40 | 29 | 29 | 5 | 2 | 173 |
| 53 | 880 | 37 | 40 | 30 | 30 | 5 | 2 | 176 |
| 54 | 899 | 38 | 41 | 30 | 30 | 5 | 2 | 179 |
| 55 | 918 | 39 | 42 | 31 | 31 | 5 | 2 | 182 |
| 56 | 938 | 39 | 43 | 31 | 31 | 6 | 2 | 185 |
| 57 | 958 | 40 | 43 | 32 | 32 | 6 | 2 | 188 |
| 58 | 978 | 40 | 44 | 32 | 32 | 6 | 2 | 191 |
| 59 | 999 | 41 | 45 | 33 | 33 | 6 | 2 | 194 |
| 60 | 1020 | 42 | 45 | 34 | 34 | 6 | 3 | 197 |
| Lv | HP | STR | MAG | VIT | SPR | SPD | EVA | EXP |
| --- | --- | --- | --- | --- | --- | --- | --- | --- |
| 61 | 1041 | 42 | 46 | 35 | 35 | 6 | 3 | 200 |
| 62 | 1062 | 43 | 47 | 35 | 35 | 6 | 3 | 203 |
| 63 | 1084 | 43 | 47 | 36 | 36 | 6 | 3 | 206 |
| 64 | 1106 | 44 | 48 | 36 | 36 | 6 | 3 | 209 |
| 65 | 1128 | 44 | 49 | 37 | 37 | 6 | 3 | 212 |
| 66 | 1151 | 45 | 50 | 37 | 37 | 6 | 3 | 215 |
| 67 | 1174 | 45 | 50 | 38 | 38 | 6 | 3 | 218 |
| 68 | 1197 | 46 | 51 | 38 | 38 | 6 | 3 | 221 |
| 69 | 1221 | 46 | 52 | 39 | 39 | 6 | 3 | 224 |
| 70 | 1245 | 47 | 52 | 39 | 39 | 6 | 3 | 227 |
| Lv | HP | STR | MAG | VIT | SPR | SPD | EVA | EXP |
| --- | --- | --- | --- | --- | --- | --- | --- | --- |
| 71 | 1269 | 47 | 53 | 40 | 40 | 6 | 3 | 230 |
| 72 | 1293 | 48 | 54 | 40 | 40 | 7 | 3 | 233 |
| 73 | 1318 | 48 | 54 | 41 | 41 | 7 | 3 | 236 |
| 74 | 1343 | 49 | 55 | 41 | 41 | 7 | 3 | 239 |
| 75 | 1368 | 50 | 56 | 42 | 42 | 7 | 3 | 242 |
| 76 | 1394 | 50 | 56 | 42 | 42 | 7 | 3 | 245 |
| 77 | 1420 | 51 | 57 | 43 | 43 | 7 | 3 | 248 |
| 78 | 1446 | 51 | 58 | 43 | 43 | 7 | 3 | 251 |
| 79 | 1473 | 51 | 58 | 44 | 44 | 7 | 3 | 254 |
| 80 | 1500 | 52 | 59 | 45 | 45 | 7 | 3 | 257 |
| Lv | HP | STR | MAG | VIT | SPR | SPD | EVA | EXP |
| --- | --- | --- | --- | --- | --- | --- | --- | --- |
| 81 | 1527 | 53 | 60 | 46 | 46 | 7 | 3 | 260 |
| 82 | 1554 | 53 | 60 | 46 | 46 | 7 | 3 | 263 |
| 83 | 1582 | 53 | 61 | 47 | 47 | 7 | 3 | 266 |
| 84 | 1610 | 54 | 62 | 47 | 47 | 7 | 4 | 269 |
| 85 | 1638 | 55 | 62 | 48 | 48 | 7 | 4 | 272 |
| 86 | 1667 | 55 | 63 | 48 | 48 | 7 | 4 | 275 |
| 87 | 1696 | 56 | 64 | 49 | 49 | 7 | 4 | 278 |
| 88 | 1725 | 56 | 64 | 49 | 49 | 8 | 4 | 281 |
| 89 | 1755 | 56 | 65 | 50 | 50 | 8 | 4 | 284 |
| 90 | 1785 | 57 | 66 | 50 | 50 | 8 | 4 | 287 |
| Lv | HP | STR | MAG | VIT | SPR | SPD | EVA | EXP |
| --- | --- | --- | --- | --- | --- | --- | --- | --- |
| 91 | 1815 | 57 | 66 | 51 | 51 | 8 | 4 | 290 |
| 92 | 1845 | 58 | 67 | 51 | 51 | 8 | 4 | 293 |
| 93 | 1876 | 58 | 68 | 52 | 52 | 8 | 4 | 296 |
| 94 | 1907 | 59 | 68 | 52 | 52 | 8 | 4 | 299 |
| 95 | 1938 | 59 | 69 | 53 | 53 | 8 | 4 | 302 |
| 96 | 1970 | 60 | 70 | 53 | 53 | 8 | 4 | 305 |
| 97 | 2002 | 60 | 70 | 54 | 54 | 8 | 4 | 308 |
| 98 | 2034 | 60 | 71 | 54 | 54 | 8 | 4 | 311 |
| 99 | 2067 | 61 | 71 | 55 | 55 | 8 | 4 | 314 |
| 100 | 2100 | 62 | 72 | 56 | 56 | 8 | 4 | 317 |
Funguar is a monster in Final Fantasy VIII.
Its signature move, Laser, will only target female party members. As it is a fungus, it carries most of the status-inflicting skills and will cast them at random. Additionally, Funguar may also cast Fire and, rarely, Demi.
Other appearances
Edit


This article or section is a stub about an enemy in Final Fantasy Record Keeper. You can help the Final Fantasy Wiki by expanding it.