Relm:

I couldn't miss the chance to practice my drawing!

This article is in need of a few pictures. Perhaps you can help by uploading and adding a picture or two.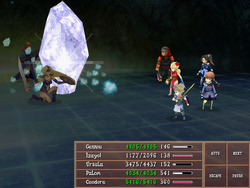 Frost (ひょうとん, Hyouton?, lit. Unleashed Ice), also known as Hyoton, is an ability in the Final Fantasy series. It is a Ninjutsu spell that inflicts Ice-elemental damage.
Appearances
Edit
Frost is a Ninjutsu spell for Edge exclusive to the Nintendo DS version. It is the final Ninjutsu spell, and once learned at level 60, Edge can pay 20 MP to unleash moderate Ice damage on all enemies.
Frost returns again as a Ninjutsu spell, and can only be used by Edge and Izayoi. It functions the same way it does in Final Fantasy IV. Edge learns it at level 45, while Izayoi learns it at level 42.
The Ninja learns three different levels of Hyoton abilities. Hyoton: Ichi is learned at Level 15, Hyoton: Ni at Level 40, and Hyoton: San at Level 75. Each Hyoton ability does ice-elemental damage and lowers the target's resistance to fire damage. Both effects increase in efficiency with the level of the Hyoton ability used.
Ninjas learn Hyoton at Level 45, and perform it using Ten→Jin or Chi→Jin mudra combination. Hyoton does ice-elemental damage to a single target and inflicts Bind for fifteen seconds, twelve seconds in PvP combat.