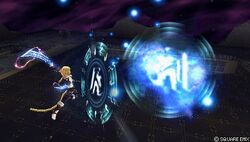 Free Energy (フリーエナジー, Furī Enajī?) is a recurring ability in the series, and is a trademark ability of Zidane Tribal.
Appearances
Edit
IX Free Energy is the first Dyne ability that Zidane may acquire for use while in Trance, and requires him to either have access to or learned Flee. It costs 10 MP to use and inflicts non-elemental damage to one target equal to 150% of Zidane's normal physical attack.
Dissidia Free Energy is a aerial magical HP Attack for Zidane, initially acquired at the start of the game. It requires 180 AP to master and 40 CP to equip (20 if mastered), as well as Unblockable priority.
Dissidia012 Free Energy returns as a HP Attack for Zidane, and now requires 130 AP to master and 30 CP to equip (15 when mastered). It has lost its Unblockable priority and now has Ranged High priority.
Error: invalid codename. See Help:Codenames for more information. Free Energy is the initial HP Attack learned by Zidane. It functions identically to the PSP games.
Etymology
Edit
The thermodynamic free energy is the amount of work that a thermodynamic system can perform. The concept is useful in the thermodynamics of chemical or thermal processes in engineering and science. The free energy is the internal energy of a system minus the amount of energy that cannot be used to perform work. This unusable energy is given by the entropy of a system multiplied by the temperature of the system.