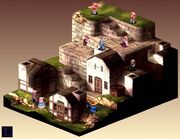 Famous as the birthplace of Saint Ajora, this city is under direct authority of the Church of Glabados.
—Description
The Bervenia Free City (自治都市ベルベニア, Jichi-toshi Berubenia?, lit. Free City of Bervenia) is a location from Final Fantasy Tactics. Famous for being Saint Ajora Glabados's birthplace, this town is under the direct control of the Church of Glabados. It is located on the road between the Royal City of Lesalia and Zeltennia Castle.
Battle information
Edit
Bervenia
Edit
Bervenia

Units



(4,2): Ramza
(0-1,1-4),(0,5): Team 1
(0-3,6-9) except (1-2,5-8): Team 2
(5,7): Meliadoul (Divine Knight
(1,10),(5,11): 2 Female Archers
(2,8),(6,9): 2 Female Summoners
(8,10): 1 Female Ninja

Additional info
-Meliadoul will teleport away as soon as her HP reaches critical.
-One-time battle.
Conditions
Defeat Meliadoul.
Weather
Clear day
Enemy level
Average: 33
Recommended level
34 - 36
Team capacity
Team 1: 2 + Ramza
Team 2: 2
Number of teams
2
Battle Trophies
Jade Armlet, Remedy x2
Hidden items
Steal Defender and Chantage from Meliadoul
Terrain
Soil, Grassland, Flagstone, Coffer, Roof, Chimney
Geomancy
Sinkhole, Tanglevine, Contortion, Will-o'-the-Wisp, Wind Blast
Ad blocker interference detected!
Wikia is a free-to-use site that makes money from advertising. We have a modified experience for viewers using ad blockers

Wikia is not accessible if you've made further modifications. Remove the custom ad blocker rule(s) and the page will load as expected.