The Four Fiends (四つのカオス, Yottsu no kaosu?, lit. Four Chaoses) are the primary bosses in the original Final Fantasy, consisting of Lich of Earth, Marilith of Fire (Kary in the NES version), Kraken of Water, and Tiamat of Wind. The theme of four elemental demonic guardians carried over to some future installments in the series, hearkening back to the original four.
Other appearances
Edit
Dissidia The Four Fiends appear as summons.
Some of the fiends appear as enemies.

FFRK Some of the fiends appear as enemies.
Etymology
Edit
Their original names in the Japanese version are the "Four Chaoses", keeping in line with their connection to Chaos and, by extension, Garland. [view · edit · purge]Chaos is "the formless matter supposed to have existed before the creation of the universe."
[view · edit · purge]A fiend is an evil spirit or a demon in mythology.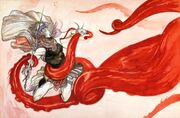 [view · edit · purge]The Kraken were giant sea monsters, found in Norse and Icelandic mythology. Often depicted as gigantic octopuses or squids, they were thought to rise up from the deeps, grappling and then sinking small ships. Other myths held that the greatest dangers from the Kraken were the whirlpools left behind from their descent back into the deeps.
[view · edit · purge]A marilith is fictional creature in many official Dungeons & Dragons campaign settings. A marilith is depicted as a powerful, six-armed female demon with the lower body of a snake. Mariliths in Dungeons & Dragons are based on Hindu mythology, where gods and demons frequently have multiple heads and arms.
Marilith was called "Kary" in the NES version, a mistranslation of the Hindu Goddess of Destruction Kali; the name change was probably an effort to avoid potential copyright issues with Dungeons & Dragons source material, similar to the changes made to the Beholder (Evil Eye).
[view · edit · purge]In fantasy fiction, a lich is a type of undead creature. Often such a creature is the result of a transformation, as a powerful magician or king striving for eternal life uses spells or rituals to bind his intellect to his animated corpse and thereby achieve a form of immortality.
[view · edit · purge]Tiamat is a primordial goddess of the ocean in Mesopotamian religion. The game Dungeons & Dragons has Tiamat as a chromatic dragon, the Queen of the Evil Dragons, and as such the opposing deity to Bahamut, who is a platinum dragon and the King of Benevolent Dragons. Tiamat is a reference to the deity of the same name from Dungeons & Dragons, who is depicted as a villainous, five-headed dragon. Both are named after the ancient monster from Ancient Mesopotamian religion, often said to be the mother of dragons.
Though it is never explained in Final Fantasy how Garland and the Fiends are able to travel through time, the reports in Dissidia 012 Final Fantasy imply that Chaos created rips in the time-space continuum in the past, which allowed the Fiends to appear in the same locations where these rips occurred in the future.