What do you expect of a new FF game?
13,963 pages on
this wiki
Forum page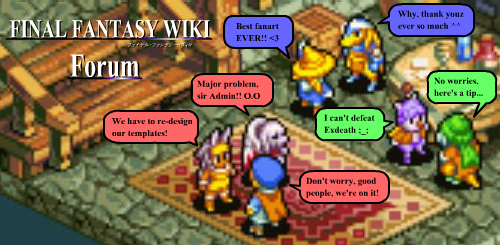 Modern FF games are always crazy successful in terms of sales, invariably selling buckets and making it to the top ten most sold Playstation games since 1997. But every game is totally different, it's not like we are keeping up with a continuing plot and, to an extent, not even the gameplay all that much.
So, when you first play a new FF game, what do you expect of it? What are the things you like in FF that made you get it in the first place? --Cid of the Lufaine 15:03, September 2, 2010 (UTC)

The storytelling is always first for me when I play an FF game otherwise it's just a standard RPG/Action game you can get anywhere. Secondly is the soundtrack, which, in every FF game I have played is top notch. This may sound weird, but it's not FF if there isn't a character you love to hate, whether it be

Rikku

,

Quina

,

Hope

,

Vaan

etc. There's something immensely satisfying that results from shunning a party member but maybe that's just me.

Personally I favor the job system. I love the fact that at one minute I can be a noble knight, then the next minute be the wielder of arcane destruction as a black mage. I also like the music. The music gives the game feeling, ya know, and a great music track is always key. I guess I would expect everything to at least be decent though because of how long the series has been going and how much change each game brings you know.

A new cultural setting. X and XII doesn't count. Mask no Oni 21:33, September 2, 2010 (UTC)

I just want it to tell it's story properly. FF XIII (which I really like, BTW) had a great story, but to fully understand it, you've gotta go digging around in data logs. Why? No excuse in my opinion... Not with all the cut scenes... Jamiemitsu FTW 21:51, September 2, 2010 (UTC)

Basically what Kupohunter said. A decent story is nice, especially in an RPG, but it's a game first. If it's not fun to play it failed no matter how compelling the story could be. Only things I look for in a new FF, no, any RPG is the following:

Decent cast of characters

and of course,

Sadly FF hasn't done it for me with the last few installments. But you never know.

It's everything. That's why they sell so well. They've got something for everybody. Storyline, gameplay, music, character customization, everything. Sure, sometimes they don't cover one aspect as well as they could for a particular gamer type, but so long as you don't decide to be a jerk about it, every one has something to love. Personally, I love the complete disconnection from reality. Dammit to hell if no one call really survive an icicle to the chest, or half the solar system being obliterated. Reality does not apply to Final Fantasy. Everyone has there own truth reason. And Final Fantasy just has so much to it that it's rather difficult to not like it...at least for me.

What I hope for and what I expect are two different things entirely. I hope for an open world environment that you can explore (with some kind of airship), a plot that is good at the least, a setting that is not typical Medieval or Cyberpunkish, awsome characters, a perfectly put together soundtrack, classic battle system, a terrifying final boss and an unforgetable soundtrack. Unfortunately, I don't think we're going to get any of that.Wikiguy 23:41, September 4, 2010 (UTC)
I expect that they repeat the pattern of the PS2 in this gereration: shitty linear emo game (X), awesome MMO (XI) and awesome single-player RPG (XII). Discordius 02:04, September 5, 2010 (UTC)