The auto welcomer
13,963 pages on
this wiki
Forum page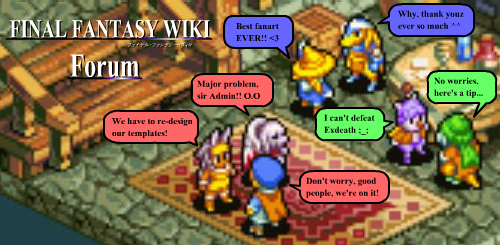 Wikia introduced a new feature, a bot that automatically welcomes new users and annons. You can see it in work

here

. It can be edited to use our templates, however, I know several users here enjoy the meet and greet aspect so I've disabled it.
I've disabled it over at Sardapedia. My biggest problem with it is that forces users to have pages against their own will. If the user is just passing by and doing a minor edit, they probably don't want to create a userpage for themselves.
I think we should leave it disabled. Bluerfn was always strongly against bots (and me acting like a bot, I lold) -- in addition, users creating the pages is a lot more personal and they can type extra stuff relating to their edit/s. They can do this without being the welcomer, but meh.  
ILHI 16:34, 18 March 2009 (UTC)

I thought I had disabled it, but apparently not. I think I've done it this time. EDIT: Apparently not still! Gah, can anyone help me figure out how to disable this damn thing?

1stclasswarrior

 - Meus vita , meus diligo , meus lily of sanctimonia...

TALK

- 17:24, 18 March 2009 (UTC)

If it still does not work, try asking centeral wikia. They may be able to help.

BlueHighwind Q? 19:05, 18 March 2009 (UTC)TALK

-

This Land is Made of... LOVE AND PEACE!! LOVE AND PEACE!! ツ:

Welcoming IPs is a bad idea. We don't want to see "needy". There's only been one date, and you can't call them by the second they get home. Its creepy. As for an auto-welcomer for Users, that might work. However I've always enjoyed welcoming newbies myself. If a robot did it then we would lose the human touch.