Table Colors and Common css
13,964 pages on
this wiki
Forum page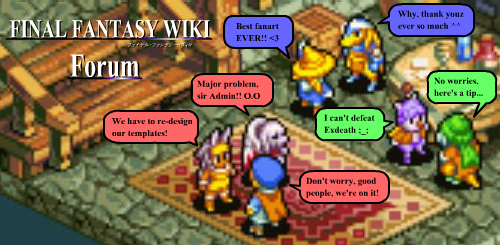 8bit BlackMage

 - Beyond the Sky

TALK

- Why do chemists call helium, curium, and barium 'the medical elements'? Because, if you can't 'helium' or 'curium', you... um... ._.; - 20:39, October 10, 2009 (UTC)

Today, the

MediaWiki:Common.css

was changed in order facilitate color codes used for tables that pertain to different games You are all aware of our logo-table color matchup, I'm sure; FFIX's tables have a gold header with a yellow subheader, etc. Hexadecimal codes for these colors can be found at

Final Fantasy Wiki:Manual of Style#When creating tables and infoboxes

.

Several users have come up with the idea of using a sort of template-ish system to replace the whole "bgcolor="#QQQQQQ" code in these tables, which also makes it easier to change the color codes for a game if we decide to do so. ILHI has created the code and it has been placed in the Common.css.

For reference to any user creating a table, the list is placed below. For example, instead of

bgcolor="#00BFFF"

as the main header color for the original Final Fantasy, one may insert

class="FFIa"

Essentially, just replace (bgcolor) with (class) and the #QQQQQQ with the appropriate symbols for a game; in the original FF's header case, it is (FFIa). This is easier to remember than a specific permutation of six numbers.

Both systems will work; however, if people would like to begin changing tables to use this system, it would be much appreciated. Any questions/comments/concerns, please ask. I'm wondering how/if I should place this in the Manual of Style, as well.
| | |
| --- | --- |
| | Note: The code also changes the text colour. So for VI, instead of "bgcolor="darkred" style="color:white"", you only have to type "class="FFVIb". If anyone knows if it's possible to also change the link colour through this method, feel welcome to explain. |
List of class codes

.seriesa{  color: white;
           background:black }
.seriesb{  color: black;
           background:white }
.FFIa{     color: black;
           background:#00BFFF }
.FFIb{     color: black;
           background:#00FFFF }
.FFIIa{    color: white;
           background:#C773A7 }
.FFIIb{    color: black;
           background:#E9CDDC }
.FFIIIa{   color: black;
           background:#68DC78 }
.FFIIIb{   color: black;
           background:#33CCFF }
.FFIVa{    color: white;
           background:midnightblue }
.FFIVb{    color: black;
           background:#AFB5D7 }
.FFVa{     color: white;
           background:purple }
.FFVb{     color: black;
           background:#CCCCFF }
.FFVIa{    color: white;
           background:#CC0011 }
.FFVIb{    color: white;
           background:darkred }
.FFVIIa{   color: white;
           background:#234432 }
.FFVIIb{   color: black;
           background:#00FFFF }
.FFVIIIa{  color: white;
           background:maroon }
.FFVIIIb{  color: black;
           background:orange }
.FFIXa{    color: black;
           background:gold }
.FFIXb{    color: black;
           background:#EEE8AA }
.FFXa{     color: black;
           background:deepskyblue }
.FFXb{     color: black;
           background:#FFD700 }
.FFXIa{    color: white;
           background:#4169E1 }
.FFXIb{    color: black;
           background:#87CEFA }
.FFXIIa{   color: white;
           background:#3300CC }
.FFXIIb{   color: black;
           background:#FFCC99 }
.FFXIIIa{  color: white;
           background:#00CED1 }
.FFXIIIb{  color: black;
           background:#7FFFD4 }
.FFXIVa{   color: white;
           background:#5C62AC }
.FFXIVb{   color: black;
           background:#F3651B  }

.compVIIa{ color: white;
           background:#234432 }
.compVIIb{ color: white;
           background:#577A7C }
.VIIACa{   color: white;
           background:#234432 }
.VIIACb{   color: black;
           background:#ACD7D7 }
.VIIBCa{   color: white;
           background:#234432 }
.VIIBCb{   color: black;
           background:#C0C0C0 }
.VIICCa{   color: white;
           background:#234432 }
.VIICCb{   color: black;
           background:#7FFFD4 }
.VIIDoCa{  color: white;
           background:#234432 }
.VIIDoCb{  color: black;
           background:#C4362C }
.OtWtaSa{  color: white;
           background:#234432 }
.OtWtaSb{  color: black;
           background:#989898 }
.IVTAYa{  color: white;
           background:#76529C }
.IVTAYb{  color: black;
           background:#95BCE5 }
.X-2a{     color: black;
           background:#EE82EE }
.X-2b{     color: black;
           background:#1E90FF }
.XIIRWa{   color: white;
           background:darkblue }
.XIIRWb{   color: black;
           background:#33CCFF }
.VXIIIa{   color: white;
           background:navy }
.VXIIIb{   color: black;
           background:#1E90FF }
.AXIIIa{   color: white;
           background:#CD5C5C }
.AXIIIb{   color: black;
           background:#EEE8AA }
.Ivala{    color: white;
           background:#373536 }
.Ivalb{    color: black;
           background:#BBD4B7 }
.FFTa{     color: black;
           background:#F0E68C }
.FFTb{     color: black;
           background:#A9A9A9 }
.FFTAa{    color: white;
           background:#4682B4 }
.FFTAb{    color: black;
           background:#FFAE29 }
.FFTA2a{   color: white;
           background:#4682B4 }
.FFTA2b{   color: black;
           background:#F5DEB3 }
.CrystDa{  color: white;
           background:#4682B4 }
.CrystDb{  color: black;
           background:#FFFACD }
.CDVSa{    color: white;
           background:#4682B4 }
.CDVSb{    color: black;
           background:#D8D8F2 }
.VagrSa{   color: white;
           background:#8E6029 }
.VagrSb{   color: black;
           background:#B29F6D }
.CCseriesa{color: white;
           background:#4CC552 }
.CCseriesb{color: black;
           background:#A0CFEC }
.FFCCa{    color: black;
           background:#7FFFD4 }
.FFCCb{    color: black;
           background:#48D1CC }
.CCRoFa{   color: black;
           background:#FF6347 }
.CCRoFb{   color: black;
           background:#FFDAB9 }
.CCMLaaKa{ color: white;
           background:#15317E }
.CCMLaaKb{ color: black;
           background:#4082CC }
.CCEoTa{   color: black;
           background:skyblue }
.CCEoTb{   color: black;
           background:darkturquoise }
.CCMLaaDa{ color: white;
           background:#5C1193 }
.CCMLaaDb{ color: black;
           background:palevioletred }
.CCTCBa{   color: white;
           background:#1111AB }
.CCTCBb{   color: black;
           background:#EEC600 }
.FFMQa{    color: white;
           background:#658197 }
.FFMQb{    color: black;
           background:#D9B16B }
.Dissidiaa{color: white;
           background:#4682B4 }
.Dissidiab{color: black;
           background:#FA8072 }
.Chocoa{   color: black;
           background:#FFFF00 }
.Chocob{   color: black;
           background:#F4A460 }
.TSWa{     color: white;
           background:#708090 }
.TSWb{     color: black;
           background:#A9A9A9 }
.LotCa{    color: white;
           background:#B64D51 }
.LotCb{    color: black;
           background:oldlace }
.FFUa{     color: white;
           background:#FF4500 }
.FFUb{     color: black;
           background:#FFDAB9 }

Discussion
I'm not entirely sure if this will work right, but try adding A:link{color: (whatever the colour is)} to each category in order to change link colour. Once again, I'm not sure if it will work so don't kill me if it accidentally breaks the wiki. --SCMツTalkシBlogBLAG 06:06, October 19, 2009 (UTC)
Yes, that works if you want to change very link on the page with the CSS encoded. But you can't specify it onto a class. So originally I thought something like ".FFVIb:link {color: #AAAAFF}" but that doesn't work.  ILHI 01:02, December 28, 2009 (UTC)
I suggest this being stickied, since it's something to keep in mind for those that'll mess with tables. Xenomic 22:01, December 27, 2009 (UTC)
BTW, if you don't like the colours we've chosen for a particular game, you can change them. Simply open your personal CSS and then copy and paste the entry and change the colours. Which reminds me...  ILHI 01:05, December 28, 2009 (UTC)