References
13,972 pages on
this wiki
Forum page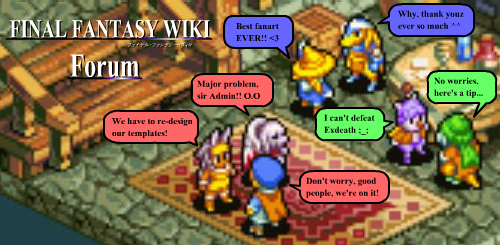 I think the wiki should have references. Sometimes I think the whole thing written in this wiki is made up by fans. I don't mean make it like Wikipedia. At least write the name of the book or website or anything. Wookieepedia did it and Halopedia did it to some degree too, I think a wiki that talks about Final Fantasy should start doing that too. Again, I know this is not Wikipedia, but at least make an effort. - A fan of FF
Can you elaborate on any specific articles in question? Because if you think all the articles on this site are "made up by fans", then you obviously don't pay attention when you play the games. Everything on this wiki is taken from the 12 games in the main series or from the companion/spin-off games. We don't really need to site references because the specific game we are referring to is mentioned within the article. It is not like Wookiepedia where their information can come from either the movies, novels, comic books or games. We have only one source, the games themselves.

Smeg hit the nail on the head. There are very few places to actually get info for FF games. The games themselves and, if you're lucky enough to have one, the Ultimania. Also, using references are a pain. I can't edit on Wikipedia because most of the information is jumbled up with coding for references.

I can't be bothered to list references, its not worth the effort.

We've been through this before; no. We're not citing references, we're not wikipedia, we're not the Halopedia, we're not Wookiepedia. They have thier rules, we have ours. If I had my way we wouldn't use spoiler tags, either.

Crazyswordsman

 - Final Fantasy VI, because Drake says he wants to link to FF7 every day, which is bad because that game is so far inferior to FF6.

TALK

- 22:46, 13 November 2007 (UTC)

Yeah, references are a pain, require about 48 templates, and really fuck up the page source code for editors. Also, this is a fansite first, and an encyclopedia second.

On a sidenote, in all the instances where there's been any doubt on wether or not something is correct/accurate (which has been like... 4-8 times in two years or something, not counting the hero/protagonist discussions), it has been resolved on the discussion page of the respective article, usually by an in-game quote.

Yeah, if you doubt an item, just post a question on the discussion page about the info you want double checked and wait to be slapped with at least 10 game quotes and 2-3 Ultimania citations by the crew here. We know our stuff and do not take the "making it up" charge easily
Ser Blue says at 07:56, 14 November 2007 (UTC)
Yeah, everyone pretty much said what I was going to say. We don't need references, the crew is pretty much all the references you'll ever gonna need. That's why we're here anyway :).