Prequel to FF5?
13,964 pages on
this wiki
Forum page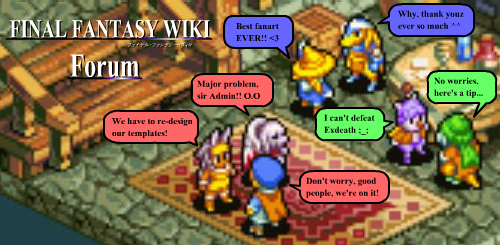 I'm thinking that tere are some gaps in the whole story of FF5. Namely; Why exactly did Enuo want to take control of the Void in the first place, how did Exdeath learn about the Void... and OFC, how come Gilgamesh was working for Exdeath i nthe first place. As such, I think there is prequel potential... especially for the last one becasue it would be Gilgamesh-centric if it was a game and would probably allow us to actually play AS Gilgamesh. So, does it sound like something that should happen as a game? (the whole Gilgamesh thing at least.)10.7.10.117 00:49, February 19, 2010 (UTC)

If they made a prequel to FFV, it would be about the original Dawn Warriors.
I agree with silver dragon, but there is too much story there with Gilgamesh to ignore. Exdeath64 03:41, February 19, 2010 (UTC)
I doubt a remake of V is likely due to its low fanbase. That being said, Exdeath, despite the horrible name, had a kickass backstory and I thoerize that Enuo would be even more kickass (read, kickass to the second power). Personally, I would rather see a remake of VIII or IX. 67.142.161.31 04:24, February 19, 2010 (UTC)

Pikmin Master

 - Cordelia! Do we have a third child?

TALK

- 04:34, February 19, 2010 (UTC)

A prequel of V is an awesome idea. A prequel of III is bound to be awesome with the Dark Warriors. But a prequel of V is more likely due to the popularity compared to III.
Main reason I want a prequel is because then it could focus on Gilgamesh - maybe even have him playable! 81.109.164.2 20:09, February 19, 2010 (UTC)
As much ass as a Gilgamesh game would kick, a Dawn Warriors game seems more likely. But we all know that the Gilgamesh army is plotting to take over Square... It's bound to happen one day!
This is Jonah, official Thief Treasure Hunter of the Army of Gilgamesh, and I approve of this message. 98.109.80.126 20:25, February 19, 2010 (UTC)
Gilgamesh for best FF character. 81.109.164.2 20:37, February 19, 2010 (UTC)
If they made a Gilgamesh-centric game, they'd have to call it Final Fantasy Gaiden: The Epic of Gilgamesh'. As for an actual FFV prequel, it'd have to be about Exdeath. There are several unresolved questions: namely, how did Exdeath get the fruit and his tasty arrows?

Joey Joe Joe Junior Shabadoo 03:13, February 20, 2010 (UTC)
I personally don't feel that a prequel is necessary. Looking back, almost every Final Fantasy game could possibly have a prequel, but it just won't happen. (FF7 excluded.)
In regards to a Gilgamesh game, I approve of the Gaiden idea. Square

even has the story already written for them!

Just tweak some details here and there and make it more hilarious on the whole, and you'd be good Although, given the recent butchering of Dante's Inferno, I imagine some classic literature fans may disapprove =P
I imagine a Gilgamesh game to be more of him just using the Void to travel between the various FF worlds, with a few elements from the Epic of Gilgamesh thrown in, namely finding and taming Enkidu and searching for a legendary treasure (the Excalibur instead of immortality, or maybe the Excalibur is rumored to give immortality?). It would probably work best as an action-based title like Crisis Core, with a similar focus on "missions" rather than storyline. At least, that's my opinion.

Joey Joe Joe Junior Shabadoo 19:53, February 21, 2010 (UTC)