Possible editing bot discussion
13,962 pages on
this wiki
Forum page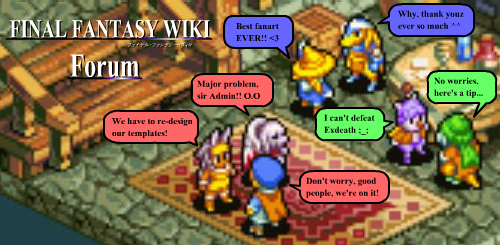 Making this a sticky until JBed is done cleaning up his templates.
It was suggested to me on my talk page that we have a local editing bot to help clean things up. I can't say I'm immediately familiar with making or maintaining one, but there are resources. I already know what I'd name it (JoueBear, for reference, since the name's left over), but what it would do is up for discussion.
This is not a guarantee of a bot. With life as it is, I can only work on the IRC bots in short bursts and if it's too much of a pain, this bot simply isn't happening.
What this thread is for is to discuss whether we'd want a bot if possible, what we'd want it to do, etc. Bluestarultor

BSA 02:07, January 24, 2012 (UTC)
Couple things:

WP:AutoWikiBrowser. It's not a bot, and thus isn't really the purpose of this thread, but can be used like one. I'm not sure how, but I might try it out when fixing disambigs or something.
Eh don't stress yourself. You do a lot as it is, coding and such.
I never liked bots. Of course, I understand why they are needed on places like Wikipedia due to the sheer size and unmaintainable RC. There used to be the argument that we have a handful of WikiGnomes that do the maintenance tasks anyway, but I'm not sure we do anymore... since Yumino and SS just disappeared, Yuan doesn't do much anymore, and I don't carry out WikiGnoming anymore (maybe? I can't remember what I actually do here). I'm sure we have a few users that keep track of moves and fix links... but in reality they don't. Special:Disambiguations or whatever the page is-- is proof that it was Yuan and me holding this wiki together. We were so awesome.
But regardless of how our wiki isn't so good at link fixing anymore, I don't like the idea of bots. This wiki was created by users. Users have done everything (bar a few bots briefly released into the system).
But since my reasons aren't really reasons but me lamenting on the past, go for it if you want. But I will be sad knowing that if we need masses of links fixing I won't be able to show off my mad skillz. JBed 17:47, January 24, 2012 (UTC)
Ikr? It's not like anyone ever goes to Special:Disambigs to clean up stuff anymore. There's like 500+ links in there. --Shockstorm (talk) 18:58, July 28, 2012 (UTC)