Poll:FF game that is the best/deserves remake the most
13,961 pages on
this wiki
Forum page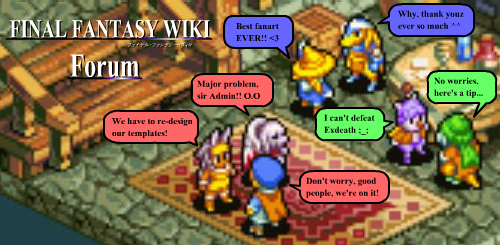 Three different polls I thought of for subjects argued over constantly all the time
FF game that deserves a remake the most.
Which one do you want to see a remake of?
Wow that took a while, I hope it didn't mess up because I'm on my iPod.AlVan 20:45, August 8, 2011 (UTC)
I prefer XII over VII, but I think VII deserves the remake the most because it is the best known of the series. And it'd be awesome to hear everyone speak =D AmbieSushi To think that mother would prefer Sephiroth over... 06:54, August 8, 2011 (UTC)
The best FF game poll is a tricky one. FF9 15:15, August 8, 2011 (UTC)

I can't believe XIII is beating VII and VI, I voted for XII. If I forgot any majorly popular games just add them to the list, crystal chronicles would never be voted for instead of the other games I've posted. Although I said VI deserved a remake the most, I wanted VII to have a remake the most, that's why I made three polls. Although a 3D Tactics and BC wouldn't be bad, either. I have another idea, at the end of the month, I'll tally up all the votes on the polls and we can finally decide just what game is the best. In this case, I hope everybody has their vote in, just to find out what really is the most popular game on the wiki.