Parent Page - Subpage
13,961 pages on
this wiki
Forum page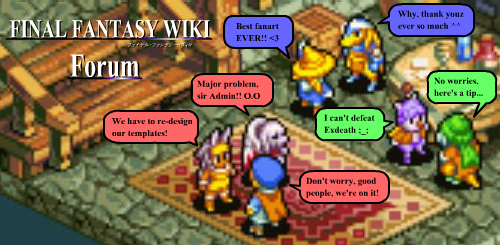 Hello again good sirs. I would like to convey a proposal for the inevitable splitting of spell and status, which some users are hellbent on doing. To illustrate, I shall use the Haste example. I do believe the split should be done in the manner of subpages, aka Haste/Status or Haste/Spell. The software will recognize this as being branched from the main Haste page and insert the link on top. Something of this manner can be seen in userpages and walkthrough pages. Then a simple summary can be written on the Haste main page - the same as how

this is portrayed

. I do believe this is a sound solution rather than using brackets - simply because Wikia designs have enabled us something simpler. I have taken this up with Diablocon, and he approves of the idea. Action is inevitable, although I am very, very interested to hear any opposition to this idea: you know, the usual "No with a period" and the administrative "No"s.

If anyone should wonder if this goes against this wiki's practices, this would go actually go in line with the practice of Parenting enemy pages - ones that are recurring and most familiar to the series.

If one wonders if this should applied to ALL the existing pages, I think no. Leeway and exceptions should be given to this practice of making ALL things standard. This should apply to the spell/status/element pages only >;3

TLDR version:
Drake Clawfang

 - Crossing the distant night...Wandering the desert sea...The gods' voices are mirages...

TALK

- 05:15, 26 April 2009 (UTC)

Not entirely in favor of this, but not really opposed either. My concern is that this could snowball into other pages with tags becoming subpages (like

Red Dragon

, for example).

If the community likes it, go for it.

---

Come vote in the

Soul Shrine

and take one of my

Final Fantasy quizzes

.

As I have expressed, this should only apply to our inevitable split of spell/status pages. If the community feels on applying this to all other pages not entirely relevant, that is absolutely not my intention >;3
So in other words, if one were to say, do this to the Water page for instance, it'd be just split up into Water (Element) and Water (Spell) with a brief description of them right? And would that also include Watera and Waterga as well?? Xenomic 05:43, 26 April 2009 (UTC)
No because subpages are ridiculous. The only subpages used on the site are for videos, so they don't clutter the main article. Dissidia characters are in subpages but that's so we don't have to "clutter" the main character article with it, something I would have preferred myself. In these cases, they should be separate articles, and aren't just cut-offs from a main article, so no.  ILHI 13:36, 26 April 2009 (UTC)

If they are truly different things, they shouldn't be subpages. I'm pretty skeptical about just how different these things really are, but if the wiki has decided the other way, I'm not going to argue against them. (It hardly matters anyway.) --BlueHighwind ツ 13:45, 26 April 2009 (UTC)

Breaking up the status and the causing spell is a good idea, but I'm kind of torn between whether subpages or tags are better. It's probably on a case by case basis, like you said, exceptions. Like with Poison, the spell sometimes inflicts damage, sometimes it doesn't even cause poison, and it's also an element. In that case, tags win.
Haste, however, is basically a straight shot: cast Haste the spell, and you're imbued with Haste the status. A subpage would make sense there.
Personally, I like tags more. I'd rather link to a tagged page than a subpage, but I don't fully understand AJ's reasons for subpaging. Can you explain what you mean by the software recognizing branching and "inserting the link on top?" 8bit 15:46, 26 April 2009 (UTC)

He's talking about the little thing at the top that says "< User:8bit BlackMage". I assume it's in place on all skins.  ILHI 15:49, 26 April 2009 (UTC)

Ah, okay. Yes, I do have that now that I've switched to Monobook (and not Monaco, which I confused the former with initially). Basically, the only purpose for subpaging is that so the reader can always go back to the parent Haste/whatever page just by clicking a link on the top? That is useful..., but if it's the only reason... I just like how the Poison article currently is, using main article sections with tags. Then you get into matters where some status effects are subpages and some are tags. 8bit 15:58, 26 April 2009 (UTC)

Fortunately for us there's only a handful of these pages that carry the (Status), (Spell), (Element) tags. I'll seek out these tags and see if its tangible to do such things >;3 AJDurai 02:35, 27 April 2009 (UTC)

You have smaller hands than you think you do.  ILHI 18:14, 27 April 2009 (UTC)

All right, if you think there is a lot of these pages that will be inevitably split, you could list them down and we will see if it is indeed too large a list of pages >:3 AJDurai 02:13, 29 April 2009 (UTC)
Actually, the link at the top is easily replaced with a little text that says, "See also ... (Spell)". There's no reason to switch to subpages and never will be for anything outside of reuses like Dissidia. Master Conjurer 13:11, 27 April 2009 (UTC)
I'm leaning against on this, as subpages tend to indicate a heirachy in terms of organisation, and all the other pages use tags (with the exception of Dissidia pages). The backlink can be easily replaced with a note as Master Conjurer said. — YuanSaluto!Acta 05:11, 28 April 2009 (UTC)
"subpages tend to indicate a heirachy in terms of organisation"
Which is exactly what the subpage was meant for. As I said, this applies for the term that share similar properties - hence spell and status.
Despite the opposition, I will put this on a trial run. If Diablocon feels against this, he can revert if he wishes >;3 AJDurai 07:15, 28 April 2009 (UTC)

Heirachies can cause issues: when articles can be placed in multiple subpages, for example, and the fact that you can only have one level of heirachy. Using subpages implies that Haste/Spell and Haste/Status are subtopics of that page, and that page only. It's the difference between saying "This is the spell sub topic of Haste" and "This page deals with a spell named Haste". Why use subpages here, when disambigs with parentheses will do the job? Why create an inconsistency, which could confuse users?
"Despite the opposition, I will put this on a trial run."
If there's opposition, then that's a signal to discuss further to solve the issues, not for you to go ahead and do whatever you want. Otherwise, there's little point in creating a discussion. — YuanSaluto!Acta 07:37, 28 April 2009 (UTC)

She's right. Putting it on a "trial run" is simply ignoring everyone who is against this, of whom there are more than there are people agreeing with you at the moment, AJ. More reasoning is necessary.

Master

Conjurer

15:09, 28 April 2009 (UTC)

If Diablocon thought this is a good idea, then obviously he saw something that most of you did not.
Using subpages implies that Haste/Spell and Haste/Status are subtopics of that page, and that page only.
Precisely, because Haste/Spell is the cause, Haste/Status is the effect - they are linked with each other.
Why create an inconsistency?
That "Final Fantasy Wiki:Consistency" again? You should create a project page on that one; like "Wikipedia:Notability". Answer: because there is no policy on consistency here, and I doubt anyone will be so confused. AJDurai 01:58, 29 April 2009 (UTC)

I'm confused to Hell on this one. It doesn't seem to matter either way, as no matter how you write the words "Haste" and "Status" in the title, the article itself doesn't change. I don't know, maybe I figured content was more important than whatever arbitrary method of organization we choose to present it in. Maybe we can flip on it? Rock-paper-scissors? Eeny-meeny-miny-mo? --BlueHighwind ツ 02:15, 29 April 2009 (UTC)

To answer your queries, BlueHighwind, it is simple. Instead of a mere disambiguation for a term like Haste, we create a parent page. However, the pages disambiguated are actually talking about the same thing, but touches on different properties, we subpage it. Maybe this can be seen with "Ultimecia" >:3 AJDurai 02:20, 29 April 2009 (UTC)

Please don't mention that page, those subpages are a horrid tangle of shaky speculation. Drake Clawfang 02:28, 29 April 2009 (UTC)

Well, allow me to simplify it even more. If they are the same thing, then there should only be a single article, unless we're saving space (like the Crisis Core Missions). If they are different things, then there should be totally different articles. --BlueHighwind ツ 02:31, 29 April 2009 (UTC)

I actually propose this as an approach to the splitting of spells by "status" and "spell". I don't see the rationale in splitting these pages by "Status" and by "Spell", when they are at most the cause and the effect of one same gameplay element >;3 AJDurai 02:34, 29 April 2009 (UTC)

Look, I know you are only trying to help, but I personally think, after much analysis, that we should probably just leave things alone for now. Perhaps we should drop this and come back to it later, assuming it is still a valid issue. Exdeath64 04:21, 29 April 2009 (UTC)

Look, I know you are not a fan of this so-called "massive arguments", but really, your message does not help at all in this discussion. We're searching for alternative approaches, if you can't really add anything, please don't act as arbiter as you do fail in this role. "Much analysis", indeed, I do wonder what criteria do you include in that >:3 AJDurai 04:31, 29 April 2009 (UTC)

"...because Haste/Spell is the cause, Haste/Status is the effect"
This, however fails to note that there are other causes of the status Haste. Equipping certain items imbues the wearer with the status (Hermes Sandals, Tynar Rouge, Excalibur etc). Haste is also an ability given by Cerberus in FFVIII, not to mention an effect of the abilities Big Guard (FFVII), Refueling (FFXI) and Speed Song (FFV). What about items like the Speed Drink and Bacchus's Cider (FFIII) that also grant Haste?
Now think about other spells, for example, Stone. Sometimes it inflicts earth elemental damage, sometimes it inflicts the Stone or Petrify status. It's also an unrelated ability. How do you choose to subpage that? Freeze is a status sometimes caused by a spell of the same name, sometimes not. There are a lot of Water elemental abilities, spells and weapons - does it make sense to subpage one of these, and not the others? You could say that it's because the names are different - but subpages imply a shared topic, not a name. Subpaging it implies that these pages could be covered in one article, but have been split for length purposes or something similar.
Why do we have consistency? It gives more professionalism to the wiki, and links articles in structure. We have the MoS and guide pages like Help:Tags and Disambiguation Pages for a reason. But that's another debate. I don't particularly hate the idea, but I think it would cause too much trouble to make it worthwhile. Splitting the Haste article into Status and Spell does make sense though. — YuanSaluto!Acta 07:28, 29 April 2009 (UTC)
It doesn't fail to note. As well, Haste/Status may convey all that information.
As mentioned previously, this should apply to the Spell/Status term that share similar properties. Obviously Stone does not fit this application since it has an unrelated ability that uses that term. I don't remember a "Water" status.
Professionalism and "srz bzns" aside, I think exceptions can be given once in awhile. I really would like to ask why Diablocon thought it was a good idea, by the way. Any explanations, Diablocon >;? AJDurai 10:36, 29 April 2009 (UTC)
Where did Diablocon say that? I can't see it.

Master

Conjurer

12:18, 29 April 2009 (UTC)

His talk page, obviously >:3 AJDurai 12:24, 29 April 2009 (UTC)

Then you don't mind me quoting his line, "Although taking this up with the community as a whole is the way to go." One person agreeing with you, even if it is a bureaucrat, does not negate the number of people with logical arguments against you. In fact, going straight to a favoring bureaucrat when everyone else disagrees is a form of forum shopping, and it's disgraceful.

Master

Conjurer

12:36, 29 April 2009 (UTC)

Disgraceful? I've seen this act being done time and again - it is impossible for me to quote and count.
However, regardless, I did not expect "judgment in my favor" by Diablocon. I have come to him time and again for opinions, and his was among the administrators replies I received during my initial edits to the wiki, so naturally his opinions as administrator I would sought. So I hardly think this is a disgraceful act; you can call it a necessary evil if you wish.
Oh but we are getting out of topic >:3 AJDurai 12:59, 29 April 2009 (UTC)

What is the topic to you? I can tell: the topic is anything that makes you right. People come with logical arguments for the negative, and you respond by saying they "don't help at all" or are too "serious;" and you claim that the only person that matters at all is the only person at all that agrees with you. News flash: this is a wiki, and therefore its community is who matters, and its community still has a discussion to carry out before you get started on anything.

Master

Conjurer

13:09, 29 April 2009 (UTC)

You are obviously blind. I have not lifted a finger on this: I have not done the "split", and I am still discussing this topic with you >:3 AJDurai 13:13, 29 April 2009 (UTC)

While I am, in fact, going blind, I can still see how you disallow this "discussion" to go anywhere. Listen to the other side. A fair debate requires that both sides actually be listened to. We see the pluses you've presented. (The link at the top is the only things so far, really, and I myself negated that.) Now look at ours. Also, I can see that you appear to thrive on changing things. Why must you create such an impact on the wiki? Can't you just help out with the projects we have now and wait until later to propose such drastic changes to the way we operate the wiki?

Master

Conjurer

13:35, 29 April 2009 (UTC)
I do have a question to the "other side", and I do expect a statement response instead of a question response - why disambiguate a term that essentially refer to the same thing? I see this done to "Poison" and "Holy", and I thought that it was unreasonable! >:| AJDurai 13:43, 29 April 2009 (UTC)
I just noticed something interesting: Reflect.
"Reflect, sometimes translated as Wall, is both a status effect and the spell that causes it."
The Reflect page covers both the spell and the status "Reflect". So why not do the same thing with Haste? Dispense with tags and subpages alike and just use one page for both the spell and the status. Drake Clawfang 13:45, 29 April 2009 (UTC)
I am absolutely one of the proponents to that approach, DrakeClawfang. But there are certain users who think the present Reflect page should be split to a "Spell" page and "Status" page simply for consistency. I believe this is unreasonable but inevitable, which is why I suggest the subpage approach >:| AJDurai 13:50, 29 April 2009 (UTC)

Well it really shouldn't be split. The thing is that not much would be gained by splitting either page in two, a single page covers both topics perfectly. More pages does not equal "better", regardless of tags or subpages. Drake Clawfang 13:56, 29 April 2009 (UTC)

Reflect and other like pages should not be split just to differentiate its "Status" and its "Spell" attributes. And even if they had to, the resulting redirect should not be a disambiguation, but rather an article of its own >:| AJDurai 14:00, 29 April 2009 (UTC)

The Reflect way is fine when the spell is pretty much all that causes the effect, and such a situation is what AJD's points hinge on. The thing is, there are so many effects caused by things other than the like-named spells. Yuan explained it perfectly above, but seems to have been completely ignored.

Master

Conjurer

14:28, 29 April 2009 (UTC)
Henryacores

 - "É que esta noite vou lançar ao mar/A bruma que houver em mim./Vou beber e cantar este luar/vou dançar até ao fim."

TALK

- 14:35, 29 April 2009 (UTC)

Discussion aside, Status, Elements and Spells are completely different elements. Haste status can be granted by several spells or items, while several abilities can deal Water-elemental damage. We can't merge spells, status and elements at all because of this. Merging Haste (Status) with Haste (Spell) would also make the merge between Hastega and Haste reasonable, which is not, because, again, Haste and Hastega are again different elements. Also, would we merge Earth (Element) with Quake? Or Bio with any Poison article? You know we wouldn't, and this is why we mustn't merge anything. In fact, there are articles that must be split, such as Reflect.
Edit conflict damn youz Yeah, her words made too much sense to be taken into account.
In any case, her point sums it up quite neatly, the reasoning against this idea: there are cases in which the spell causes one and only one status effect; there are cases in which the spell may cause different stati depending on the game; there are cases in which the stati are caused by lots of things other than the spell. This apparent "anarchy" does not go in accordance with the concept of a subpage. Faethinverba volant 14:38, 29 April 2009 (UTC)
Wow, luckily Yuan was here. Usually I get on the laptop after school, see a long-winding discussion and people seem to miss a vital point and I have to bring it up after the discussion has been inactive for several hours. And this reason is the reason this topic occurred. I'm the reason this topic occurred actually, I should never say anything around AJD.
This topic is here because I suggested instead of merging the levels of Haste, we should be splitting Haste into status and spell. Because they're different things, for the reasons Yuan mentioned.  ILHI 15:56, 29 April 2009 (UTC)
Haste and Hastega are again different elements
Care to explain? One causes an effect to a single target, the other to all targets.
there are other causes of the status Haste and Because they're different things, for the reasons Yuan mentioned.
Why can't we mention all of this in the same page? The article's name is "Haste" alone - everything pertaining Haste should be mentioned in the article. The same reason Reflect should be kept in its entirety - Everything that causes the status Reflect; spell, ability or equipment, should be mentioned in the same article. The length of an article is not a major problem, and so is organization of information. You achieved this with the pages that carry the (Element) tag, surely you can achieve this with Haste and Reflect >:3 AJDurai 03:17, 30 April 2009 (UTC)
TacticAngel TALK
05:36, 30 April 2009 (UTC)
I disapprove. There's just no reason to do it like this. Water (Element) and Water (Spell) don't have much to with each other in the sense of an article. Do you have Water, h2o, being the main page and then Water/Spell the subpage? What about Water II? They are no more or less tied to Water (H2O) than Water(1) conceptually. They do more damage and they have a number. Big deal right? I don't even know how you'd differentiate on a parent page between Haste (Status) and Haste (Spell), not to haste that comes from gear or naturally. Inevitably you'd have to break Haste (Spell) into Haste/Spell/Haste, Haste/Spell/Hastega, Haste/Spell/March, and quite obviously Haste/Spell/March/Advancing March and Haste/Spell/March/Victory March.

I also hate subpages period. Plus 'it ain't broke.' This is just busywork. Go write a real article.

I don't even know how you'd differentiate on a parent page between Haste (Status) and Haste (Spell)

Simple. We write out a short summary of the terms, such as seen in Poison

Why would you breakdown subpages into more subpages when you can write in one article. Which is also the reason I wonder why you would breakdown one article into a couple of tagged pages?
TacticAngel TALK
12:03, 30 April 2009 (UTC)
Well that's even more ridiculous than I thought. Why would we tie together a whole lot of completely unrelated things into one article with subpages? All the subpages we use now at least have something to do with each other. This seems counter intuitive to why subpages even exist and is completely inconsistent.

Which is exactly what Yuanchosaan said more than ten paragraphs ago and exactly what I echoed about five paragraphs ago. Again, this blatant disregard for the points made against AJ's stance, no matter how valid, makes me even more inclined to think that all this user wants to is to create disruption in the community under the banner of "being bold".

BlueHighwind Q? 19:03, 30 April 2009 (UTC)TALK

-

This Land is Made of... LOVE AND PEACE!! LOVE AND PEACE!! ツ:

Well, since nobody here is giving this idea any serious chance of passing, I would dare say this discussion is now closed. Labyrinth of Time, anyone?
We could just lock it and let it die. Not every locked topic should go in the LoT IMO, just the important ones. This is far from important, unless it marks the day when the wiki realised that it is murdering itself.  
ILHI 20:08, 30 April 2009 (UTC)