Off-topic DNC discussions
13,966 pages on
this wiki
Forum page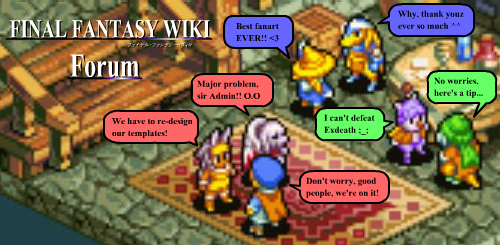 This is an archive of ridiculously long off-topic discussions that happened in the DNC Peanut Galleries. Such discussions are highly discouraged, and thus have been removed to stop bloating the archives.
FFXIII vs Versus XIII Battle
Edit
Peanut Gallery
I get no enjoyment out of this fight. I'm not looking forward to either, since I highly doubt they'll be worth spending 400 dollars for a PS3, & therefore, I won't be getting them. As such, the only thing left for me to do is comment, since I have no opinion on the games. And Werefang, would you think your posts out before you make them? "Which one would you be more willing to buy," is "which one are you more excited about," which is, "which do you think will be better," which is all the same damn thing. A game vs. game fight will ALWAYS amount to which game is better. I CAN read, but as I keep showing you, it's no different, it's all meaningless semantics. How many suggestions are there in the DNC Nomination page for a game vs. game fight insisting that they ARE NOT about which game is better? Do any of THEM get approved? What makes this one any different? It got through because of bad reasoning, that's what. Now, I have nothing against Tactic Angel, but his logic makes NO sense in this case, & I WILL point that out, because I am the argumentative asshole, & while anyone is welcome to try & refute my points, I should note that there is a difference between a refutation & a response. If you just wish to stubbornly proclaim that "they're different!" it is a response. If you can actually reason HOW they are different, & the logic works, it is a refutation. I have no interest in starting a flame war, so I welcome refutations, but responses WILL end in a flame war, regardless of whether or not the public sides with me, because it's just beating a dead horse. I'm noticing a trend in that certain members just feel the need to show me how right they are, but they completely ignore any logic to the contrary. If I sound annoyed, it's because of that. Now, I don't want to ruin anyone's fun, but I also don't want to be bothered to keep posting wordwalls such as this. I gave my opinion. You have every right to disagree with it. Don't make a nuisance out of yourself, though. Now, on a more important note: Lightning is awesome, despite her weird-ass name.Neo Bahamut 00:16, 20 June 2009 (UTC)

This is different because neither game is released yet. This is not "which game is better." This is "which game do you think will be better." I think we're just measuring how well Square has advertised these games again each other in order to appeal to different demographics. 8bit 01:57, 20 June 2009 (UTC)

Again: Pure semantics. Great. I gave myself carpal tunnel for nothing.Neo Bahamut 05:19, 20 June 2009 (UTC)

The difference is, that there is not enough information that exists on either game to make a judgement on which game is better. That is the inherent nature of a "will be" fight. A will be fight is therefor incapable of starting a flame war. But if you bothered to look at TA's comment you'd know that.--Werefang 11:59, 20 June 2009 (UTC)

Werefang, remember what I told you about thinking through your posts? DO IT. I DID read Tactic Angel's comment, & it is no more convincing. Now, have you been reading MY comments? I keep saying that calling it different because it's "will be better" as opposed to "is better" is just pure semantics, & therefore meaningless. If you don't want to agree, fine, but stop responding to me without even bothering to make a point. To be quite frank: It's annoying to keep arguing with a closed-minded dumbass who keeps trying to make me agree with his baseless, substanceless opinion.Neo Bahamut 01:44, 21 June 2009 (UTC)

I do think about my posts. Can you say the same? Simply because you say that they are the same does not mean that they are the same. Every argument I've seen you make is based on the use of your interpretation as proof. Will be fights are driven by their very lack of information; ie: How deep is the story? Does the game actually play like that?, etc. Present tense fights are based on the existence of facts that are already present; Who is your fav. char.? Fav. Weapon?, Boss? etc. Also, I never said that you had to agree with my opinions, I simply point out that most of the time that you try to justify your opinions (a feet that is inherently impossible) you actually resort to invented facts that are just as much an opinion (sometimes even a farce) to "prove" why your opinion is right. And do not make a referance to logic again. You have made it cleat that you have no actual experience when it comes to anything even remotely related to logic.--Werefang 02:32, 21 June 2009 (UTC)

You're the one who doesn't seem to understand logic. "Invented facts"? Jesus Christ, the meaning of words are not OPINIONS, they are FACTS. And the FACT is that this is STILL a game vs. game fight. Trying to get around that with semantics is just retarded. And the only one attempting to prove their opinion is you. Think about it: You keep coming back here to fight with me when I tell you just fucking drop it. You simply WILL NOT give it a rest so long as I voice the FACT that this is a Game vs. Game fight, & no amount of flawed logic is going to change that. This, alone, would not be a problem, but you've shown to be completely INCAPABLE of making a point of your own, only saying, "THAT'S WRONG!" & regurgitating a bunch of shit I've already read & dealt with ages ago. It's annoying. Make a point, for crying out loud. I notice that the people arrogant enough to say to the person they're arguing to that they don't know anything about logic are usually just spewing out word diareha. Ad infinitum doesn't make you right. No matter how many times you rephrase, "this is a will be fight, not an is fight," this is STILL a game vs. game fight. If you can prove THAT wrong, you'll have a point. But you can't. And you know it. So you try to get around that with idiotic qualifier statements such as, "It's different, because it's future tense!" No,. it is not. Game vs. game. Shouldn't have been done. Boring anyway. End of discussion. You intend on doing this shit next week, too?Neo Bahamut 03:35, 21 June 2009 (UTC)

First of all, no one said this isn't a game vs game fight. We are talking about the subtle differences between the concepts of "Which game is better?" and "Which game are you more exited by?" And Logically, the very fact that they are not identical means that "is" is not the same as "will be." In other words, the very semantic difference that you claim is not relevent is logically the only evidence needed to prove them separate. You are the one who has to proove that this is a "which game is better?" fight and that it is against the rules. And lets not forget that you are the one who started the discussion, not me. You cannot start a fight and then tell everyone to drop it, that isn't the way reality works. When you say that something is a fact, you have the burdun of having to prove that it is a fact. Most people will not just bend over and take it, they will stand up and support what they consider to be fact. Just because you deny that something is relevant or important does not make it so. You are an absolute hypocrite as the very thing you accuse me of is the very problem that you have and if you even bothered to objectively examine what you write, you'd know that. So instead of being an argumentative asshole, try to at least be intelegent.--Werefang 14:07, 21 June 2009 (UTC)

Werefang, let's look at the history of our discussions. You swoop in, trying very badly to prove me wrong, then you just will. Not. Let. Things. Die. Last week, you basically told me to shut the fuck up for POSTING MY OPINION ON YIAZMAT. So, excuse me if I don't think your intentions are pure. I hope you don't do this next week, as it's making me really cross, in case you can't tell. Now, one last thing before I ditch you & your incompetent arguments for the week: Calling your opponent stupid does not make it so. I'm not making assumptions about what you have/have not read, for example. You've put your foot in your mouth a million times so far, & this time is no exception: "Argumentative asshole" means I retort to nonsense, & I do not sugar coat things. You saw the whole thing about the refutation vs. response bit, didn't you? You're responding. That's why I've been telling you to drop it. I have no problem with people being argumentative assholes, but once you take the argumentative part out, you just stink. I hope you understand what I mean by that, as I'm done repeating myself. Until next week, I'm sure, but hopefully not.Neo Bahamut 00:59, 22 June 2009 (UTC)

Last week I told you to stop because you were saying is essence that gambits sucked because abusing them was an option when you knew full well that not abusing it was just as much of an option. Last week, I was aggitated because the way you attacked XII was in such a way that it was inherently offensive to anyone who enjoyed XII. It was a direct attack against all XII fans and was uncalled for and biased. Also, if you didn't want to have a legitimate discussion, you shouldn't have said anything. That is in fact why words were invented you know. And just because you say that something is nonsense does not make it so. You are not an "arguementative asshole" (last time that should have been in quotes I guess) you are a hypocritical asshole. Take a College Logic course, get a 4.0 and then you might know just how flawed your logic truly is.--Werefang 01:31, 22 June 2009 (UTC)

We are not restarting that argument. Let it die. You can't even call me a hypocrite now, because I said nothing about the gambits before you started trying to convince me AGAIN that your position is correct. If XII fans can't take the fact that people don't like their game, that's really sad. You should see the shit VII fans have to put up with, some time. Or worse: Compilation fans. And your ad hominems/unwarranted self-importance need not be addressed.Neo Bahamut 02:03, 22 June 2009 (UTC)

Now your just picking and choosing what you respond to. So that you can't get side tracked: Where is your proof that a game v game fight is the same concept as a hype v hype fight. You demand that I prove my own statement yet you yourself haven't proven anything. The only thing YOU'VE said is "No, you're an idiot so drop it." News flash, you can't ignore the rules that you youself have established.--Werefang 13:19, 22 June 2009 (UTC)

Did I not just say I was leaving you & your incompetent arguments behind? I've proven my point more than once. I can't do anything if you insist on plugging your ears (or covering your eyes, in this case) & yelling back, "THAT'S WRONG!" And frankly, I don't know what the Hell you're talking about, anymore. "You can't ignore the rules that you yourself have established." What?Neo Bahamut 21:31, 22 June 2009 (UTC)

What have you proved? I honestly haven't found it. You perpetuate the myth that my arguement is "meaningless semantics" yet you still refuse to expain why that is the case. That is how logic works. You can't just pull something out of your ass and then tell everyone you are right; that isn't valid. Or perhaps you have actually forgotten your own first statement (a feat I didn't know anyone was actually incompetant enough to make on a regular basis 'til you came along). You asked for a well reasoned "refutation" when you yourself have not given one. Maybe you should take your own advice and "refute" rather than "respond." And just so you know: you are not an expert on logic; I am (that 4.0 was not an exageration). Of course you are entitled to your opinions; I fail to see where I said you weren't. But don't invent unsubstantiated "facts" just because you disagree, that results in the argument that you yourself are so intent to drop.--Werefang 22:23, 22 June 2009 (UTC)
Can you two take this, you know, to your own talk pages or something? This is the Peanut Gallery for this fight, and your back-and-forth arguments are getting out of hand. Especially since you keep doing it weeks in a row. While I certainly think this fight is incredibly stupid, I'm saying this out of my regard for the DNC itself -- Sorceror Nobody

22:36, 22 June 2009 (UTC)
You think I want this guy on my talk page?! Look, I've said numerous times that I don't want to clutter up the Peanut Gallery, it's not my fault people want to keep poking me. And Werefang: I don't give a shit about you or your alleged 4.0 in logic, because, quite frankly, it's not showing. And if you can't see how I've proven my point, well, that sounds like a personal problem, now doesn't it? I've spent more than enough comments explaining why this fight is no different from your standard game vs. game fight. If you've really missed ALL of it, there is no way that another explanation is going to help you. Now, maybe you & your alleged 4.0 in logic can figure out what I've already put together: If you explain your point to someone a billion and a half times, & they STILL don't get it, they aren't worth your time. So, if you come back here with the same old shit, I am going to ignore you. If you feel that I am so stupid, yet you keep coming back here to argue with me, well, that really says something about you, now doesn't it? It's like they say: "Arguing on the internet is like being in the special olympics. Even if you win, you're still retarded."Neo Bahamut 23:59, 22 June 2009 (UTC)

Since you refuse to put aside your ego and look up anything related to true logical debate I will attempt to explain how it works. It is a step by step series of proofs. If your arguement is that I am wrong because my arguement hinges on semantics, you must prove that it hinges on semantics. Then if you want to prove that I am wrong because semantics are irrelevant, then you must prove that semantics are, in fact, irrelevant. In that you continue to fail. And an arguement is an arguement no matter where it is. I simply feel the need to point out the flaws in your logic because your personal brand of false logic is in all seriousness, harmful to the human race.--Werefang 02:20, 23 June 2009 (UTC)

Okay, Mr. 4.0, since when did it become accepted in logical debates to use ad hominems against your opponent, hmm? Now, here's the flaw in YOUR logic: This is a game vs. game fight. Game vs. game fights are against the rules. As you've already stated that this is, indeed, a game vs. game fight, you admitted that it shouldn't have been done. This proves me correct by nature, & the fact that you seem to want me to play 20 questions until I've defined the meaning of the culture that the root wor for "semantics" comes from is irrelevent. I'm not defining the word "semantics" for you just so you can keep playing at your absurd ambition to somehow "prove" me wrong with these pathetic attempts of yours. Now...when do I start seeing these amazing argument skills you've been boasting about? Because, from what I can tell, all you've been doing is soundly proving that you're full of shit.Neo Bahamut 05:34, 23 June 2009 (UTC)

Actually neither of these are games yet. Sure it is obvious that they will become games but as of yet neither is capable of being played, the definition of a game. Also, just because semantics comes from "irrelevant" does not mean that it still is irrelvant. In enlish, it is the study of word origin and meaning. Because "will be" means something differant than "is" the words are not the same, therefor the phrases that they are in are not the same.--Werefang 11:40, 23 June 2009 (UTC)

Oh, lately I'm in agreement with Neo Bahamut (incredible, I remembered pushing the spacebar between Neo and Bahamut!) with some frequence. You're just calling it with other name. Tell me, in what are we supposed to base our impressions in which game is more expected? In which of them looks better :/ Rai Balmung, the gargoyle 17:26, 20 June 2009 (UTC)

You're supposed to base it on which one you are more exited about, nothing more or less. I could have sworn TA put that in somewhere but I guess not. The future tense is about plans, not oppinions. As I said it is the very lack of Information that separates this from a "which game is better" fight. So what if it only has one word different. It is that one word that changes the entire meaning of the entire statement.--Werefang 17:40, 20 June 2009 (UTC)

Well, think about it. Are you going to tell me you get excited about games that doesn't look good? Because I don't think so, it's ilogic. In order to get excited by a game unreleased, that bit of information that we got must offer us a impression about the quality of the product. If you want to know what of those products it's more expected, you have to compare that impressions and make your own judgement. That's why this is a "which game looks better". Rai Balmung, the gargoyle 23:50, 20 June 2009 (UTC)

CryssLeonhart Comparing one game with a lot of information about it and another with absolutley none seems pointless anyway. Also I'm not sure its fair to judge until we actually get some gameplay and can form our own subjective personal opinions. I suppose until then we can hope for a DNC fight I actually pay attention to.
Werefang, Neo Bahamut, please, with all due respect, SHUT THE FUCK UP!! You can take it to MY talk page if you want (since nobody ever uses it)!!! Just get off the damned peanut gallery!!!! MechaUltimaZero 12:41, 23 June 2009 (UTC)
Now, let me explain to you what you just did: I've been backing out of the argument for some time now, essentially just waiting until I've properly addressed all of the concerns levelled at me, regardless of how absurd they are. This was that time. "They are not games YET" is, obviously, more semantics. Now, since I've taken the time to explain this to you, you bet your ass that Werefang is going to show up & go all, "Neo, dude, you're wrong, here's why: *More semantics bullshit.*" So, essentially, you're just prolonging shit by making me explain another thing, that being why I haven't shut up yet.
TL;DR version: I don't do, "shut up, I'm right." If I'm going to ditch a discussion, I want to make sure I've been perfectly clear up until then, & if anyone still has any complaints about me or my words, well then, tough tittie.75.198.112.109 01:21, 24 June 2009 (UTC)

I realize that I haven't been clear as well: Logic IS semantic. Logic is an excercise in exclusivity. Unless every single word in a statement means the exact same thing as everysingle word in the other statement, they are not logically the same. Because, "game" does not mean the EXACT same thing as "game concept," "game vs game" does not mean the EXACT same thing as "game concept vs game concept." That is how logic works. Look it up, it's bound to be somewhere.--Werefang 20:45, 24 June 2009 (UTC)

You've been perfectly clear. What is unclear, however, is why you just can't accept that your argument is bunk. Take this one, for instance: I already disproved it given that "Characters from Game A vs. Gharacters from Game B" is treated the same way as "Game A vs. Game B." Give it a rest, already, & PLEASE don't try again, next week!Neo Bahamut 01:18, 25 June 2009 (UTC)

First of all, that doesn't prove anything more than you are incapable of paying attention to the arguement at hand. Second, in what universe is a character the same as a game 'cause it sure as hell ain't this one. Interpretations are not the same as reality. A concept is not a game; a character is not a game. No one can say which game is better because there is no "is" yet. My arguement is NOT bunk because YOU are the one intent on ignoring the only relevant facts.--Werefang 01:43, 25 June 2009 (UTC)

"Since when is a character the same as a game?" By asking that, you've proven your first fact of the argument: You're the one who hasn't been paying attention. It's kinda sad, really. Not only did I allude to what I was referring to (semantics saying "the characters from the games" to try to get a game vs. game fight approved) earlier as being unsuccessful, that isn't even what I said IN THAT EDIT. Werefang, it's truly an embarassment to have called this a "debate." Now, perhaps you could answer a question for me? Why are you in such a hurry to prove me wrong on something, anything? What's with this apparent physiological need of yours to successfully oppose me?Neo Bahamut 02:20, 25 June 2009 (UTC)

Guys, you've been asked politely before to stop. The Peanut Gallery is for discussion about the battle only. The rule's not up there anymore, but at one point there was one which said that you could either vote, or complain about the fight. Please try to use that as a guideline. Your comments are causing the Peanut Galleries of this and other fights to bloat unnecessarily, making it harder to access the archives. If anymore off-topic comments like these are made, I will ask an admin to move them to your talk pages. Remember to stay civil as well. Thank you. — YuanSaluto!Acta 09:24, 25 June 2009 (UTC)

I'd like to point out that I'm technically still complaining about the fight. In that case, I retract my questions, but replace them with a reiteration: I do NOT want to do this again next week. It got really old, really fast. I trust Werefang can agree to that. And, if not, it really doesn't matter, as I refuse to move this to my talk page. It's bad enough dealing with it here. If any of this ends up there, it will be archived as fast as possible, & then its existance shall be forgotten. So...all parties are in agreement, then?Neo Bahamut 10:23, 25 June 2009 (UTC)

Oh, for the love of God. Just put it in someone's talkpage! Hell, put it in mine if you must. I'm tired of the peanuts gallery having more things to say than the fight. I misses the time when the DNC still have battles. Leon5550 10:32, 25 June 2009 (UTC)

EDIT: It occurs to Neo that he most likely misinterpreted this message. If someone wants to move this 40-word-wall-argument, by all means, go ahead. Out of sight, out of mind, it's just perfect. If this happens again, I'll try to keep it contained to a couple paragraphs at best, because I assure you, as annoying as it is for you, it's even MORE annoying for me.Neo Bahamut 10:53, 25 June 2009 (UTC)
Archadian Empire vs SOLDIER
Edit
Peanut Gallery
This fight SUCKS!!!!!!!!! Drake's fight was WAY better!  NeoZEROX 

22:30, March 22, 2010 (UTC)
Kuja vs. Seph shouldn't have been erased. KujaRhapsodos 22:31, March 22, 2010 (UTC)
Where'd the interesting and well-debated topic go? What's this malarky? StarkMaximum 22:34, March 22, 2010 (UTC)
Ouch...I'll try harder next time >_> Judge Balthier

22:37, March 22, 2010 (UTC)
Okay guys, come on. Let's not pretend TA has always been prompt in the past, but this time he was sick, you can't blame a guy for not being able to update when he's got problems with his health. Doreiku Kuroofangu 22:46, March 22, 2010 (UTC)
Fair enough, but Kuja vs. Sephiroth was queued for ages & had gone on for a significant amount of time. By just not doing anything, we could have had it out of the way. As for this fight, having actually played both games, I really can't see what Archadia has going for it besides fancy armor. I'll wait to see if anyone comes up with more convincing reasons to vote for them.Neo Bahamut 02:16, March 23, 2010 (UTC)

Gladly, Seeing as how SOLDIER has Mako energy and a Mako cannon, The Archadian Empire has Manufactured Nethicite, which is stronger than Deifacted Nethecite, which was able to destroy not only an entire fleet but an entire capital as well, so, quick win....and that I feel that SOLDIER has mostly a bunch of total meatheads. Judge Balthier 02:25, March 23, 2010 (UTC)

Well, it's as you mentioned, SOLDIER also has some pretty powerful superweapons. I mean, we've seen materia alone do some pretty dangerous stuff. Before Crisis has one that can produce copies of people, Crisis Core has one that turns Genesis into a summon, FFVII had one that could destroy the planet, etc. Also, Archadia has a meathead in Bergan & Gabranth, whose motivations I don't care for at all. The only SOLDIER who really annoyed me was Angeal. I liked the Judges, in fact, they're one of the few things I can still fondly look back on in XII. But, just like everything else, they suffered from bad execution.Neo Bahamut 02:35, March 23, 2010 (UTC)

How is manufacted nethicite stronger than deifacted nethicite? The crew testing it on the leviathan said that it's power levels exceeded the limits of the machine used to measure its power. Also materia holds within it the power of the ancients/planet. Combine that with each SOLDIER wielding materia, you have a powerful force.And the whole blocking and dodging thing.... ChaosEsperVII
Archive, not delete. It had over a hundred votes.  Armageddon11! 

22:54, March 22, 2010 (UTC)
You want to know what "Bad execution" is? *SPOILER!*--Bad execution is; having to watch a supposedly awesome girl, who purposedly had an awesome weapon of sorts, die from a whimsical magic spell by gramps! Even though I had high hopes for her being an awesome antagonist, that, Neo Bahamut, is bad execution......wow <_< Judge Balthier 03:12, March 23, 2010 (UTC)
I came here to check how the Kuja/Sephy fight was going, only to find it was completely erased and this was put into place for its "week". No reason given... even the main page still lists the original #143. So... what happened? - File:FFIII-nes-sage.gif Saethori (T / C) - 23:16, March 22, 2010 (UTC)
I'm sorry?Neo Bahamut 03:33, March 23, 2010 (UTC)

TA changed it. I put it on my Sandbox, though. Moocowisi 23:19, March 22, 2010 (UTC)

I apologize, bad choice of words. I know about the "what", I'm wondering about the "why". - File:FFIII-nes-sage.gif Saethori (T / C) - 23:23, March 22, 2010 (UTC)

I honestly have no idea. Maybe he didn't like it for some reason. Moocowisi 23:25, March 22, 2010 (UTC)

That's no reason. He isn't a despot, and it had a hundred votes. It was THE fight. POWER TO THE PEOPLE! KujaRhapsodos 23:27, March 22, 2010 (UTC)

REVOLT! Moocowisi 23:29, March 22, 2010 (UTC)

"Commencing primary ignition..." *Crushes revolt* The.DreadnoughT 00:10, March 23, 2010 (UTC)

Our cruisers can't repel firepower of that magnitude! Moocowisi 00:13, March 23, 2010 (UTC)

''*Alderaan was destroyed...*'' 01:35, March 23, 2010 (UTC)
Seriously, we need to give this thing over to Drake, RedXIII, myself and the others who were involved. Kuja v Sephiroth was so much better. Not that I don't like this fight, but it was the definitive fight.  TheBlueDragoon 

04:48, March 23, 2010 (UTC)
I'll admit to that. This isn't bad, but it could have waited until the other, almost resolved contest was actually over. Who would have to fork over the DNC to you guys, anyway?Neo Bahamut 04:51, March 23, 2010 (UTC)

For once you and I agree on something Neo. And it would be TA who would have to do it.

 TheBlue

Dragoon

 05:40, March 23, 2010 (UTC)

Isn't there any way to go over his head? Suggesting that makes me feel like a dick, but...yeah.Neo Bahamut 06:30, March 23, 2010 (UTC)

Er...what exactly did the rest of you besides Drake actually do? Running the DNC is kinda a one man job. - +DeadlySlashSword+ 03:36, March 24, 2010 (UTC)

I like the idea of multiple people doing it to prevent bias & overeliance on 1 person. Of course, only 1 person can actually CHANGE the fight each week, but just because only 1 person can manipulate it at a time, that doesn't mean multiple people can steer it. Do you follow what I'm saying?Neo Bahamut 03:50, March 24, 2010 (UTC)

No. The DNC only needs one person to run it, just one who is better at picking popular fights and updating them on a weekly basis. Drake is that guy. - +DeadlySlashSword+ 03:58, March 24, 2010 (UTC)

Is that what was said about TA? Aside from that, my response is: Maybe.Neo Bahamut 04:20, March 24, 2010 (UTC)
If you're all so annoyed with Sephy vs. Kujey being deleted, just move the old fight over to a user page: User:Drake Clawfang/Better DNC. You young users how no idea how long the DNC has not been updated on a schedule of any kind, or how many times TA has pulled something like this. Just abandon this crap and make your own version on a user page. Obviously as things are going right now, nobody is happy and nobody is being heard when they complain. If you don't like how TA runs this place, then don't use TA's service! Create some healthy competition where things are done properly! Make a DNC for the people! --BlueHighwind ツ 16:32, March 23, 2010 (UTC)
Don't we already have a dozen or so such things hosted by various users? Doreiku Kuroofangu 16:36, March 23, 2010 (UTC)

Yes, which is exactly why it's completely unfeasible. You can't expect "Cheap Knockoff of the DNC # 253343" to get very much recognition. Most likely, the only people who could actually do anything in regards to getting the DNC back on track would be others with the same status as TA--admin, I believe?Neo Bahamut 00:33, March 24, 2010 (UTC)

I never said "cheap knock-off". I said "replacement". As in, all of you: stop voting here, vote there. An organized protest. Think Gandhi and the Salt March. Or you can keep on complaining and accomplishing nothing. Or you can shut up and except things as they are. Its been almost three years since people began complaining about how things were handled at this fan poll. Its time you either find a solution, or enjoy what you have. --BlueHighwind ツ 03:47, March 24, 2010 (UTC)

Applying your own logic to yourself, if you're so annoyed by all of the complaining, either start this "organized protest" yourself, or just not counter-complain. It's not like you can just shout "PROTEST!" and fix everything. The reason the thing you are espousing doesn't happen is because so many people do these knock-off DNC things, which by the way I NEVER said was your phrase for it, & it NEVER CATCHES ON. It's simple pattern recognition. If it didn't work for them, it's not altogether likely to work for you. I say again: If anyone could change the way this poll is run, it would be the people making the policies. I do accept things as they are. I accept that people have opinions & choose to voice them, futile or not. I practice this myself and so do you.Neo Bahamut 04:07, March 24, 2010 (UTC)

BH makes a good point in stating we've complained before, just bitching does nothing. I admit I would like to do it myself, but ultimately I don't care if it's me, TA or anyone else running the DNC, I just like to know it's being run efficiently. If you guys aren't happy with the current situation, there are other Admins besides TA to talk to. Doreiku Kuroofangu 04:11, March 24, 2010 (UTC)

To be fair, I have mentioned going to the other staff. I just figure the person who should do that should be the one who wants the DNC transferred to them. And, while I see the logic behind BH's point, he simply doesn't take practicality into account. He also uses self-depreciating logic in speaking out against "complaining" by complaining.Neo Bahamut 04:17, March 24, 2010 (UTC)

My words must be invisible as well. "You're the one who wants the DNC transferred to you." - I really don't care as long as it gets run efficiently, I mostly want to run it myself because I feel I can do that. If someone else feels they can and wants to do it, they can knock themselves out. EDIT - directly asking Staff members to give you power has never worked here. Doreiku Kuroofangu 04:21, March 24, 2010 (UTC)

Yes, I saw that after I had edited. In truth, that was an assumption on my part. I was actually in the process of fixing my comment when you responded. Here's a better statement: The person who brings this up requires the credibility of a mod or an admin. I could do some quick searching & find out WHOM I should to talk to, but it's unlikely that I would be taken very seriously. In all probability, you have a better chance of getting the job if you ask directly than if I ask for you, assuming I decided to do that. You would probably have the best chance if you had a couple of staff members gunning for you.Neo Bahamut 04:27, March 24, 2010 (UTC)

Edit conflict: The highest authority for the DNC is TA, who has updated it for years now (excuse him for the past few weeks. Illness is beyond his control). The highest authority on the wiki as a whole are the bureaucrats, Diablocon and Crazyswordsman, and I don't think they're likely to take the DNC away from TA.
Don't you guys have a thread for this, rather than filling up the Peanut Gallery? — YuanSalve!Acta 04:30, March 24, 2010 (UTC)

I don't take issue with him being sick. I take issue with him removing a good fight. I take issue with him not keeping a very good schedule for months. I take issue with him putting up fights with very little reverence for votes, queues, or popular opinion. I take issue with him just generally not being good at his job.Neo Bahamut 04:47, March 24, 2010 (UTC)