Oasis skin - problems and solutions
13,966 pages on
this wiki
Forum page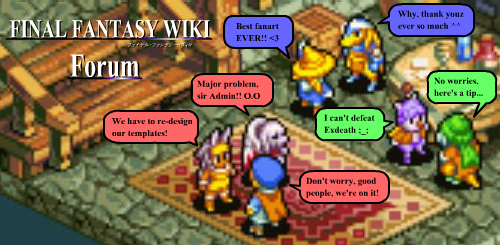 Spun-off from

Forum:Wikia Transition

. Problem list:

The little emblems we use for Featured Articles, Featured Image, Staff members etc are now conflicting with the text.
The crystal background Bluer designed remains as a small swath, cut off abruptly. (Thanks Bluer)
Spoiler bar now stretches across images.
Trying to open up "move" in a new tab using the "Edit" tab opens up both the edit and move pages.
"Suppress redirect" when making a move no longer available.
Magic words such as "New section link" and "Force toc" no longer work.
Special:Specialpages and other toolbar links are stupidly, stupidly hard to reach. They can be found by clicking on the "My Tools" link at the bottom - but only if you've customised it so that each link will show up. By default "history" and "what links here" are present; I don't know if anons will be able to customise these at all.

"My Tools" can't be accessed from the edit page.
You can access "Recent changes", "upload multiple photos" etc from "My Tools", but you'll need to add them first.

The "read more..." links present minor trouble on pages with lots of categories. For example, Cloud Strife's article has "read more Final Fantasy Tactics Characters, Main Characters". The second is acceptable, the first rather questionable. There needs to be a way to arrange these properly.
The menus being cut off at the top seems to be an automatic feature. More games are listed, but they're not showing up.
Galleries broken after a certian number of images. (Thanks to Wikia)

Using <gallery> leads to an ugly "Add a photo to this gallery" tag appearing. A thought, if we want to resume using those. (Thanks JBed)

When adding a category using the feature at the bottom of an article, there's no way to mark an edit as minor.
"Show changes" is no longer available in the edit window.
External links now look identical to internal ones.
Site notices only show up on the "Wiki Activity" page.
Other language editions of each page are shafted to very end of each page, and aren't very noticeable even then.
Tabs no longer function.
hiddenStructure no longer functions. This and the above make it impossible to keep our enemy infoboxes as they are.
Huge amount of white-space caused by the side-bar cuts our content to a small portion of the screen. Most tables seem to be fine with this; infoboxes and images cause squashing in the page.
No problem reports.
Auto-refresh/AJAX is no longer available for the RC.
"Email this user" feature not present.
No link to many helpful pages like the policy directory, Forum:Index, help etc., that we kept in the sidebar.
Things which float at the bottom of the page are obscured by the toolbar.
Already clicked links look identical to not accessed ones.

I'll report more as I continue testing. Note that some will hopefully be fixed by Wikia in time for the change, and others may be fixed through CSS meddling that isn't yet available to us. Please suggest fixes and report any new issues below.
hiddenStrucutre now functions. From what it seems, Wikia are no longer sporting it, since they added it to our CSS instead of new skin's CSS import.
Also,
Bluer told me of this a while ago, I thought it would be too much effort to replace the old tabs with this, and it wouldn't work with the easy way to use hiddenStructure in partnership with tab div things to do the "if main tab parameter does not exist, remove tab completely" thing. Maybe it's possible to use the source code of the tabber to change our JS.
Otherwise we'll have to convert it. And we've used tabs on so many random pages. Really we should have made a category for pages using standalone tabs (not as part of a template). I'm sure we can tweak the JS or CSS so a word is displayed. Then we can use WikiSearch to find the instances. On old WikiSearch we could just search "class="tabber"" and find them all, but alas, they use a fail search system that reads the page, not the code. JBed 15:48, October 19, 2010 (UTC)
Okay, I'll try and go through these.
Simple classes should be able to fix the placement of things in the top-right, by specifying its placement for Monobook in Common.css, and using an !important to override it for Oasis.
Spoiler tags go below images now/ on my screen.
Edit/Move thing is working right for me. Tried Ctrl+Click and right-click, new tab. Haven't tried middle click but my mouse doesn't have a middle click.
TOC, NOTOC and FORCETOC are working. We don't generally use FORCETOC, but that might work. JBed 22:16, October 19, 2010 (UTC)
My Tools is the most annoying thing ever. I looked at the source and it looks easy enough to remove. Whether we're allowed to is another matter. Now, whether we can add the links onto the sidebar is another question.

You lost most of the tools when you're not on the article page. Don't know how to resolve.

Only seeing two cats in Read More:.
Adding categories... maybe Wikia don't consider it minor? :D --I think this might have been in Monaco too.
External links have the arrow. And we should be able to override the colour with the class "extiw".
Auto-refresh... I'll assume there's class and id name changes. Maybe someone can help?
Visited links should be overrided with a:visited. I also want the old blue back for a:link personally.
I think that's all I can help with. JBed 22:16, October 19, 2010 (UTC)

The navigation at the top lacks the community bit (the bit that links to the forums and etc.)
Ugh...Everything looks utterly different, it took me five minutes to figure out how to get here! Who decided to go and change everything? Exdeath64 19:52, October 20, 2010 (UTC)
The tabs work in Preview Mode. WTF is up with that?Keltainentoukokuu 20:03, October 20, 2010 (UTC)Keltainentoukokuu
Is there any way to switch back to original? I preferred that MUCH more. 64.12.116.131 20:45, October 21, 2010 (UTC)
How do I access the recent changes page? Can't it be linked in the main page like it has been for such a long time? I know you say I can access it from Tools, but I really don't know what that means. I believe most readers also don't. Discordius 14:52, October 26, 2010 (UTC)
Hi. I'm gonna try to take care of some of these on the list that look like they arent fixed yet. Just wanted to give a heads up before I started editing your MW: pages. It would be great if someone could strike out fixed/resolved things from the original talk bubble list. --Uberfuzzy
04:17, November 2, 2010 (UTC)

I have discovered (by which I mean someone told me) that if you use ***s and ****s instead of *s and **s in

MediaWiki:Wiki-navigation

, you can have more than four tabs. I reckon we could fit one more tab in. I suggest either "Community" or "Other games". I'm leaning toward "Community".
Hello, I'm trying to make a walkthrough here, but I can't seem to find the "create this page" after making a search.--Nerdy geek bk 14:57, December 5, 2011 (UTC)