New Test Template
13,967 pages on
this wiki
Forum page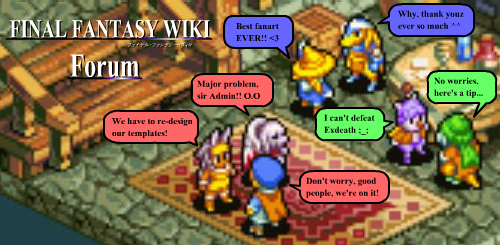 In January, Jeppo, JBed, Catuse and I were discussing a new test template system. We had decided how it it was going to work, and Jeppo created a new policy page. We were all ready to implement it, but then it came to attention that IP talk pages didn't message the IP they were connected. This made it a bit pointless to implement the new template at that time, so I decided to wait until Wikia fixed the problem. And wait I did, and Wikia fixed the problem about a week and a half ago. And so I waited until I had a good chunk of free time (now) for me to implement the new test template, located at Template:Test. I will also use this post to explain a few of the difference between this system and the previous, and also open it to discussion if necessary.

Why change the system?

Bluntly speaking, it didn't work. A lot of so called vandals just edit something to see if it will show up on the page. They don't mean harm, and one test template generally dissuades them. The other, rarer vandals will not stop no matter how many test template they get. In addition, the test templates are colorful and appealing, and I've seen vandals who seem to enjoy collecting them. Giving malicious vandals "prizes" will just encourage them. So will angry messages in all caps warning them about banning. If a troll gets no response, it gets bored. Finally, the test templates were used for innocuous reason that it wasn't meant for, such as using it to punish users on the receiving end on one's differing opinions. All of the above should be abolished with the new template.

How do I use the new template?

Our new template will only be for the first kind of "vandals"; those who simply test things on the wiki. This will almost always dissuade this kind of anon, and they will stop. They should be told what they are doing wrong; remember, always assume good faith (there's a good guide here to help tell the difference between clear vandalism and good faith). For those vandals who do want to cause harm, they should not be contacted. They should be ignored until they get bored and stop or are blocked. The test template does not apply to them, and the troll should not be fed. Do not give this template to other users for petty reasons; there are better ways to end disputes.

What will happen to the old test templates?

They will be phased out of use. Don't worry, I won't be deleting them. However, for a short while, I will be replacing the templates with a link to this forum so that all the users can get acquainted with the new test template; I know that everyone won't necessarily see this forum and I don't fault them for that. After this short while (probably 2-3 weeks), I'll return the templates to their original form for archive purposes.

And that's that. If anyone has any suggestions or contests this change, feel free to leave a comment.

Scathe didn't do that. I did. You see, Scathe said on 14 March:

"After this short while (probably 2-3 weeks), I'll return the templates to their original form for archive purposes."
—Scathe on this forum topic

Not sure if Scathe forgot or just hasn't had time; either way, it's been 6 weeks, so I took them down myself so that talk page archives are restored to what they were.

Test1-6 templates still shouldn't be used though.

---



The test templates are now protected and effectively archived, but they can still be included by anyone at any due time. What I suggest is set all of the content of these templates to <noinclude>, and, while not clearing their original pages, effectively omit them everywhere else and further prevent their continuity. - Henryacores^ 21:24, June 20, 2012 (UTC)