Math Tag Error?
13,965 pages on
this wiki
Forum page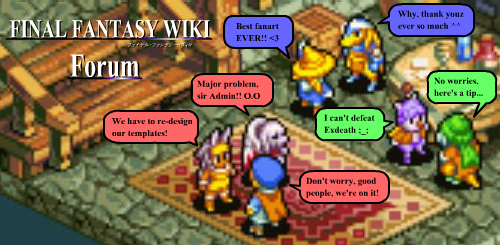 So I'm noticing that, yet again after like a year of it not happening, there's some kind of problem with the Math tag (as seen on

List of Final Fantasy Tactics Weapons

). Thought I'd bring this issue up to you guys in the event that it needs replaced on like...all of the bloody pages it may be on...or something...or if it's just wikia being dumb

Probably just a Wikia derp. I'll go

complain

and hope they get around to it within the next week.

---



Yeah, Wikia failed. We'll just have to make our wiki look shit for a few more days.
Alternatively, we could make a Math template that used the math tags, but every time Wikia breaks it we could remove the math tags and add some formatting so our wiki doesn't break when Wikia does.
Admittedly, Wikia aren't likely to fail again... but it would mean we can document where the math tag is used on wiki. Which I always like to do.
Admittedly no one's ever going to move all instances of the math tags to the math template so it probably wouldn't be worth it in that sense. 79.69.207.235 12:07, July 8, 2012 (UTC)