Is Edgar gay?
13,972 pages on
this wiki
Forum page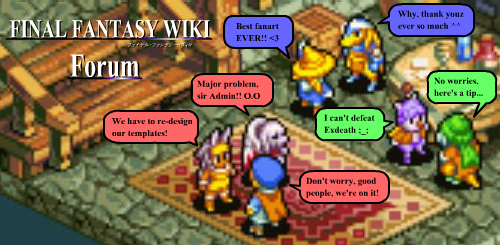 Seriously, is he? I mean, isnt it weird that a king of a (tiny) nation is sitting alone in his throne despite the fact he's a self proclaimed (and I mean self proclaimed) ladies man? His art shows no disfigurement, he's not obese, nor shriveled, he's young, blonde and rich. And yet, after a long time (10 minutes) or searching every door in his (kickass) castle, I havent found one harem chamber!
Okay, so maybe polygamy is forbidden in FFVI's world (even if zoophilia is not that much of a deal), in that case, how come no women, and I mean, no women (maybe a few, but I havent seen them in the game) even acknowledges Edgar's pure, unadulterated, Sean Connery level Sexness? I mean come on! If you're as pimp as he is (being a hot, rich king with "tools" and all) you've got nothing to stop you from being the person you keep parading as (a genuine sex god). Okay, some ladies may prefer personality and grace over whatever the hell Edgar is selling, but there are lots of types of ladies out there!
Okay, so maybe there's no polygamy and no prostitutes in FFVI world, but then why has no girls come swarming your party each time you enter a city with Edgar as main? I dont think he is that repulsive (on the contrary, at least he showers, unlike his twin) and I dont think every person there are so uptight.
So, my conclusion is that Edgar is a homosexual in a world that shuns homosexuals. In order to stay king and liked, he has to compensate his gayness by being all lecherous to every women around him, without doing anything about it because he really doesnt want women. That is why despite the fact he's trying to grab Terra's and Celes' asses, his reputation as a sex machine is nonexistent (unlike his reputation for hitting on anything that moves). Women dont know him for his "tools" because he never uses them. Instead of talking how he has sex with the entire priesthood once (which he can do considering his condition) they talk about how he hits on their granny high priestess (because he doesnt care who he hits, as long as it's female).
This reinforced by his... Closeness to fellow womaniser Lockhe (who will end up with a chick, maybe) who is also pretty. Further reinforced by his quite effeminate clothing and pose in his artwork (then again, we're talking Amano in a Final Fantasy game...)
Last but not least, this little gem: "I hate men! Never use their ears!" (paraphrased)
If any of you live in a same area as a woman, chances are you'll hear this at least three times a day from them.
That concludes this "essay". Edgar may be a very well hidden homosexual. Or he may be a very effeminate man who doesnt know how to use his wang. Either way, he's not the Sean Connery level Sex Lord of Sex he advertises as.
He's still frickin' awesome tho :D
yess

I doubt it. Remember that FFVI is (still) an E-rated game. Edgar, a pimp as he is, doesn't try that hard, probably he gets a bit more serious about the plot. It just so happens that Terra and Celes (and Relm) are in the vincity. He can't help himself and relax his seriousness by acting like a ladies man. If VI gets remade into, let's say the PSP successor, it may end up T-rated anyway, so the harem room and/or the whole "Pimp Edgar" may still have a chance.

Is it just me or does everyone forgets that he was like 5 seconds from RAPING RELM. Or maybe I read that text box in Thamasa wrong.

He isn't gay, but Sabin is a total bear *snigger*.