Index
15,525 pages on
this wiki
Forum page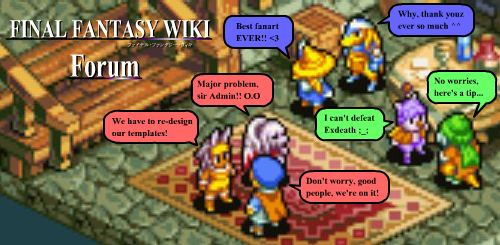 Welcome to the forum! Please click below to go to any forums by clicking on the appropriate link!
Note: You may have to purge this page to see changes.
Forum
Last Edit
Last Author
Rin's Travel Agency
12:46, April 16, 2014
Kaimi

Forward issues, opinions, suggestions and complaints on the Final Fantasy Wiki here

The Dollet Hotel
03:37, April 14, 2014
HayanNinja

Need game help? Check into the Dollet Hotel for the answers.

Sanctuary of Zi'tah
21:04, April 14, 2014
TheMysteriousGeek

Engage in creative discussions about works created by fans of the series.

The Blackjack
04:02, April 16, 2014
Some Color Mage

Come aboard the Blackjack for a little Final Fantasy chat. This forum is for anything that doesn't fit the above categories.

The Labyrinth of Time
13:20, April 10, 2014

Visit the Labyrinth of Time to find topics of old that have been laid to rest...