Helping me advertise my Final Fantasy Charity Marathon!
13,963 pages on
this wiki
Forum page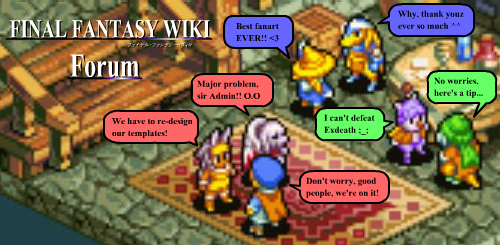 Hello my name is Adam Bendell.
On the 25th August myself and two others will be completing all the offline main series final fantasy games for charity.
The charity is Make-A-Wish Foundation
I was wondering if there was anything you could possibly to do help, such as post an article on the wiki or even just spread the word around.
Any help be greatly appreciated.
The website isn't up and running yet but will be soon enough,
if you need to contact me
adambendell@hotmail.co.uk
Thank you very much for your time.
Adam Bendell
Proper capitalization in the title, FOOL!! But I guess you can't fix it now ... Other than that, this seems... Heart-warming... I would shed tears, If I had any tears to shed :P (Oh, how I love to quote Mr. Freeze.). Perhaps posting this on a talk page of an Admin might get their attention... Meh... 67.244.5.142 13:38, July 8, 2012 (UTC)

Thank you for pointing out the capitalization error in the title, it has now been fixed, and added which charity it is for. --Adambendell 13:56, July 8, 2012 (UTC)
Your very welcome... Oh, and I'm sorry for calling you a fool... Meh. 67.244.5.142 14:00, July 8, 2012 (UTC)

I'm not entirely familiar with how to use this at the moment, so i wouldn't know how to put it on the talk page of an Admin.--Adambendell 14:10, July 8, 2012 (UTC)
Just mention it on their talk page by clicking on "Leave a message", and then type your headline (i.e. Final Fantasy charity marathon) in the edit summary. Henry seems to be the most active at the moment, so you can put it on his talk page. Hope it goes well for you. --Shockstorm 15:40, July 8, 2012 (UTC)
Thank you for your help, I have left him a message on his talk page.
--Adambendell 19:22, July 8, 2012 (UTC)
I now have my talk page set up to contact me as well or if you have any help or information for the event, Adam--Adambendell (talk) 19:56, July 9, 2012 (UTC)
Do you have a website set up for this?Keltainentoukokuu (talk) 20:27, July 9, 2012 (UTC)
We will have a website, we have the domain registered, we are just are building it and it should be online Wednesday night, and will update here when it's online. --Adambendell (talk) 21:17, July 9, 2012 (UTC)
What versions will you play? Like FF1 and 2 have NES, PS1, GB, PSP... which will you do? Also, will you be doing any sidequests and optional bosses? 71.126.11.160 00:11, July 10, 2012 (UTC)
We will be playing the ps1 versions of 1,2,4,5,6,7,8,9 the ds version of 3, ps2 versions of 10,10-2,12, and the xbox 360 versions of 13 and 13-2. There is no plan to do any additional bosses or quests, but if people donate, they could ask us to do specific quests or use certain people, or fight a specific boss, or even just name a character after them. --Adambendell (talk) 08:52, July 10, 2012 (UTC)
We now have the website up and running consolerealm.co.uk . The donation page is on the website as well. It's only a preliminary website and will be update throughout the week. --Adambendell (talk) 19:20, July 10, 2012 (UTC)
Big thanks to our first donor! He's suggested that we kill ozma, what we plan to do is complete a majority of the games and then get one person to do the side quests whilst the other finishes the rest of the games. --Adambendell (talk) 13:04, July 15, 2012 (UTC)
Slight problem, one person has dropped out just leaving two of us to do the event, however we are still determined to do it and will not stop streaming until all the games are completed--176.254.204.119 13:22, July 18, 2012 (UTC)
Update Part 2!
Edit
Right, We now have an article due to go on the homepage of the wiki on the 17th.
Now I have come to ask you ALL a favour. Is there anywhere else you could help me advertise this charity event,whether it be on your Facebook, Twitter or any other forums you are a member of, or anywhere else you can think of.
Thank you --Adambendell (talk) 15:19, August 2, 2012 (UTC)