Final Fantasy collectors, I need your aid.
13,971 pages on
this wiki
Forum page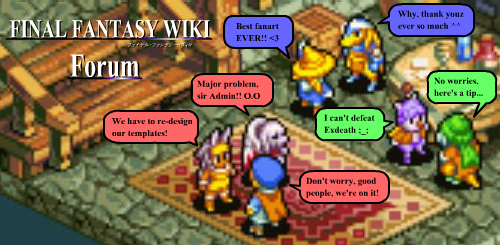 Hi, I am a new budding Final Fantasy Collector, i have been a fan since the age of around 10 where i discovered Final Fantasy Vii.
From there i was hoocked and have been up until now (19yrs old)
I have now decided i would like to become a collector, I am finding myseld wanting to buy things such as OST for each game and have recent been looking into the Cold Cast collections.
But. I cannot seem to find any good source of information on this such as pricing etc, as of now i have resorted to ebay for all my FF rare needs.
I was just wondering if there are any other hardcore fans / collectors that can give me any sort of info on this and maybe sellers etc.
I cannot seem to find anything like this anywhere.
Any help is welcome.
Brendon

Thanks, but ive been there and done that shall we say, from that i saw on the store site, there insnt the option to buy 'anything' final fantasy just a few figure and jewler (which i will be looking into) But the main thing im looking for is something that not many people have, such as limited edition items and things like this, they are the things im having trouble finding (funnily enough(!)) but thanks again
If you're looking for the OST then iTunes is surprisingly good, though they do lack anything from XII Mog&Boko 13:29, July 8, 2010 (UTC)

Again thankyou, i had looked into this already but realised i would rather has somthing physical, such as the CD with the OST other wise i wouldnt be much of a collector would i :P but thanks for the input, its apperciated! (brendon.bow)
== Waker' == Have you checked PlayAsia ? It has everything that you need!
Final fantasy stuff on ebay
http://www.ebay.co.uk/sch/nickandrewlondon/m.html?item=120915055103&sspagename=STRK%3AMESELX%3AIT&rt=nc&_trksid=p4340.l2562