Final Fantasy V Advance Pop Culture References
13,963 pages on
this wiki
Forum page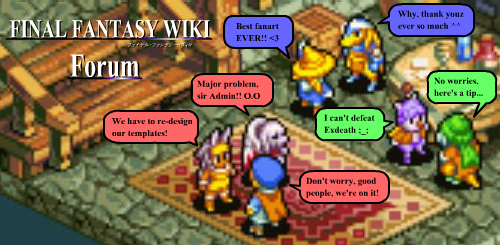 Faythoffenrir

 - The spirit is over town, waiting for me to hit the floor...

TALK

- 00:58, September 26, 2009 (UTC)

I think that we should make a list of all of the pop culture references in the GBA version of Final Fantasy V. Why? Just because I'm curious to see how many I didn't notice in my play through. And there are a lot of them. EDIT: Now I've decided to add another section for other FF games.

FaythOfFenrir

01:24, September 30, 2009 (UTC)
The V List
Edit
Mr.Clio (and how he talks) is a reference to TV psychic Miss Cleo.
A boy in Lix says he is S-M-R-T Smart. A reference to an episode of the Simpsons called Homer Goes to College.
The whip's item description is "Best used when problems come along," a reference to a lyric from the song "Whip It" by Devo.
The description for the Gladiator skill, Finisher, reads the following: "Powerful strike that whenever hits an enemy, attacks its weak point for massive damage.", which may a reference to Giant Enemy Crab.
During the battle with Gilgamesh on Xezat's Ships he says "Ho? Let's return the trouble... ...and make it double! Come on!" a reference to Team Rocket from Pokemon.
When fighting Exdeath, Ghido says "You think I sat around seven centuries munching on pizza?", A reference to TMNT.
The Obligatory Star Wars Reference: King Tycoon is Faris' father and Faris doesn't realize it due to being raised in a different environment since she was a baby. Eventually, Faris comes to terms with her heritage.
When the party beats the crab boss aboard the airship, Cid remarks "He got served", a reference to the 2004 drama movie You Got Served.
Gilgamesh yells "It's morphin' time!" before transforming to his second form, a recurring phrase from Mighty Morphin Power Rangers.
Dorgann exclaiming "STELLA!!!" upon her death is a reference to Marlon Brando from the film, A Streetcar Named Desire.
A scholar says "Take a Look, It's in a Book" a reference to Reading Rainbow.
Turtle Sage Gill, may be a reference to Master Roshi, The Turtle Hermit from Dragon Ball Series.
A pirate in the Hideout (Merged World) says: "[...] I'll soon be tastin' the rainbow...". This is a reference to the Skittles commercials.
Another pirate in the Hideout sings "Yar har, fiddle-de-dee," which might be a reference to the kids' show LazyTown, where a song involving these lyrics, titled "You Are a Pirate," was sung in one episode.
Other FF Games Pop Culture Refernces (Except IX)
Edit
Biggs and Wedge are a reference to Star Wars.
The Wyrmhero Blade is a refernce to Dragon Quest, another Square series.
Prophet form FFX-2 speaks like Shaggy from Scooby Doo. (He even says "you meddling kids")
In FFX-2 Rikku makes a reference to the series Metal Gear Solid by shouting: "Snake! Snake?! Snaaaaaaake!!!" whenever she encounters a gun snake type enemy.
In FFX-2 Paine makes a reference to a Vanilla Ice song with her battle quote "Ice, ice, baby".
Final Fantasy I (Dawn of Souls) makes a reference to the online flash cartoon Homestar Runner, a man in Hellfire Chasm says "This is private property. Trespassers will be burninated.".
A gravestone in Elfheim (FFI) read "Here lies link" referencing the hero of the Legend of Zelda series.
The weapon Sonic Knuckles could be a reference to the SONIC series.
In FFVI Celes says to Locke "You're awfully short for a soldier." referencing Star Wars.
In FFVI Strago says "And then I raised my staff, and POW! Right in the kisser!" a reference to The Honeymooners.
In FFVI, during the burning of Doma, two soldiers are heard chanting "Fire, Fire!! Heh, heh heh heh heh." This is a reference to the pryomanical Beavis of Beavis and Butthead.
In the PSP version of FFI, a boy in Whisperwind Cove says "I've been having these strange thoughts lately. Like, how did I get here?" This is a reference to Sora, the main protagonist of Kingdom Hearts, another popular game made by Square.

What else is there?

And let's not forget Gilgamesh's epic "It's morphin' time!", borrowed from the Power Rangers.

Faythoffenrir

 - The spirit is over town, waiting for me to hit the floor...

TALK

- 00:38, September 27, 2009 (UTC)

Just add them to the list.
I love this thread. Thanks Fayth! Mask no Oni 01:08, September 30, 2009 (UTC)

No problem.

I realy need to get FFV Advance. Jamiemitsu FTW 11:31, September 30, 2009 (UTC)
The Entire list
Edit

The Burninated reference is to Trogdar, the poorly-drawn draconic creation of Strongbad