Final Fantasy VII Romantic Arguments
13,964 pages on
this wiki
Forum page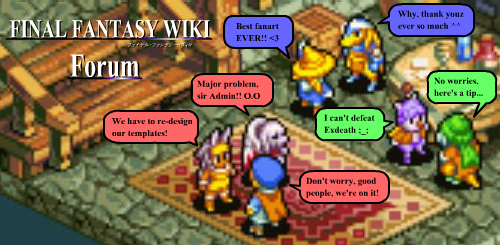 Note: This article is for normal, sane people who think stuff like romantic arguments is bullcrap. For the crappy, "expert," fanboy version, see Forum:Final Fantasy VII: Romantic Arguments. (Seriously lame, I think)
SPOILERS! AERIS DIES!

Before you read this article, you must know that there are spoilers about Aeris dying. It is important that you know this, in case you didn't know Aeris dies, which she does.
Warning
This article does not contain hentai. You sick fuck.
"Bolt-2, Mutha Fugga!"

This article is stupid and gives us headaches. As such, it needs to be made funnier in order to save it and make it worth while.
"This is one kick-ass template!"

King Steve has added his template to this page. As such, it is now much more kick-ass, and finally has a redeeming quality.
Kefka hates a lot of things, including this article!




Spare this article by making it better. Otherwise, Kefka will have to use the Light of Judgment on it, and you will be blamed for it.
BOOBS!

Warning! This page has pictures drawn by Nomura, and as such, all breasts are the size of your head.
You could kill someone with that hair!

Warning! This page has pictures drawn by Nomura, and as such, all hair is too spikey.
There are more belts in here than grains of sand out there!

Warning! This page has pictures drawn by Nomura, and as such, there are too many belts. Because Edgar is too smart to remove belts from these sluts, we need a brave soul to help us out.
WARNING! INTERPRETIVE ART!

Warning! This page contains artwork by Yoshitaka "Picasso" Amano, so nothing looks like what it really looks like.
38px

"You so ugly, you make Blue Mage cry!"

This article has earned the Goldberry seal of untapped loathing. The only cure for such a hatred is senseless vandalism.
38px

"How can you trust a man who wears both a belt and suspenders? The man can't even trust his own pants."

This article, in its outstanding outstandingness, has gained AuronKaizer's special RQFARM (Random Quote From A Random Movie) template, and has such grown beyond human comprehension.
Rydia!

Drake Clawfang has added Rydia's DS artwork to this page, making it approximately 2.6 times sexier than it would be without it.
| | |
| --- | --- |
| | This page has attracted the undying despise of Oath and it deserves to be pwned. Also, anybody who thinks Romantic arguments are relevant needs to be pwned. |
| | |
| --- | --- |
| | WARNING:This page may have ADD elements, and may irk the hell out of you, so it would be best that this article be solved with more roundhouse kicks. |
ACTION REPLAY OF FAAAATE
Mr. Augustus K. Macharelli, Esq. announces that even with his recently obtained life-altering cheat codes, he has no reason to make this deserve to be taken seriously. He urges you to aid him in not taking this seriously. Like the kind that revive Aeris. Who is dead. Mr. Macharelli sends her his condolences that it is not his problem. Neither are romantic arguments.
Well, what have we here?

Muchoas35 finds this obscenely funny and deems it as something to be celebrated for its hilarity. As such, you should to. OR ELSE, BITCH.
NECRON ALERT

Necron hates this page. He hates this page because it consists entirely of silly, bitchy whining and does not spark serious intellectual discussion, like he does. Necron will now go watch Evangelion.
FEDERAL TEMPLATE AUTHORITY
In violation of Code 389-1A3 of Book 36B on Federal guidelines upon the use of infoboxes, this article has way too many infoboxes. If this is not corrected by November 23, 2056, there will be a fine of $.30 as stated in rule 234-GH4.
Please add more Templates.
"The ten of you will be scattered!"

Chaos plans to reduce this page into Discord, and such it has gained the bringer of Armageddon's attention. When he gains control of some nuclear warheads, this page is the first place he will fire at. RUN WHILE YOU CAN!!
Added by

Ixbran

RULE ONE, THERE ARE NO RULES!! WHAHAHAHAAA!!!

This page is in Discord. The only cure for chaos is..... MORE CHAOS!!!!!!!!. Do what you like to this page, go on, YOU KNOW YOU WANT TO!!!
File:GiantChaos.PNG

"Born again in this endless cycle I have created!!!"

Yes it's me again, the guy who makes to many Chaos templates. Remind me why I care. Anyway ,ahem, THIS PAGE HAS ACHIEVED MY MARK OF ETERNAL HATRED THEIR WILL BE NO MERCY FOR THIS PAGE!!! THIS PAGES DAYS ARE NUMBERED!!! (takes a deep breath) WHAHAHAH_ WHAHAHAHAHAHAHAHAhahahahahaaa!!!!!... haa....... Now back to normal pointless vandalism.
"You know what they say about guys with big hair and bigger swords, right?"
—Oscar Wilde, on Cloud
"I, Garland, will knock this article down!"
—Garland, on the love connections of Final Fantasy VII
"..."
—Squall, on the love connections of Final Fantasy VII, and pretty much everything else. Speak up damn it!
"I say, it just soiled my cuffs."
—Balthier, on the love connections of Final Fantasy VII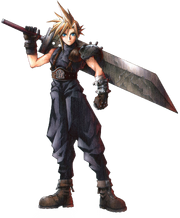 The "love triangle" between Cloud, Aeris, and Tifa is probably the second largest debate about Final Fantasy VII, and, like the Aeris resurrection theory, is still argued to this very day. Throughout disk one, the player must make decisions about whom Cloud likes more - Aeris or Tifa. This results in the "date" scene at the Gold Saucer; however, you may also "date" Barret or Yuffie by making Cloud friendlier to one or the other.
Despite the fact that it is up to the player to decide whom he loves, many people debate over it. They have names for each couple. Cloud & Aeris are called either Cloris/Clorith or Cleris/Clerith while Cloud & Tifa are called Cloti. Many fanlisting websites for these two couples have sprung up; however, a lot of "flaming" websites have sprung up as well. Square-Enix has been very keen not to be direct about who the canon couple is because it would alienate a lot of fans. In reality, though, it's because they don't have a good script writer.
Reasons People Believe In Clarret
Edit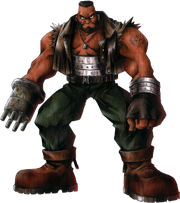 "Once they go black, they can't go back."
—Barret Wallace, on his love life.
"It's true!"
—Reddas, on the previous quote.
"Yeah, y'know!"
—Raijin, on the topic.
"Speak for yourselves!"
—Malak, on the previous quotes.
"What he said!"
—Xande on the previous quote.
"I would say something funny, but me and the other two awesome characters of VIII were, for some reason, shown less then those idiots Squall, Rinoa, Selphie, and Zell"
—Kiros, thinking of a good quote.
Cloud can date Barret at the Golden Saucer. This is, of course, more evidence than you will ever need.
What, you want more? Fine... If you complete the game in 10 minutes, without recruiting Aeris or Tifa, you will get the ending where Cloud and Barret ride off into the sunset.
...on Red XIII.
...while Sephiroth is watching, crying that he lost the one he loved.
A number of different times through the games and movies, Barret calls Cloud "Spiky." This is clearly a pet name.
He also refers to Cloud's ass a number of times, meaning he has an interest in it.
Reasons People Believe In Cleris/Clerith
Edit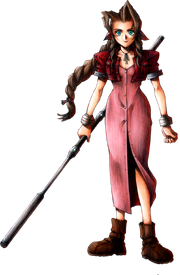 "Aerith dies."
—Captain Obvious
"Big fucking deal!"
"Yeah!"
—A vast majority of the Final Fantasy II cast.
Cloud was clearly upset by Aerith's death. This apparently has nothing to do with the fact she died right in front of him, and has everything to do with the fact that he had a boner in his pants. This boner was from seeing Sephiroth swooping down.
He killed Sephiroth to avenge Aerith. Again, apparently this has everything to do with him having a boner, and nothing to do with Sephiroth burning down his hometown, or even the actual plot.
In all of Yoshitaka Amano's artwork, Cloud is only paired up with Aerith. Could it be that Amano is immune to the BOOBS?!
In Advent Children, he wants forgiveness from Aerith for not being able to prevent her death. Must be that boner again.
Though Aerith sees a resemblance between Cloud and Zack, she says, "But you're different." This has nothing to do with the fact they have different facial features, hair color, or that Zack is clearly a heterosexual while Cloud isn't.
According to Cait Sith's fortune telling, Cloud and Aerith are a "Perfect Match." Of course, when a talking Scottish cat riding on a giant robotic Moogle tells you something, you'd best believe it.
When Cloud is impaled by Sephiroth and is taunted by his question, "Tell me what you cherish most. Give me the pleasure of taking it away," he immediately sees Aerith, Zack, and lastly, Tifa's images. Aeris' image is seen 3 times, while Zack and Tifa's are only seen once. Perhaps Sephiroth prefers brunettes?
Cloud is a necrophiliac, and as such, likes the fact that Aerith is dead.
Aerith in turn became a nymphomaniac after her death, as evidenced by her constantly telling Cloud "he came for her"...what, that's what she says!
The coding for Gainsborough Gray is 69 repeated three times (seriously, no joke). This clearly means Aerith is a slut with amazing stamina and appetite, which is what Cloud is really looking for.
Aeris is dead yet still pops up to visit him and still seems to be able to touch him. This means that he's never going to have to actually worry about buying her presents or taking her out on a date and still can enjoy her "touching" him.
At the beginning of the game Aeris asks Cloud if he wants to buy some flowers, this is clearly a pick-up line.
At the end of Advent Children, Cloud rides into a flower field for spirit sex with Aerith. Now that's hot.
Reasons People Believe in Clofa
Edit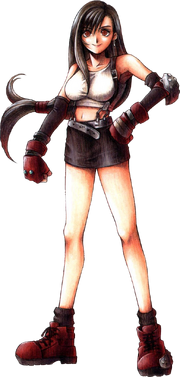 "BOOBS!"
—The Final Fantasy VII fan-base on Tifa.
"BOOBS!"
—The Final Fantasy VII fan-base on Lulu.
A shooting star appeared to seal their promise. No, seriously, someone actually put this here as if it meant anything.
The doctor in Mideel gave them his blessing. Again, I'm not making that up, someone actually put this here; NOT FUCKING QUALIFIED.
Tifa and Cloud are shown together often in Advent Children. This is due to the fact that Square couldn't show Cloud's rampant necrophilia in a PG-rated film.
Aeris is dead. Ok, who let Captain Obvious make an edit?
Cloud is about as mature as an 8-year-old, thus he could only find someone with such out-of-proportion breasts attractive.
After intense measuring, it has been determined that Cloud's head is just the right size to fit up Tifa's skirt. Thus, they fit as lovers.
Tifa is the only human character that wears skimpy clothing. Yuffie doesn't count because she's not human, and the cast of X-2 doesn't count as they aren't human, either.
Young Tifa's dress during Cloud's memories of Nibelheim is colored green. Green is the color of life, and all life starts as a baby of some kind. Therefore, this means that Cloud wants to make babies with Tifa.
They had sex under the Highwind while the other party members watched. Clearly Tifa is an exhibitionist, and who doesn't like that in their woman?
Tifa dresses like a cowgirl, Cloud styles his hair like a Chocobo's ass. Clearly this means that Cloud wants Tifa to ride him.
Just imagine her naked, only for a moment. There isn't a man/woman/alien/bunny robot in the world who could resist that. (Except Pikmin Master. He's immune.)
Reasons People Believe in Clerifa
Edit
Where is it written that Cloud could only choose one of them? Maybe polygamy is legal in Midgar.
Aeris and Tifa are good friends. If Cloud wanted both of them, they'd be understanding.
If you had a chance to get Aeris and Tifa, wouldn't you?
Aeris convinces Cloud to dress like a girl and save Tifa. Clearly this is Aeris' subtle attempt to express her bisexuality, and turn Tifa bi as well upon her seeing Cloud as a girl.
Tifa is hot, Aeris is hot. Why should Cloud choose between them?
An alternate portmanteau name for this pairing would be "Clotiris". Which is only a single letter swap away from "clitoris".
It looks like Clefairy. The fact that that has nothing to do with relationships is completely irrelevant.
Reasons People Believe in Cluffie
Edit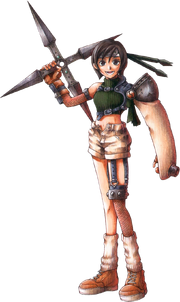 Cloud is a pedophile, as evidenced by him giving mouth-to-mouth to a girl in Junon.
Tifa is his mother-figure, Aeris is dead, and Marlene is a little too young. Who else is Cloud going to date?
Yuffie kisses Cloud on her date with him. No, really, someone actually dated Yuffie and found that out. Why, no one knows...
In Advent Children, Yuffie calls Cloud "a pain in the ass". Clearly this is innuendo.
Reasons People Believe in Clephiroth
Edit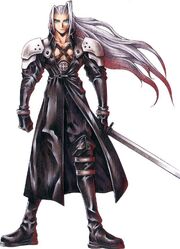 "Next to that Kuja chick, I'd totally hit this."
—Cloud
I don't think it gets any clearer than this. They WERE homosexual together in the past according to that link I just posted!
Cloud spends the entire game ignoring two hot babes who follow him around in order to find Sephiroth. If any man can go an entire night without thinking of trying to have a threesome with Aeris and Tifa while camping out with them every night, they must be gay.
Cloud didn't kill Sephiroth to avenge Aeris or his hometown. He didn't even do it to save the planet. It was all because Sephiroth refused to go out with Cloud because he was already in an extremely disgusting relationship with his creepy alien mom, and that really pissed Cloud off.
Sephiroth repeatedly appears to Cloud with his shirt off, clear signs he's attempting to seduce him.
Cloud was lost in the Lifestream for a week thanks to Sephiroth, and came out a babbling nutjob. Who knows what sick, twisted acts Sephiroth made him perform to warp his mind so...
Sephiroth is constantly impaling Cloud on his extremely long sword. The innuendo alert is going.
In Kingdom Hearts, Sephiroth has one wing. In Kingdom Hearts, Cloud has one wing on the opposite side. They complete each other.
Sephiroth asked Cloud what he cherishes so he can take it away from him. Who knew Sephy was the jealous type?
Just ONE look at those clothes, and you know it!
Reasons People Believe in Clack
Edit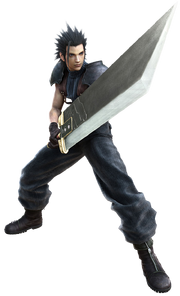 It rhymes with crack. This should be a clue.
Cloud is clearly distressed over Zack's death, just like Aerith. Zack appears to Cloud in Advent Children Complete, just like Aerith. Zack is dead, just like Aerith.
Zack is Cloud's ideal man, as evidenced by Cloud emulating him to try and be what he thinks is an ideal man.
Cloud looks like Naruto, Zack looks like Sasuke, a pairing famous with the trillions of fucked up Narutards.
If you believe the fangirl fanfiction out there, not only were Cloud and Zack having buttsecks while working for Shinra, but Sephiroth was joining in. And everyone knows fangirls are the second most powerful force in the universe after Chuck Norris.
Reasons People Believe in Clessie
Edit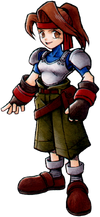 In Final fantasy VII right at the beginning of the game, Jessie talks about how cool Cloud is. This obviously means... Ah screw it. Nobody thinks Cloud loves Jessie. He's already got another dead brunette that he couldn't save that works much better as a love interest.
Reasons People Believe in Clon Clorneo
Edit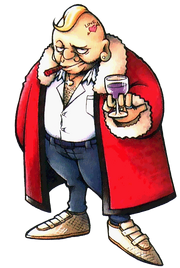 "Is that a buster sword in your pants, or are you just happy to see me?"
—Cloud
Cloud likes men. Is that not obvious? The way he chases after Sephiroth so much must mean he's gagging for it.
Look at Don's cigar and his pimping belly. No one can resist it. Not even you!
He even dresses up as a woman to get some with Corneo. Corneo is shocked and appalled, but continues nonetheless.
When Cloud actually gets at Corneo, he volunteers to go all the way with him. Imagine his disappointment when all Corneo wants is a kiss and even more so when Aerith and Tifa bust in before he can do it.
Reasons People Believe in Clufus
Edit
Cloud and Rufus dated in Crisis Core, but Rufus broke up with him. This is why Cloud fights Rufus alone.
Rufus is gay, as he also chases around Sephiroth and ignores Scarlet and Elena.
Rufus is also a man-pretty blonde. He is thus a perfect match for Cloud.
Rufus wants Cloud as a bodyguard because he wants to hire "a little muscle". Again, this is clearly innuendo.
Reasons People Believe in Cled Clirteen
Edit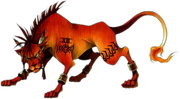 You wouldn't think it, but there's people out there who think about this. Those sick bastards.
Red XIII's hair looks like Cloud's, meaning Red XIII molded it to make Cloud happy, as Cloud is too up into himself to care about anyone else.
Much like Aeris, Cloud is frequently depicted with Red XIII in Amano's artwork. He once even pictured all three of them together...what was Amano thinking!?!
Bestiality is not illegal in the FF universe, as is proven by the relationships of: "Balthier and Fran", "Shara and Ritz", "Yuna and Kimahri", "Bartz and Boko", "Umaro and Terra", "Marche and Montblanc", "Edward and Antlion", and many many more.
In Hojo's lab, Red says he doesn't like "two-legged things." He says nothing against "three-legged" things.
Reasons People Believe in Cluall
Edit
"What I was planning to do with Kingdom Hearts was two things. One, totally and completely ignore Amano and Yoshida's work, or at least piss on the work I did use. Two, fulfill my dream of uniting Squall and Cloud at long last."
—Nomura on why he created Kingdom Hearts.
Cloud and Squall fight alongside each other several times in Kingdom Hearts and Kingdom Hearts II while ignoring Aerith and Tifa. According to all the nuts who take this kind of stuff seriously, that's good enough.
Sora was caused to be unhappy throughout this scene as he wanted a piece of Cloud, as well, as is detailed in the next section.
Cloud wears a dress. As such, Squall cannot tell the difference. Cloud doesn't mind this.
Like Cloud, Squall travels around with two women and ignores both of them in favor of chasing a guy.
Squall is emo, Cloud went emo after losing out on all three of his girlfriends/boyfriends and being forced to appear in Kingdom Hearts. Squall can sympathize.
Cloud's sword is oversized - Squall's sword vibrates. Can Nomura be trying to tell us something?
Rinoa sucks, Aerith is dead, and Tifa is Cloud's mother. Therefore, Cloud and Squall can turn to each other for their intimacy issues.
Squall has normal-ish hair and Cloud's hair defies everything about known about gravity. Opposites attract.
Reasons People Believe in Clora
Edit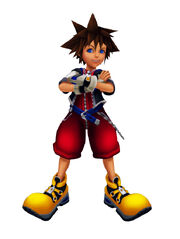 "The big sword is what did it for me."
—Sora on Cloud, while on Cloud.
Sora gave up on Kairi early on in Kingdom Hearts when it became obvious she was dead.
Sora gave up on Riku shortly thereafter when it became obvious that he was deranged.
Sora met Cloud and found they had something in common; Cloud also had a dead ex-girlfriend and a deranged ex-boyfriend.
Things sort of went on from there. Sora was later killed by Sephiroth for, and I quote, Stealing his "toy."
Much like Red XIII, Sora's hair is a perfect match for Cloud's. Once again, this is proof that he changed his hair to make Cloud happy.
Cloud went emo and donned a black outfit for his second appearance after his first game. Sora again followed suit to make him happy.
Cloud has a big sword, Sora has big feet. Thus, they're a perfect fit for each other.
Cloud is a pedophile, as established above.
Reasons Balthier Believes in Cloti
Edit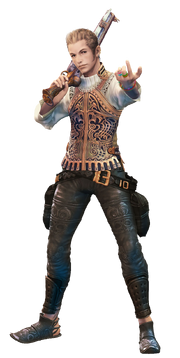 "I'd hit that."
—Tifa, on Balthier
"So would I."
—Aeris, on Balthier
"Sorry ladies, but I actually have decent taste in women."
—Balthier, on the previous quotes.
"Oh no he didn't!"
—Fran, on Balthier's statement.
Balthier does not believe in Cloti, or Cleris/Clerith. This page just needed to have a character on it that doesn't completely suck.
If he really wanted to, he could have Tifa and Aeris at the same time, which Cloud never managed to do. But as shown above, Balthier is out of their league.
Balthier approves of Kunsel
Reasons people believe in the Cecil/Kain/Rosa love triangle
Edit
"I'm missing out on all the action! I don't want to be with that knucklehead Edge!"
It doesn't suck.
It actually serves a purpose in the game.
It has a confirmed ending, eliminating the need for mindless speculation over who ends up with who (and the Final Fantasy IV fans recognize this and thus find little need to discuss it).
Cecil and Rosa get married. Kain doesn't come to the wedding. He wouldn't have gone, either, even if he wasn't on his little Vision Quest.
This love triangle is for FFIV, AND this page is for FFVII. I mean, who is the creator of this section?
Discussion
Edit

Hate to ruin the comic atmosphere, but since this is meant to be, y'know, a comedy article and everything, maybe it should be moved to the Blackjack? Any thoughts? That's pretty much it, really.
This page is so bad I think it gave me cancer! (Source: Calculon from Futurama, now please don't sue). Exdeath64 23:50, January 12, 2010 (UTC)
OH LORD! Its back! Why hath this ungodly, cthonic abomination risen from the void to torment the hearts and souls of man? Exdeath64 03:49, May 6, 2010 (UTC)
Where the crap is that fan fiction about cloud, zack, and sephiroth at?! It sounds so creepy and funny at the same time.AlVan 01:33, June 13, 2011 (UTC)
Several of the fake templates at the top need to go die in a fire. Seriously, quite a few of them aren't funny. -- Some Color Mage ~ (Talk) 02:05, June 13, 2011 (UTC)
KILL THE TEMPLATES KILL THE TEMPLATES KILL THE TEMPLATES KILL THE TEMPLATES KILL THE TEMPLATES KILL THE TEMPLATESKILL THE TEMPLATES KILL THE TEMPLATES KILL THE TEMPLATESKILL THE TEMPLATES KILL THE TEMPLATES KILL THE TEMPLATESKILL THE TEMPLATES KILL THE TEMPLATES KILL THE TEMPLATESKILL THE TEMPLATES KILL THE TEMPLATES KILL THE TEMPLATESKILL THE TEMPLATES KILL THE TEMPLATES KILL THE TEMPLATESKILL THE TEMPLATES KILL THE TEMPLATES KILL THE TEMPLATESKILL THE TEMPLATES KILL THE TEMPLATES KILL THE TEMPLATESKILL THE TEMPLATES KILL THE TEMPLATES KILL THE TEMPLATES Cat: meow ∙ hunt 03:11, May 15, 2012 (UTC)
Thank you very much, RC, for making me look at this. You sick fuck.

Tidus357 03:23, May 15, 2012 (UTC)