Final Fantasy VII Romantic Arguments: Serious Version
13,962 pages on
this wiki
Forum page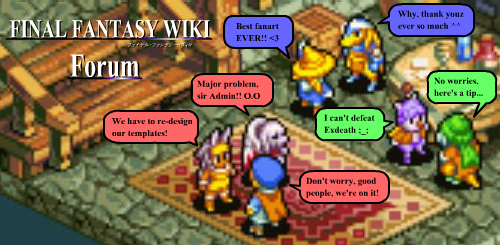 The "love triangle" between Cloud, Aeris, and Tifa is probably the second largest debate about Final Fantasy VII, and, like the Aeris resurrection theory, is still argued to this very day. Throughout disk one the player must make decisions about who he likes more - Aeris or Tifa. This results in the "date" scene at the Gold Saucer; however, you may also "date" Barret or Yuffie by making Cloud friendlier to one or the other.
Despite the fact that it is up to the player to decide who he loves many people debate over it. They have names for each couple. Cloud & Aeris are called either Cloris/Clorith or Cleris/Clerith while Cloud & Tifa are called Cloti. Many fanlisting websites for those two couples have sprung up; however, a lot of "flaming" websites have sprung up as well. Square Enix has been very keen not to be direct about who the canon couple is because it would alienate a lot of fans.
Reasons For "Clerith"
Cloud was clearly upset by Aeris' death.
He killed Sephiroth to avenge Aeris.
Aeris was the first person Cloud started being warm to.
In all of Yoshitaka Amano's artwork, Cloud is only paired up with Aeris.
In "Advent Children", he wants forgiveness from Aeris for being too slow to prevent her death.
Aeris is the easiest date to get. You must alienate Aeris to get Tifa.
Cait Sith foretells that Aeris and Cloud are a perfect match.
Though Aeris sees a resemblance between Cloud and Zack, she says, "But you're different."
At the end of the game, Cloud is shown extending his hand to Aeris.
Cloud becomes Aeris' bodyguard in exchange for one date.
Cloud and Aeris are opposites in personality and appearance, like Squall and Rinoa, Zidane and Garnet, or Tidus and Yuna.
Although Aeris is dead, she still comes to Cloud and tries to get him to forgive himself. It is only through her that Cloud stops feeling guilty.
In the novel Maiden Who Travels the Planet, it states of Aeris "she loved him much more than her first love".
In the game, Cloud has a flashback where he visits his mother. She asks him if he has a girlfriend. He replies no. She continues, saying that he should have a girlfriend that is older than him to take care of him. Aerith is one year older than Cloud in FF7 and Tifa is younger.
Eris, from Greek mythology, is the goddess of strife. Eris is pronounced as Aeris, and Cloud's last name is Strife.
Beyond Final Fantasy VII, Cloud and Aeris are frequently shown together in other games and in merchandising.
Aerith calls Cloud her "kobito" (恋人) in Case of Lifestream.
At the end of the game, Cloud says he wants to meet her there, in the Promised Land [the Lifestream].
Cloud is standing in a flower field at the end of Dissidia, and his crystal resembles the White/Holy Materia.
Cloud wants to "unfreeze" her smile.
In Kingdom Hearts 2 he promises that even if he goes he will come back.
In The Maiden Who Travels the Planet, Aerith admitted that she saw something of Zack in Cloud but she says that Cloud had something special that only she can see.
After Advent Children came out, it just inflamed the entire debate all over again, because to Cleris fans, Cloud seems to abandon Tifa and his home because of guilt over Aeris's death, and because of his geostigma. Additionally, Cloud and Aeris seem to have a more functional relationship than Cloud and Tifa, because although Cloud and Tifa are seen together a lot, they don't seem to understand each other as well as Cloud and Aeris.
Reasons For "Cloti"
Cloud had a crush on Tifa years before he met Aeris.
Before Cloud left Nibelheim, he promised Tifa that he would always be there to protect her when she was in danger.
Cloud left Nibelheim to be able to protect Tifa, and demonstrate that he was worthy of her.
Tifa was the one who helped Cloud regain his true memories.
Tifa stayed and helped Cloud when he was hospitalized in Mideel.
The doctor in Mideel gave them his blessing.
Cloud dressed as a woman to save Tifa.
Tifa and Cloud are shown together often in "Advent Children".
In the short story "On the Way to a Smile: Case of Tifa", Cloud smiles and says he believes he can start a new life unlike the last time he tried, because Tifa is there with him.
Some believe that Aeris was killed simply to make Tifa Cloud's love.
Tifa is considered to be Cloud's emotional support in "Advent Children."
"Case of Tifa" also mentions Cloud and Tifa are living together once Barret leaves Marlene in their care, and the two are running Seventh Heaven together.
In "Case of Barret", Barret and Cid briefly talk about Cloud and Tifa. Cid remarks that, "In the end, it's the women that wear the pants." This is a common phrase referring to authority in a relationship. This statement shows that other characters recognize Cloud and Tifa as a couple.
In Last Order, Cloud and Tifa share a (partially extended from the video game) moment where Tifa acknowledges Cloud's fulfillment of their promise while Cloud smiles at her.
At the end of the game, Tifa and Cloud's themes mix together.
Tifa's only storyline seems to revolve around her relationship with Cloud, while Aeris has a story that veers from Cloud.
Cloud, Tifa, Denzel, and Marlene are shown to be a "family" as indicated by the photo at the beginning of "Advent Children."
Reminiscence, the review of Final Fantasy VII, plus short story, indicates Cloud returning to Tifa's bar for a party, while it also shows many of what are considered the 'Cloti' scenes of the game.
Although it is shown for a second, Cloud smiles at Tifa first in the movie. This happens when Tifa smiles at him, and he responds back with his own smile while surrounded by the children in the water.
Cloud's broken mind molds memories of Zack's stories into his own memory, thus making it quite probable that Aeris simply thought Cloud was cute, and Cloud had a confused notion that she was his girlfriend (or should be), thus making the relationship an "accident", whereas Tifa is the one to pull Cloud out of the mess.
Aerith is supposed to be paired up with Zack. So by all logic Tifa is supposed to be paired with Cloud
It is customary for the guy to be older in a relationship. Aerith is older than Cloud and Tifa is younger than Cloud.
Aeris is dead.
There is a scene between Cloud and Tifa at the end of disc 2 where the party splits up before the final showdown with Sephiroth, to take time out and reflect on each party member's own reasons for fighting. Tifa and Cloud, not having any remaining family or material ties to "go home" to, are left alone together under an anchored Highwind for a night. They talk for a while and after a time Tifa remarks to Cloud that "Words aren't the only thing that tell people what you're thinking." The screen fades to black, and they wake up the next morning leaning against each other.
Both?
It is highly possible that both relationships are real, as Aeris did die, so they can't exactly have a relationship if she is dead. Cloud could have dated Aerith in Gold Saucer but after Aerith died he learnt to love Tifa. Maybe Cloti is possible after Aeris died, as at the end of Advent Children, Zack and Aeris seemed to have continued their relationship from Crisis Core in the Lifestream, so maybe Cloud and Tifa started one, not dead. Also, many fans state that Cloud might love Aerith, but that he is IN love with Tifa.
Either way, it's better if you don't really know because it wouldn't be as exciting if you did know.

Neither?
As Cloud tends to be a loner it is possible that he never chose.
Aerith is dead. As he seemed to be closer to her rather than Tifa, he may simple have not chosen and instead continues his life without devoting himself to anyone.