Final Fantasy VII Advent Children images needed
13,963 pages on
this wiki
Forum page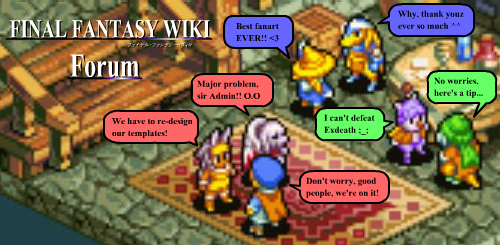 Done at last!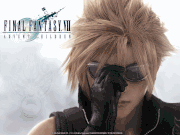 So mainly it'd be here for everyone to use, just thanks to BlueHighwind. And thanks to everyone else... I think.
If it were to be a theme for the PSP, then animation would be useless. Oh wel.
First, I need an image of what blue stuff flashes when Cloud's Geostigma does its thing.(are they the Jenova cells?)"It's easy, just search for an online copy of Advent Children or download the 172 mb file. Then go into slow-mo, press PrintScreen, paste it in paint, and tah-dah!" You don't want to see what I've downloaded, tried to download, googled, etc.

I also need another picture of Cloud. Preferably one of him alone, with enough space to put in Sephiroth. One without text is fine, as I'll be putting in some custom text.

I'll be editing this when I need more images. I'll be crediting those who give me images that I think are useful, even those whom I didn't use their supplied images. You can post images that aren't yours, provided the permission of the author.
Other things I need but already have:

GIF Creator- Microsoft GIF Animator
Picture of Cloud- Kinda sucky, better one needed. Waiting for a better one.
Image editor- Paint is already useful and enough

I also have Paint.NET, though I reckon I'll use it. Probably to filter the background for images.
I intend to make a scene similar to that of Advent Children's scene at 20:15 minutes.PX173 16:59, 30 April 2009 (UTC)
Oh, and I needed them for a wallpaper and soon-to-be theme. Theme is likely for the PSP, or perhaps maybe even the PC as well.

Edit-PX173 05:07, 1 May 2009 (UTC) Alright, I'm kicking in some extra stuff. Just wait.
Credits & Comments About Submissions
Edit
Um... BlueHighwind, is it really the stuff? Looks like a black screen to me. --=14:27, 1 May 2009 (UTC)~
P.S. Once I finish the wallpaper, I'll need someone to help me with the theme. This is some major fanart.
Uh... mind if I ask why do you need the pics? Just curious. Alrightie then. -- Pure-Moneo 17:03, 30 April 2009 (UTC)


BlueHighwind Q? 12:20, 1 May 2009 (UTC)TALK

-

This Land is Made of... LOVE AND PEACE!! LOVE AND PEACE!! ツ:

I've seen it already. It thought it might be something cool like Jenova or something, but its just a bunch of bubbles.

File:Flashing Bubbles.png

Here ya go, chief