Favorite Dissidia Characters
13,966 pages on
this wiki
Forum page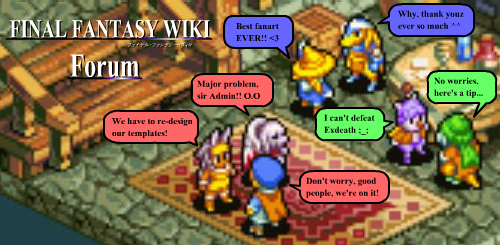 Now that Dissidia is out, I figured someone would start this topic sooner or later. Who is your favorite character to play as? Mine's Zidane because he kicks ass.
Three words: Zidane Tribal.-Lost Hero

My is Cloud and Terra. Cloud's sword attacks are badass and I LOVE Terra's spells.
Based on my time with the game, I'd say that Onion Knight is my favorite so far, if only because I like zipping around the field. He's definitely not top tier, but he's still pretty fun to play as.

WarxePB 01:54, 28 August 2009 (UTC)

Zidane lost first place for me 'cause of his voice. Fuck.
So I pick Squall instead.
Haha, Bryce Papenbrook. Haha.
I hate you.
My favorites in the demo are Onion Knight and Cecil. I'll get back to you friday next week when I actually have the game. (Goddamn Europe) Mangartist

Squall is the best. Not only because he is my favourite character, he totally rocks with his Brave attacks(especially the new one-Mystic Flurry), also, Kuja and Sephiroth kicks ass.

Onions... (and Kefka for villains).

Most definitely Cecil. A two in one aresenal. Mask no Oni 06:33, 30 August 2009 (UTC)

After playing more, Zidane has been knocked down into third place after Terra and Firion. Cecil is also quite the badass.

Firion is my favorate. I think it was the axe to staff combo that did it. I also like Bartz, the Empror, and the Onion Knight (the 10 year old ninja pimp). Jamiemitsu FTW 10:34, September 18, 2009 (UTC)