FFXI Location Pages
13,964 pages on
this wiki
Forum page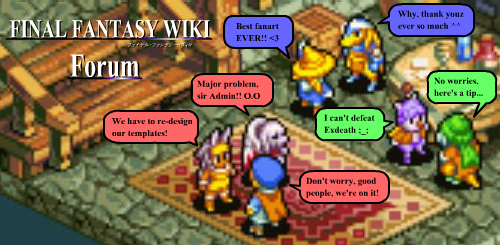 Because obviously I don't have enough to do already.

Are you satisfied with our FFXI location coverage as it stands now? I'm not, obviously, which is why I made this forum page. Now, I realize that much of the effort to improve these pages will probably be done by me, and I'm honestly better with gameplay things than I am with story things, so the blurbs each region has now are probably as much as they're going to get. The question, then, is what to add, and how to add it.

Do we split off individual areas from regions when creating articles?

As it stands now, we do not, but if we're going to expand these little sections into proper descriptions of their area, then I should think they will need split off at some point. I think the blurbs can stay on both pages; the blurb is as much as a casual reader looking for story info will need, while those who are more curious about what's in the game can delve into the area's page and look through the information gathered.

What do we want in our pages?

Linked to an area page on FFXIclopedia so you guys can get an idea of what sort of information we could have here. Needless to say, we don't want all of this information, and we'll want some information they don't list. Here are some options you have, and if you feel they have something that we should then feel free to mention it and I'll add it to the list here:
Game-given maps of areas?
Neighboring areas?
Related Missions?
Related Quests?
Enemies found in the area?
Notorious Monsters found in the area?
Event-related Notorious Monsters found in the area?

What to do with battlefield areas?

Here is an example. Battlefield areas are different in that they are essentially areas for "boss" encounters only. It's a real simple corridor leading up to a circular area, and it's there that players gather when they're ready to do boss fights, in a party, and they go into the fight. The area switches to the battlefield and the players fight. That's all the area is for. Nothing else. Therefore, our setup of such a page would need to be a little bit different, assuming we even made pages. I, personally, don't think we need to -- it's all very in-depth information that's kind of unnecessary for our level of coverage, and the blurb on the region page should be sufficient. If the Wiki disagrees, though, that's fine, I'll make pages for them, too.

I can't think of any other issues to bring up regarding XI location coverage now, but if anybody else thinks of some things to bring up, feel free to do so, and I'll add them up here to the top. Tell me what you think, folks.
Well, you wouldn't have to write it all yourself. You could get "help" from the FFXI wiki *wink wink*. Anyways, moar articles is always good. --Shockstorm (talk) 01:21, August 7, 2012 (UTC)
The problem there is that FFXIclopedia is much more inactive now than it was in its heyday, due to many factors, most notably a move off Wikia, and because of that, the people that are left there are trying to get things upated to their most recent, and I don't envy their task, they've got a lot to do. For information that is old, like most location info, XIclopedia should be sufficient, not that I'm going to rely on the one source alone.

J

i

m

c

l

o

u

d

03:37, August 7, 2012 (UTC)

while more coverage for areas would be nice, I think the best way to do it coming from where we're at is to add sub-pages from the regions and then place more detailed information on said areas in there.. but right now even the region pages need touching up. Some are pretty with the picture of zone + blurb whilst others are just a skeleton of information. If anything we need to get that done first.

For zones, I don't believe we need to add that much. A zone template would be good for covering most of what can be said about the place. Outdoor/indoor/battlefield, chocobo use, fellow use, weather, etc. Other than that, the more we add, the less updated it'll likely become in future, and theres a lot of info that really is just technical and possibly repetitive/redundant.

Certain zones have more lore/history than others, and its possible to put those in to the sub pages..

The only things I feel (based on the Ronfaure page) that should stay is maps, a stripped down list of regular monsters and NMs in the zone (name and species is enough, no drops cos we don't do items anyway and for NMs they should be getting their own monster page and it can go there in future. no lvls cos we don't know most of them anyway. maybe a notes column for aggro/link/fished.. and for NMs timed/trigger/lotto/etc) - a move to nice neat tables would be nice (i hate how the tables in list of weapons/enemies don't line up nicely XD).

battlefield areas would most likely only need to list the battlefields held there, and possibly the use stuff from List of Final Fantasy XI Battlefields - name, type, enemy, duration, level cap (- if there's no actual cap), party, item involved. certain battlefield areas will need pages of their own to deal with enemies tho, like those of very specific systems. Limbus, Assault areas, Einherjar, MMM, Meeble Burrows and anything involving Ghoyu / Ruhotz / Everbloom. Either that, or to just list the name and type of battlefields with relevant links that go places. (actually the latter would be much easier)

its still a lot of work tho. if anything, priority would go as region > zones > battlefield. if we're doing zones the first thing we need is a zone template.. i can supply clean maps for all the zones with no problem.

Man, I didn't even know we

had

a list of battlefields. I've added it to the XI template so I shouldn't make that mistake again >_>

I don't know if we really need all of that; chocobo use, fellow use, weather and etc. are things I wasn't actually planning on adding, since their utility for someone coming to this wiki instead of one of the XI databases is essentially nil. Without those, there's not really a need for a zone "template" either, most of what I mentioned are things that would go on a theoretical zone template. I was thinking something that looks more like location articles we have on the Wiki as it is now, as opposed to something that looks like an XI site, since our priorities for coverage are different than an XI-focused site would be.

As for organization, I was figuring that the individual area articles could go on their own pages, and region articles could link to them as main articles. We could keep the regions instead of areas on the template, both to save space and to put people through those general region articles to get to the area pages.

You are right that related Missions and Related Quests aren't really necessary for the page and would become outdated, but I figured it was something the Wiki would want for more of that story. I do think that neighboring areas would be handy, though; people could click through areas through regions and sort of see how the map clicks; plus it makes for a great way to get distracted for hours on end :P

And yes, I never had any intention of not stripping down the monster and NM lists. I was going to put them in a list the way our other location pages do them, but with one column it shouldn't look too disorderly.

P.S. If you'd like orderly tables for weapons,

I can provide

.

hmm... well article creation policy does entail that each zone shd have its own article.

I do agree tho, the less technical we can be, the more value it adds, especially for non-players or those that want to come here for lore. that said, I do believe a template (or text format) is still in order for the most technical of details, which to me are..

Zone type: outdoor/indoor/battlefield/town (lol i'll get to this in a bit)
Expansion: what kind of area is this. Original/RoZ/CoP/etc

so something like: Wajaom Woodlands is an outdoor location in Final Fantasy XI, introduced as part of the Treasures of Aht Urhgan expansion would work fine.

We could then just use plain text to mention key characteristics of the zone. Linked zones (no need to mention pos tho), history, which is invariably intertwined with quest stories, and then notable locations within each zone with like pictures. Most have at least one. Cermet headstones, blueblade fell, leypoint, telepoint, etc. I think FFXIV pages like Gridania provide a decent example of the direction this could take. XI, with its longer/richer history can afford to do better i think.

One thing i'm wondering about in terms of policy.. is how shd we handle player-related history? Stuff like eg. After the release of Visions of Abyssea, Port Jeuno gradually became the centralized hub for player activity in the game. - as its less about the actual zone but more about the community's interaction with it, shd be place it under Trivia or just all around the article? There are other places where this could be applied... for eg. the Bhaflau Thickets where mention can be made about popular merit point camps and so on...

monster lists.. one column might work.. but it'd get impossibly long for certain bigger zones i think. or places like Dynamis and Abyssea. i shudder at the thought of handling that lol.. same goes for some NM listings...

Finally, I love your weapon tables.. tho i was wondering if its possible to squeeze an extra column for RA/EX tags instead of including it in the name of the weapon cos it gets rather hard to read near the higher levels (cos almost all of them are either ra or ex)

Yeah, that's about what I was thinking for location pages. You're right, though, with regards to enemies, I wasn't thinking about Dynamis areas :\ Well, they are unique, so they could probably get a table or something. As for player-related info, I'd say we should add it in places where it's relevant, with information like you said, about areas that are popular with players for whatever reason. It's not like we don't mention things on the Wiki that aren't spelled out in the game, e.g. how Premium Heart often isn't the best weapon for Tifa because of the way its damage is increased. and yeah, I dithered for a while over how to mark down rare/ex items :\ if you can get a better method to display it, that'd be great, but I'm not sure what to do for it.

i dunno.. i actually think xiclopedia's way of handling flags was best. tho anything that isn't text-based would be most visually appealing i think. maybe we could just take their flag icons and use it accordingly.

[1] [2] [3]

and

[4]

.

RA and EX according to the table already, aug on anything that can potentially be augmented, and temp we can just save in case we need to use it. with your permission i can do that for the axe page.

i'll also proceed to prep map images for uploading
I don't have the time to read all this.
I think what we need to do is simple: FORMAT THEM LIKE LOCATION PAGES.
We have a story section. We have a Locations (sometimes called Layout) section which lists all the sub-areas of that locations and in each of the sections tells how they link to each-other, and where they link to other locations.
There should be a Quests section. And in this section it will list related missions and NMs.
There will also be an "Enemies" section, which will list NMs, and all enemies found in the area, and relevant comments about how easy to find they are (but nothing else). Also in this section can be a short description on the types of enemies here and whether there are places to avoid.
There will be a story section. This is obvious.
There will be a musical themes section. This is also obvious.
That's it. Isn't it? What else does the article need.
Also whether West Ronfaure needs an article... if there's enough info for an article then the answer is always "yes". 79.69.203.57 12:56, August 7, 2012 (UTC)

@Spira: Yeah, you're right; my purpose with the text-based icons was more to differentiate it from every other weapons list for XI ever, but I suppose the reason it's so ubiquitous is that it works, so go ahead and change it.

@JBed: Yes, I agree with the vast majority of that. The biggest issue comes up with a Quest section; what would be listed? Handling Missions is one thing, but handling Quests is quite another. Missions are usually plot-critical, even if only tangentially; Quests, on the other hand... vary a bit. Let's go to Abyssea for examples. For its mission, you need to defeat a giant worm that is terrorizing the poor survivors of the Abyssean catastrophe. For quests, you might need to retrieve starfruit to create cardians to defend the people.... or you might need to collect tree nuts. If we're going to cover quests, we should probably cover all of them, since the line between important and not is kind of blurry, but I don't really know if we should cover all of them, since at a certain point the inanity starts to seep through a bit.

I was planning on adding the rest, though I wasn't planning on going into locations in quite so much detail... I probably should, though, yeah.
In other articles Quests (formerly known as Guides and Sidequests, or Sidequests and Subquests) refers to any part of an area that will need explaining. In VII we have the Shinra Bldg. Mayor's key card puzzle which is mandatory and we would need to explain, but we also have the coupon sidequest... which we would need to explain.
I suppose it might be easier to have a separate Quests and Missions section since XI functions differently. However in other games with Missions we usually have an article that deals with it at another subpage and these are often linked to/mained to.
All Quests, however minor, should be included. The wiki does serve to explain the story, but we still have the same aims of ffxiclopedia to be a great Final Fantasy XI resource. Every minor task programmed in a place should be mentioned.
It does take an awful long time to create something detailed. I spend days working on Location articles for other games. Fortunately FFXIclopedia is a great secondary source that will cut our primary research down, right? 79.69.197.87 23:12, August 7, 2012 (UTC)

Yeah, I suppose we can do that.

Sure, XI has well over 3,000 quests

, counting Trial of the Magians, but I'm sure we'll manage. (Not counting Trials, it comes in closer to 700, but still, that's a lot of quests.)

Yeah, I can't do any primary research :\ I'm not subscribed to the game anymore. I haven't played in around a year, and I'm relying pretty much solely on secondary sources, but I have a lot of secondary sources to fall back on, and I have a lot of prior experience with the game (and I do mean a lot) and a good memory, so I can usually tell if something's not quite right. My experience only dates as recently as the start of Abyssea, though, and even with that, my knowledge is dabbling at best.

Well, I guess I'll get started on location pages as soon as I finish up with song pages for XI, unless anyone else has more to say on the matter.
TacticAngel TALK
04:19, August 8, 2012 (UTC)
We decided at some point some time ago that we would offer an outside-looking-in perspective on Final Fantasy XI. The FFXIclopedia is something of an inside-looking-around approach. We do not have the manpower with the knowledge of FFXI necessary to really to give much more than flavorful overviews of certain areas, highlights about things that happen there, etc. If we seriously considered adding pages for every location, every quest, and every monster in FFXI, we would double the size of this wiki, all for a game with a very niche audience that already has what it needs elsewhere.

I would propose or suggest that before you consider a direction other than this, you get at least a half a dozen people together who really want to try to power through this vast amount of info.

i somewhat disagree with the depth of quest coverage for location articles. while it would be ideal to distill every single quest detail into location pages, that is simply too much work given the number of users actively working on XI articles here. (protip: we're all already here). Anyway, even if we do decide to do that, it'd take a while and would make sense for us to prioritize the more important quests from the ones that don't matter as much. Do people really need to know that Taumila needs 3 black tiger fangs for no good reason? As compared to Balasiel creating a new polearm training regime? and that as compared with Curilla finding out about her slain father? (RDM AF quest btw).

The problem with covering every quest is that for every minor quest we include, we are likely to need to back up with individual NPC, monster, item articles and so on.. and we don't cover that (nor did we intend to, last I heard). At least by limiting it to important persons/quests/stories, this lessens the amount of work we need to do, and said NPCs were supposed to get articles anyway. Coverage will still be adequate where necessary. People looking in from the outside won't care about such trivial details, and except for those currently doing a quest, neither do those inside - many of them are totally forgettable; such info is pointless unless you're doing a comprehensive walkthrough anyway.

Trials are no problem. We can cover everything in 3-4 lines in a section somewhere under Ru'Lude Gardens. The details of each trial are irrelevant to us. Similarly for Campaign Ops, Resistance Ops, Fields of Valor, Dominion Ops, etc. If they ever need to be elaborated on, it won't be in location pages anyway.

I get that we don't want to be a strategy/detail wiki for FFXI and be more like an outsider looking in thing, but even so, a lot of our coverage for many things are still not up to par. That, and FFXIclopedia is no longer updated. None of the other FFXI specific wikis contain a comprehensive overview of everything older, nor contain lore, nor do they have sufficient wikignomes.

As it stands, we're pretty decent in terms of covering FFXI, lacking in some areas, but well covered in some others that are even more up to date than other places. this is a pretty good example. Graphic models for every weapon in FFXI can't be found anywhere else either. in other words, we're gradually building up exclusive ffxi content on this wiki and becoming more of an authority. for certain things, people are coming here first before anywhere else.

besides, you guys have me here too, and i'm like the single most well known FFXI player across all servers and language regions for my data mining work, ffxi resources and most recently, for leaking their latest expansion. and i'm not even bragging
ok just did some picture taking for West Ronfaure landmarks and am gonna do a mock-up just for it to know what to expect. lol all the picture taking took me about 1 hr for this one zone but its fun and I love just running through the zone. I'm willing to take care of the pictures if someone else will handle the text. For landmarks I figured we might want to work out a format of whats a landmark and what isnt.. so here's what I took pics of
entrance to town
entrance to dungeon
outpost
stone monument
planar rift
landmark that is indicated on the map (it has a name)
other notable landmarks (name not indicated on the map)
this is just for field areas. towns will probably be more detailed. lemme know if i missed anything out. gonna upload pics now --Spira (talk) 14:09, August 8, 2012 (UTC)
Oh, that's not fair, man, I was making a mock-up of that same page too D: the locations I've highlighted are the entrance to town, the entrance to Ghelsba, the watch tower, the outpost, the stone monument, and the knightwell. When did West Ronfaure get a planar rift ._.

J

i

m

c

l

o

u

d

14:26, August 8, 2012 (UTC)

I am thoroughly convinced your mock-up will look better than mine. Feel free to overwrite it with what you have. Maybe images can be copypasta'd lol. Planar Rift was added when 2nd Jeuno Voidwatch opened up iirc. seeing as we both agree on the things to look out for in each zone I can focus on picture taking instead. Images are more my forte. if anything i might leave a note list of the landmarks/notables i take in my talk page or something when needed.
I'm gonna be doing regions in this order anyway..
Ronfaure > Saruta > Gustaberg > Norvallen > Derfland > Aragoneu > Kolshushu > Zulkheim > Qufim > Fauregandi > Valdeunia
thats gonna take a while so i'll think about Zilart regions after that lol.
edit: i uploaded WRonfaure.jpg for the region's page following the 512x190 format, and WRonfaure1.jpg as a general pic for the area probably to be used on the actual zone page top.
--Spira (talk) 14:49, August 8, 2012 (UTC)
Mkay. Since you got the page done before me I revealed my hand early. I was going to ask you if maybe you could take pictures of notable landmarks in areas, but you got to it before I could ask, which is nice :D I'll add my text to your stuff and then everything will be peachy. Then I'll get the music pages done and start on other location articles. Funfun.

J

i

m

c

l

o

u

d

14:53, August 8, 2012 (UTC)
awesome. a part of me is driven to do this by a slight feeling of indignation. i will not stand for XI articles being less pretty than XIVs XD a little friendly rivalry is a good thing yes? we'll probably need to do some finetuning for the location pages. locations within the zone should probably be listed by unique landmark > "recurring" stuff (stone monument/outposts/planar rift) > entrances to dungeons.. but we'll have time to do that eventually.
i'll be adopting a standardized nomenclature for the images so you can probably guess in advance what it'll be. i'll use the search abbreviation for zone names, "zone - zone" for zone entrances, and "zone landmark". zone picture will be zonename1. zonename will be used for region pages. all will be in jpg. :D so much to do now --Spira (talk) 15:19, August 8, 2012 (UTC)
I don't really have much to offer with my limited XI experience, but when it comes to quests, wouldn't something like a simple list of quests be sufficient? Either as a List of Final Fantasy XI Quests or, maybe, separating them by starting area (with a subsection in the area article or something like West Ronfaure / Quests). As it has already been mentioned, there are far too many quests for a full coverage, but maybe something simple like this
"Quest A - Starting Location: West Ronfaure (X:10, Y:10) <NPC Name>. Requirement: Level 5"
and some extra info for quests that are part of a quest chain or give a somewhat important reward, example
"Quest B - Starting Location: Sarutabuta (X:1, Y:1) <NPC Name>, Requirement: Black Mage Level 68, Quest C. Unlocks access to X"
Just an idea. DiamondEdge (talk) 17:08, August 8, 2012 (UTC)
By the way you guys are talking about it I thought there were like fifty quests per location. FFXIclopedia gives 11 in West Ronfaure. That's not that much. That's definitely not too much that we need to start splitting from the main article (unless I misunderstand the lengthiness of XI quests).
Besides, most of those missions take place in multiple locations. This means they deserve an article in themselves, or a place on another page. I don't know how "organised" Quests are... I'll assume Missions are numbered and Quests are not. Not that we shouldn't be making a list.
Of course, creating articles for the locations with other information is more important. But all quests should be included still. 79.69.210.106 18:19, August 8, 2012 (UTC)
Wel, some places have a lot of quests and others just a few. "Windurst Waters" on the XIwiki lists 33 quests that start there + 12 involving the area, and also 9 missions, for example. That's a bigger number already DiamondEdge (talk) 18:43, August 8, 2012 (UTC)
outdoor areas are not the problem when it comes to quests and missions. most of them are centered around towns.. so that's where its a bigger deal. take [5] for example. 50~ quests and 40~ missions. We actually have Missions (Final Fantasy XI) for mission listings although this only covers the description as listed in the game, and some extra stuff. Missions are mostly unofficially numbered. Quests have no such thing.
@Jim, i'm gonna work on outdoor areas first because its more straightforward and its such a hassle figuring out what is a landmark in a dungeon.--Spira (talk)

Yeah, that's fine by me. By the way, I was thinking we should consider adding a nav template for XI areas, where the regions can be section headers and the individual areas can be placed within that. It wouldn't get any longer than the main template, would include things the main template won't for space reasons, and we already have one such template in the form of the XI bestiary template. Sound good?

J

i

m

c

l

o

u

d

20:03, August 8, 2012 (UTC)

might be a good idea. tho in my head if we're doing it like bestiary for all region > zones, its probably gonna be a very long template, but would still be pretty useful. anyway if i upload pics for the zones without adding them to any main article is that fine? or maybe i shd sandbox them so people know they're not useless images?--Spira (talk)
AAAAAARGH >_< I accidentally clicked the close tab button while I was navigating between tabs to add info to the West Sarutabaruta page, it was almost done, and when I brought the tab back up it needed me to resend the data so I just lost everything I was working on. I don't feel like doing it over again right now, if someone else wants to they can feel free, I'm gonna go lay down or something. Jimcloud 18:57, August 9, 2012 (UTC)
EDIT: Yeah, I didn't stay down for as long as I thought I would. I guess I'll get started again in a few minutes.. -_- Jimcloud 19:37, August 9, 2012 (UTC)
EDITx2COMBO: Yeah, scratch that, Theatrhythm DLC came out today, I'm going to be a while... actually, I think I'm about done for the day :\ I'll probably get more done tomorrow, though. Sorry. Jimcloud 20:41, August 9, 2012 (UTC)
don't stress yourself over it XD its tedious stuff to handle. I'm taking a break after doing the starter outdoor areas. each of the starter areas take like 40 minutes to cover and you need to do it between 0800 and 1700 for most shots to look good. its like a race against time. at least the breaks are built into it. Fortunately i think areas around Jeuno have less to feature.--Spira (talk) 01:59, August 10, 2012 (UTC)