Disambig notation
13,971 pages on
this wiki
Forum page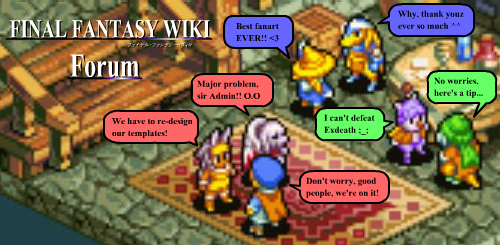 Disambigs are one of the strictest things we have for uniformity. Opening line says "Name may refer to:", followed by a list of things which start with "the [link|thing] from '[game]'.", and ending with the disambig template.
But there is some inconsistency.
When I used to make disambigs, I used to do "The character", "A weapon", "An armor", "An item", "The boss", and "An enemy".
My justification is that there is one character, one boss, and yet most other things aren't necessarily unique. Also in the scenario of a disambig, the difference between saying "A character" and "The character" is none, since it's not like saying "The Cloud character" as opposed to "A Cloud character", he is just one of a number of characters therefore both make sense.
In short, when we are doing this what consistent method should we use? Always use "A/An"? Always use "The"? Circumstances? 79.69.198.12 00:34, March 29, 2012 (UTC)
TacticAngel TALK
03:18, March 29, 2012 (UTC)
I don't know that we need a formula or rule for this beyond the standard understanding of what "a/an" means versus "the" in English. It should make sense in the context in which it is used. I don't see an advantage to anything else, because it wouldn't make any more sense to anyone visiting, and it could only make us look silly if we redefined how to use articles in the English language by which only we abide.
Normally I'm all for standardizing, but do we really need to draw out when we use articles, of all things? I'm with Tactics on this one; it seems like overkill to me. Cat 03:37, March 29, 2012 (UTC)
I can't believe we are discussing whether we should use "A/An" or "The" in disambigs. Does it really matter? I'm sure our readerbase won't notice it.
As tedious as you might think it is, when there is no discernible reason between saying "The boss" and "An enemy" on the same page it looks inconsistent and wrong.
Doodz, how hard is it to just choose one and stick with it? 79.69.200.56 13:20, March 29, 2012 (UTC)
Quite hard actually. It's very tedious to keep looking back to the MoS for every little thing, which is what is bound to happen one of these days. Unless you have a really, really good memory. Jeppo (Talk | contribs) 13:33, March 29, 2012 (UTC)

Don't need that good of a memory, just experience with pages. And this isn't MoS stuff, this would be Help:Tags and Disambiguation Pages stuff.
Disambig pages could use both "[thing] in [game]" or "[thing] from [game]", but we almost always use "from". This is because we are consistent and are used to it. I want the word used at the start to be consistent too :/ 79.69.200.56 13:40, March 29, 2012 (UTC)
TacticAngel TALK
17:39, March 31, 2012 (UTC)
Do you think that anyone who visits will notice or judge us horribly unprofessional, even write off the remainder of what we wiki because of 'inconsistent article use?' I don't really see it. I also wouldn't feel like asking a wiki secretary to go through all the disambiguation pages to fix something that is otherwise written, already, in appropriate English.