Before Crisis on 3DS
13,963 pages on
this wiki
Forum page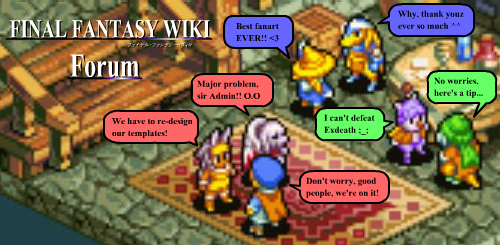 Biggs&Wedge - it's hot... the city reeks of sweat... and I've sand in places sand has no right to be."
Talk - Biggs - Wedge - 7th Heaven - Pandemonium Colosseum - Avalanche HQ
So, Drake Clawfang Tells us that "The Right People" are interested in remaking Before Crisis -Final Fantasy VII- for the Nintendo 3DS. BWOAH! Moyo Exciting. But correct me if I'm wrong, isn't EVERY SINGLE GAME in The Compilation on a different platfrom? BC=Phone/3DS, CC=PSP, VII=PSX, AC=DVD, DC=PS2, OTWTaS=Books! Anyway, If this site holds any Clout (Doubtful) Let us have a Petition of Sorts at the bottom of this page, just for fun, no? Alright well lets just discuss and be excited.
Even if the 3DS IS the price of a new PS3 in America, it at least means we get the game. Bluestarultor

BSA

06:17, October 1, 2010 (UTC)
Mask no Oni 23:14, October 5, 2010 (UTC) Want to know how the story all comes together. Also, Turks.