"Read More" Ugliness
13,971 pages on
this wiki
Forum page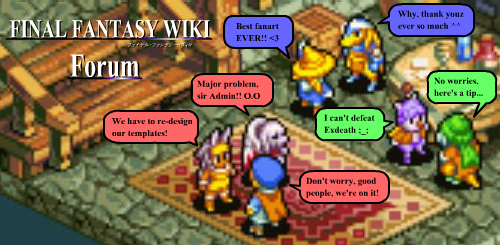 TidusTehSacrificer357

 - "Don't you run, needles!"

TALK

- 04:54, July 10, 2012 (UTC) - Vote at the Fayth's Dream Arena!

Okay, so, I'm looking at my new article,

Hellhound

, which I had recently made into an actual page instead of a disambig, and I see this;


http://desmond.imageshack.us/Himg407/scaled.php?server=407&filename=readmoref.png&res=landing

Not only is it ugly, I thought it was only for Oasis (or mobile), which is suitable, I suppose. When was this implemented? Should we remove it?

Oh yeah. You can't really see, I didn't snip the pic properly, but it also messes up the way the links to other wikis below are shown. Why...?

It's foobar in Monobook (but OK in Oasis). I'm not sure if removing stuff like this is against the

terms of use

, but if it isn't, we probably should.

Until then Tidus, add this to Special:MyPage/common.css (which will work for you - despite what I posted on your talk page at NieR Wiki:

.RelatedPageModule {display:none;}

---



I'm pretty sure I haven't done it wrong, yet I still keep seeing it. o_o -

Tidus357 09:23, July 10, 2012 (UTC)
Put it on the page specific to the skin. So for Monobook it's Special:MyPage/monobook.css and for Oasis it's Special:MyPage/wikia.css. That works for me. -- Some Color Mage ~ (Talk) 11:46, July 10, 2012 (UTC)
Just ignore all of Wikia's problems. They just decided to fuck up everything all at once. 79.69.206.143 13:32, July 10, 2012 (UTC)
I kinda like the idea of "Read More", but can't we make it to display an image as well, and being in a row rather than column? It would look much better.—Kaimi (999,999 CP/5 TP) 14:12, July 11, 2012 (UTC)