Fort Besselat
Talk

0
13,962 pages on
this wiki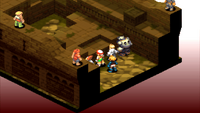 "A natural fortress surrounded on three sides by sheer cliffs. Served as a first line of defense during the Fifty Years' War."
—Description
Fort Besselat, also known as Bethla Garrison (ベスラ要塞, Besura-yousai?), is a location in Final Fantasy Tactics. It is the stronghold of Duke Goltanna and the Order of the Southern Sky.
Upon entering the fortress, the player has to choose between making a frontal assault on the North Wall or sneaking in through the South Wall. The six guards at the North Wall have a height advantage, but there are less of them than the seven at the South Wall; furthermore, one of the South Wall guards is a Ninja. Either way, the party will have to fight one battle and then continue to the sluice gates inside the fort.
A natural fortress surrounded on three sides by sheer cliffs and the Burgross Sea to the south, Besselat served as a first line of defense against Ordallia during the Fifty Years' War. During the War of the Lions in the later portion of the game it is besieged by the Order of the Northern Sky. During the battle, Knights Templar under Barich Fendsor unleash mossfungus poison on the Northern Sky, as part of the Lucavi plot to destroy both the Orders. Fortunately, Ramza Beoulve opens the fortress's sluice gate, flooding the nearby plains, and bringing the battle to a halt. Duke Goltanna orders his troops to press on anyways, but Delita Heiral takes the chance to kill him, bringing the War of the Lions to a halt. At the same time, Dycedarg Beoulve puts his plan to kill Duke Larg into effect, and then seizes control of the Northern Sky to fulfill his own ambition to become the regent of Ivalice.
Battle Information
Edit
Fort Besselat - North Wall
Edit
Fort Besselat

Units


Additional info
-Only fought if choosing to attack the North Wall.
-One-time battle.
-Can't leave until sluice battle is complete.
Conditions
Defeat all enemies.
Weather
Clear day
Enemy level
Average: 35
Recommended level
35 - 37
Team capacity
4 + Ramza

Number of teams
1
Battle Trophies
Carabineer Mail
Hidden items


Terrain
Wasteland, Grassland, Brick, Coffer
Geomancy
Sinkhole, Tanglevine, Wind Slash, Will-o'-the-Wisp
Fort Besselat - South Wall
Edit
Fort Besselat

Units


Additional info
-Only fought if choosing to attack the South Wall.
-One-time battle.
-Can't leave until sluice battle is complete.
Conditions
Defeat all enemies.
Weather
Clear day
Enemy level
Average: 35
Recommended level
34 - 36
Team capacity
4 + Ramza

Number of teams
1
Battle Trophies
Circlet
Hidden items


Terrain
Wasteland, Grassland, Brick, Coffer
Geomancy
Sinkhole, Tanglevine, Wind Slash, Will-o'-the-Wisp
Fort Besselat Sluice
Edit
Fort Besselat

Units



(0-2,0-2) except (2,2): Team 1
(0-1,7-9),(2,8): Team 2
(5,1),(6,0),(8,2),(8,7): 4 Knights
(5,8),(8,5): 2 Archers
(10,0),(11,9): 2 Black Mages

Additional info
-It's possible to knock the two knights on the sluice gates out of their position and have Ramza stand on where they were to win the battle.
-One-time battle.
Conditions
Open the sluice.
Weather
Clear day
Enemy level
Average: 37
Recommended level
38 - 40
Team capacity
Team 1: 2 + Ramza


Team 2: 2

Number of teams
2
Battle Trophies
None
Hidden items


Terrain
River, Lake, Grassland, Flagstone, Bridge, Iron Plate, Wooden Floor, Sand
Geomancy
Torrent, Tanglevine, Contortion, Wind Slash, Will-o'-the-Wisp, Sandstorm