Foret de Hennetiel is an area in Final Fantasy XI. This river delta forms at the mouth of the contaminated Zoldeff River, and is the lowest-lying area of Eastern Ulbuka. Foret de Hennetiel is said to be home to the Naakual known as Tchakka.
Location
Edit
Located in the East Ulbuka Territory, the Foret de Hennetiel can be first reached by traversing through the Sih Gates from Ceizak Battlegrounds. As this area is made up of a number of islet amid the contaminated Zoldeff River, it is not possible to reach many parts of the Foret by foot. Owing to the toxity of the purple river's water, pioneers are required to cross the river by cutting down palms to walk on or by using a watercraft. The survival skill "logging" is required to chop down the Broadleaf Palms, whereas "watercrafting" is required to pilot a watercraft. A number of sere stumps that spawn Ulbuka's multifarious menaces can also be found in the area.
Landmarks
Edit

This gallery is incomplete and requires Lair Reive
Sere Stump
(F-9), (G-8), (H-10), (I-7) added. You can help the Final Fantasy Wiki by uploading images.
Tchakka's Lair
Edit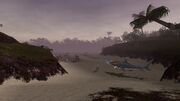 Tchakka's lair is an islet that lies on the far bank of the Zoldeff River in Foret de Hennetiel. It is the lair of Tchakka, the Riptide Naakual, and is surrounded by violent waters. Pioneers must band together to defeat Tchakka in Wildskeeper Reives to free the land of its terror.
Pioneers require a compass of transference in order to navigate the river and reach Tchakka's lair.

Connected Areas
Edit
Two tunnels in the west of this area lead to the Dho Gates.
Two tunnels in this area lead to the Sih Gates.
Bashful Heartwing
Bellicose Tarichuk
Careening Twitherym
Epigean Leafkin
Famished Jagil*

caught fishing

Glutinous Clot
Gurgling Crab*

caught fishing

Hoary Craklaw
Perfidious Crab
Phantasmagoric Umbril*

during dead of night

Primordial Orobon
Riverwashed Toad

Scummy Slug
Shrouded Obdella
Skinsipper Chigoe
Treefrost Gefyrst*

during rain/squalls

Vampire Leech
Velkk Destructeur
Velkk Sage
Vorst Gnat
Zoldeff Jagil
Notorious Monsters
Edit
Aberrant Uragnite*

spawned by items / Delve

Cunning Craklaw*

spawned during quest

Delectable Orobon*

caught fishing

Divagating Jagil*

spawned by items / Delve

Faded Craklaw*

spawned by items / Delve

Krabakarpo*

spawned by items / Delve

Nerrivik*

spawned by items / Delve

Numbing Blossom
Reive Enemies
Edit
Blood Toad
Broadleaf Palm
Cinder Crab
Craklaw
Primrose Jagil
Sere Stump
Tchakka
Wetlands Orobon
"Into Lands Primeval - Ulbuka" plays while exploring the Foret de Hennetiel. For normal battles, the track "Steel Sings, Blades Dance" is used, whereas "Breaking Ground" is played during Colonization and Lair Reives. "Keepers of the Wild" plays when taking part in Wildskeeper Reives.