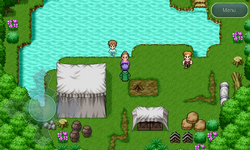 Forest of the Fey (妖精の森, Yōsei no Mori?) is a forest in Final Fantasy Dimensions. It's located to the north of Mt. Rusalka.
The Warriors of Light come here to find the Bottle of Bubbly Water. They meet a man named Gypsy. He found a faerie and put it inside a bottle. The faerie can create Bubbly Water, allowing one to breathe underwater. The Warriors tell Gypsy that he was very cruel. Gypsy offer the bottle for one million gil. Suddenly, a Vortex appears on the middle of a nearby lake and sucks Gypsy's son into it. The Warriors then save his son from the Vortexs.
In order to show his gratitude, Gypsy gives the Warriors the bottle. Sarah then opens it and release the faerie. The faerie says that her mother must have been worrying sick for her by now. Gypsy then says sorry to the faerie. The faeries then tells him not to do anything like that again, and create some Bubbly Water. The Warriors then acquire the Bottle of Bubbly Water.
Gypsy's chests
Edit
These chest can be access after the Warriors have saved Gypsy's son. The chest on the left costs 100 gil to open. It usually gives the Warriors some common items that can be bought at almost any shop. The chest on the right costs 1,000 gil to open. It usually gives better items compared to the 100 gil chest but still, it is not worth 1,000 gil. Some rare items can be opened from both chests. However, those items are not worth the time and money as there are better ones.
| Chest | Items |
| --- | --- |
| Left Chest | Potion, Maiden's Kiss, Mallet, Echo Grass, Eye Drops, Antidote, Scared Candle, Mini Dagger, nothing, 100 gil, 200 gil |
| Right Chest | Hi-Potion, X-Potion, Tent, Remedy, Swift Shoes, Faerie Ring, White Cape, Star Pendant, Small Fang, 500 gil, 1,000 gil, 2,000 gil, Drowsy Ring |
| Both Chests | Golden Needle, Phoenix Down, Cottage, Ether, Golden Harp |
Etymology
Edit
[view · edit · purge]Fey means doomed, or fated to die. It is also an alternate word for "fairy".
Ad blocker interference detected!
Wikia is a free-to-use site that makes money from advertising. We have a modified experience for viewers using ad blockers

Wikia is not accessible if you've made further modifications. Remove the custom ad blocker rule(s) and the page will load as expected.