Forbidden
ライフフォビドン (

RaifuFobidon

?)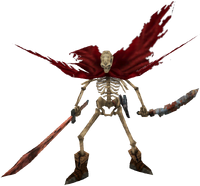 Statistics
Level
HP

(Lv)² + 120(Lv) + 100

Level
HP

(Lv)² + 120(Lv) + 100

1
221
19
2,741
STR

([6(Lv)] + [(Lv) / 4] - [(Lv)² / 500] + 50) / 4

MAG

([5.3(Lv)] + [(Lv) / 5] - [(Lv)² / 500] + 2) / 4

STR

([6(Lv)] + [(Lv) / 4] - [(Lv)² / 500] + 50) / 4

MAG

([5.3(Lv)] + [(Lv) / 5] - [(Lv)² / 500] + 2) / 4

14
1
42
26
VIT

((Lv) / 8) - (Lv) + (Lv) + 25

SPR

((Lv) / 8) - (Lv) + (Lv) + 200

VIT

((Lv) / 8) - (Lv) + (Lv) + 25

SPR

((Lv) / 8) - (Lv) + (Lv) + 200

25
200
27
202
SPD

(Lv) - [(Lv) / 2] + 10

EVA

((Lv) / 4) - [(Lv) / 12] + 2

SPD

(Lv) - [(Lv) / 2] + 10

EVA

((Lv) / 4) - [(Lv) / 12] + 2

11
2
20
5
EXP

15(Lv)² + 70

AP
EXP

15(Lv)² + 70

AP
85
4
355
4
Forbidden
ライフフォビドン (

RaifuFobidon

?)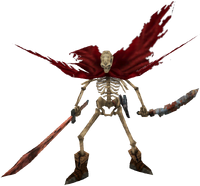 Statistics
Level
HP

(Lv)² + 120(Lv) + 100

Level
HP

(Lv)² + 120(Lv) + 100

20
2,900
29
4,421
STR

([6(Lv)] + [(Lv) / 4] - [(Lv)² / 500] + 50) / 4

MAG

([5.3(Lv)] + [(Lv) / 5] - [(Lv)² / 500] + 2) / 4

STR

([6(Lv)] + [(Lv) / 4] - [(Lv)² / 500] + 50) / 4

MAG

([5.3(Lv)] + [(Lv) / 5] - [(Lv)² / 500] + 2) / 4

43
28
57
39
VIT

((Lv) / 8) - (Lv) + (Lv) + 25

SPR

((Lv) / 8) - (Lv) + (Lv) + 200

VIT

((Lv) / 8) - (Lv) + (Lv) + 25

SPR

((Lv) / 8) - (Lv) + (Lv) + 200

27
202
28
203
SPD

(Lv) - [(Lv) / 2] + 10

EVA

((Lv) / 4) - [(Lv) / 12] + 2

SPD

(Lv) - [(Lv) / 2] + 10

EVA

((Lv) / 4) - [(Lv) / 12] + 2

20
6
25
7
EXP

15(Lv)² + 70

AP
EXP

15(Lv)² + 70

AP
370
4
505
4
Location
Centra - Centra Ruins
Galbadia - Tomb of the Unknown King
Esthar - Grandidi Forests, Nortes and Sollet Mountains
Trabia - Winter Island (near mountains)
Ultimecia Castle - Main Hall (battle with Sphinxara)
Scan
Undead soldier. Not afraid of death. Its death blow kills enemies with 1 hit.
Class
Undead
Card
Forbidden (93.7%)
Red Giant (6.3%)
Mug (50%)
Dead Spirit x2 (100%)
Item drop (99%)
Card Drop (3.5%)
Forbidden
Draw
Zombie
Blind
Stop
Devour
It's rotten...
Abilities
Sword Swipe, Thrust, Double Sword, Change Stance, Iai Blow, Blind, Silence, Sleep, Stop, Death
Other information
None
Forbidden
ライフフォビドン (

RaifuFobidon

?)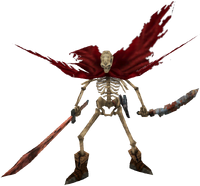 Statistics
Level
HP

(Lv)² + 120(Lv) + 100

Level
HP

(Lv)² + 120(Lv) + 100

30
4,600
100
22,100
STR

([6(Lv)] + [(Lv) / 4] - [(Lv)² / 500] + 50) / 4

MAG

([5.3(Lv)] + [(Lv) / 5] - [(Lv)² / 500] + 2) / 4

STR

([6(Lv)] + [(Lv) / 4] - [(Lv)² / 500] + 50) / 4

MAG

([5.3(Lv)] + [(Lv) / 5] - [(Lv)² / 500] + 2) / 4

59
41
163
133
VIT

((Lv) / 8) - (Lv) + (Lv) + 25

SPR

((Lv) / 8) - (Lv) + (Lv) + 200

VIT

((Lv) / 8) - (Lv) + (Lv) + 25

SPR

((Lv) / 8) - (Lv) + (Lv) + 200

28
203
37
212
SPD

(Lv) - [(Lv) / 2] + 10

EVA

((Lv) / 4) - [(Lv) / 12] + 2

SPD

(Lv) - [(Lv) / 2] + 10

EVA

((Lv) / 4) - [(Lv) / 12] + 2

25
7
60
19
EXP

15(Lv)² + 70

AP
EXP

15(Lv)² + 70

AP
520
4
1,570
4
Location
Centra - Centra Ruins
Galbadia - Tomb of the Unknown King
Esthar - Grandidi Forests, Nortes and Sollet Mountains
Trabia - Winter Island (near mountains)
Ultimecia Castle - Main Hall (battle with Sphinxara)
Scan
Undead soldier. Not afraid of death. Its death blow kills enemies with 1 hit.
Class
Undead
Card
Forbidden (93.7%)
Red Giant (6.3%)
Mug (50%)
Dead Spirit x3 (100%)
Item drop (99%)
Card Drop (3.5%)
Forbidden
Draw
Zombie
Blind
Stop
Death
Devour
It's rotten...
Abilities
Sword Swipe, Thrust, Double Sword, Change Stance, Iai Blow, Blind, Silence, Sleep, Stop, Death
Other information
None
| Lv | HP | STR | MAG | VIT | SPR | SPD | EVA | EXP |
| --- | --- | --- | --- | --- | --- | --- | --- | --- |
| 1 | 221 | 14 | 1 | 25 | 200 | 11 | 2 | 85 |
| 2 | 344 | 15 | 3 | 25 | 200 | 11 | 2 | 100 |
| 3 | 469 | 17 | 4 | 25 | 200 | 12 | 2 | 115 |
| 4 | 596 | 18 | 5 | 25 | 200 | 12 | 3 | 130 |
| 5 | 725 | 20 | 7 | 25 | 200 | 13 | 3 | 145 |
| 6 | 856 | 21 | 8 | 25 | 200 | 13 | 3 | 160 |
| 7 | 989 | 23 | 10 | 25 | 200 | 14 | 3 | 175 |
| 8 | 1124 | 25 | 11 | 26 | 201 | 14 | 4 | 190 |
| 9 | 1261 | 26 | 12 | 26 | 201 | 15 | 4 | 205 |
| 10 | 1400 | 28 | 14 | 26 | 201 | 15 | 4 | 220 |
| Lv | HP | STR | MAG | VIT | SPR | SPD | EVA | EXP |
| --- | --- | --- | --- | --- | --- | --- | --- | --- |
| 11 | 1541 | 29 | 15 | 26 | 201 | 16 | 4 | 235 |
| 12 | 1684 | 31 | 16 | 26 | 201 | 16 | 4 | 250 |
| 13 | 1829 | 32 | 18 | 26 | 201 | 17 | 4 | 265 |
| 14 | 1976 | 34 | 19 | 26 | 201 | 17 | 4 | 280 |
| 15 | 2125 | 35 | 21 | 26 | 201 | 18 | 4 | 295 |
| 16 | 2276 | 37 | 22 | 27 | 202 | 18 | 5 | 310 |
| 17 | 2429 | 39 | 23 | 27 | 202 | 19 | 5 | 325 |
| 18 | 2584 | 40 | 25 | 27 | 202 | 19 | 5 | 340 |
| 19 | 2741 | 42 | 26 | 27 | 202 | 20 | 5 | 355 |
| 20 | 2900 | 43 | 28 | 27 | 202 | 20 | 6 | 370 |
| Lv | HP | STR | MAG | VIT | SPR | SPD | EVA | EXP |
| --- | --- | --- | --- | --- | --- | --- | --- | --- |
| 21 | 3061 | 45 | 29 | 27 | 202 | 21 | 6 | 385 |
| 22 | 3224 | 46 | 30 | 27 | 202 | 21 | 6 | 400 |
| 23 | 3389 | 48 | 31 | 27 | 202 | 22 | 6 | 415 |
| 24 | 3556 | 49 | 33 | 28 | 203 | 22 | 6 | 430 |
| 25 | 3725 | 51 | 34 | 28 | 203 | 23 | 6 | 445 |
| 26 | 3896 | 52 | 35 | 28 | 203 | 23 | 6 | 460 |
| 27 | 4069 | 54 | 37 | 28 | 203 | 24 | 6 | 475 |
| 28 | 4244 | 56 | 38 | 28 | 203 | 24 | 7 | 490 |
| 29 | 4421 | 57 | 39 | 28 | 203 | 25 | 7 | 505 |
| 30 | 4600 | 59 | 41 | 28 | 203 | 25 | 7 | 520 |
| Lv | HP | STR | MAG | VIT | SPR | SPD | EVA | EXP |
| --- | --- | --- | --- | --- | --- | --- | --- | --- |
| 31 | 4781 | 60 | 42 | 28 | 203 | 26 | 7 | 535 |
| 32 | 4964 | 62 | 43 | 29 | 204 | 26 | 8 | 550 |
| 33 | 5149 | 63 | 45 | 29 | 204 | 27 | 8 | 565 |
| 34 | 5336 | 65 | 46 | 29 | 204 | 27 | 8 | 580 |
| 35 | 5525 | 66 | 48 | 29 | 204 | 28 | 8 | 595 |
| 36 | 5716 | 68 | 49 | 29 | 204 | 28 | 8 | 610 |
| 37 | 5909 | 69 | 50 | 29 | 204 | 29 | 8 | 625 |
| 38 | 6104 | 71 | 52 | 29 | 204 | 29 | 8 | 640 |
| 39 | 6301 | 72 | 53 | 29 | 204 | 30 | 8 | 655 |
| 40 | 6500 | 74 | 54 | 30 | 205 | 30 | 9 | 670 |
| Lv | HP | STR | MAG | VIT | SPR | SPD | EVA | EXP |
| --- | --- | --- | --- | --- | --- | --- | --- | --- |
| 41 | 6701 | 75 | 56 | 30 | 205 | 31 | 9 | 685 |
| 42 | 6904 | 77 | 57 | 30 | 205 | 31 | 9 | 700 |
| 43 | 7109 | 78 | 58 | 30 | 205 | 32 | 9 | 715 |
| 44 | 7316 | 80 | 60 | 30 | 205 | 32 | 10 | 730 |
| 45 | 7525 | 81 | 61 | 30 | 205 | 33 | 10 | 745 |
| 46 | 7736 | 83 | 62 | 30 | 205 | 33 | 10 | 760 |
| 47 | 7949 | 84 | 64 | 30 | 205 | 34 | 10 | 775 |
| 48 | 8164 | 86 | 65 | 31 | 206 | 34 | 10 | 790 |
| 49 | 8381 | 88 | 66 | 31 | 206 | 35 | 10 | 805 |
| 50 | 8600 | 89 | 68 | 31 | 206 | 35 | 10 | 820 |
| Lv | HP | STR | MAG | VIT | SPR | SPD | EVA | EXP |
| --- | --- | --- | --- | --- | --- | --- | --- | --- |
| 51 | 8821 | 90 | 69 | 31 | 206 | 36 | 10 | 835 |
| 52 | 9044 | 92 | 70 | 31 | 206 | 36 | 11 | 850 |
| 53 | 9269 | 94 | 71 | 31 | 206 | 37 | 11 | 865 |
| 54 | 9496 | 95 | 73 | 31 | 206 | 37 | 11 | 880 |
| 55 | 9725 | 96 | 74 | 31 | 206 | 38 | 11 | 895 |
| 56 | 9956 | 98 | 75 | 32 | 207 | 38 | 12 | 910 |
| 57 | 10189 | 100 | 77 | 32 | 207 | 39 | 12 | 925 |
| 58 | 10424 | 101 | 78 | 32 | 207 | 39 | 12 | 940 |
| 59 | 10661 | 103 | 79 | 32 | 207 | 40 | 12 | 955 |
| 60 | 10900 | 104 | 81 | 32 | 207 | 40 | 12 | 970 |
| Lv | HP | STR | MAG | VIT | SPR | SPD | EVA | EXP |
| --- | --- | --- | --- | --- | --- | --- | --- | --- |
| 61 | 11141 | 106 | 82 | 32 | 207 | 41 | 12 | 985 |
| 62 | 11384 | 107 | 83 | 32 | 207 | 41 | 12 | 1000 |
| 63 | 11629 | 109 | 85 | 32 | 207 | 42 | 12 | 1015 |
| 64 | 11876 | 110 | 86 | 33 | 208 | 42 | 13 | 1030 |
| 65 | 12125 | 112 | 87 | 33 | 208 | 43 | 13 | 1045 |
| 66 | 12376 | 113 | 89 | 33 | 208 | 43 | 13 | 1060 |
| 67 | 12629 | 115 | 90 | 33 | 208 | 44 | 13 | 1075 |
| 68 | 12884 | 116 | 91 | 33 | 208 | 44 | 14 | 1090 |
| 69 | 13141 | 118 | 92 | 33 | 208 | 45 | 14 | 1105 |
| 70 | 13400 | 119 | 94 | 33 | 208 | 45 | 14 | 1120 |
| Lv | HP | STR | MAG | VIT | SPR | SPD | EVA | EXP |
| --- | --- | --- | --- | --- | --- | --- | --- | --- |
| 71 | 13661 | 120 | 95 | 33 | 208 | 46 | 14 | 1135 |
| 72 | 13924 | 122 | 96 | 34 | 209 | 46 | 14 | 1150 |
| 73 | 14189 | 124 | 98 | 34 | 209 | 47 | 14 | 1165 |
| 74 | 14456 | 125 | 99 | 34 | 209 | 47 | 14 | 1180 |
| 75 | 14725 | 126 | 100 | 34 | 209 | 48 | 14 | 1195 |
| 76 | 14996 | 128 | 102 | 34 | 209 | 48 | 15 | 1210 |
| 77 | 15269 | 130 | 103 | 34 | 209 | 49 | 15 | 1225 |
| 78 | 15544 | 131 | 104 | 34 | 209 | 49 | 15 | 1240 |
| 79 | 15821 | 132 | 105 | 34 | 209 | 50 | 15 | 1255 |
| 80 | 16100 | 134 | 107 | 35 | 210 | 50 | 16 | 1270 |
| Lv | HP | STR | MAG | VIT | SPR | SPD | EVA | EXP |
| --- | --- | --- | --- | --- | --- | --- | --- | --- |
| 81 | 16381 | 135 | 108 | 35 | 210 | 51 | 16 | 1285 |
| 82 | 16664 | 137 | 109 | 35 | 210 | 51 | 16 | 1300 |
| 83 | 16949 | 138 | 111 | 35 | 210 | 52 | 16 | 1315 |
| 84 | 17236 | 140 | 112 | 35 | 210 | 52 | 16 | 1330 |
| 85 | 17525 | 141 | 113 | 35 | 210 | 53 | 16 | 1345 |
| 86 | 17816 | 143 | 115 | 35 | 210 | 53 | 16 | 1360 |
| 87 | 18109 | 144 | 116 | 35 | 210 | 54 | 16 | 1375 |
| 88 | 18404 | 146 | 117 | 36 | 211 | 54 | 17 | 1390 |
| 89 | 18701 | 147 | 118 | 36 | 211 | 55 | 17 | 1405 |
| 90 | 19000 | 149 | 120 | 36 | 211 | 55 | 17 | 1420 |
| Lv | HP | STR | MAG | VIT | SPR | SPD | EVA | EXP |
| --- | --- | --- | --- | --- | --- | --- | --- | --- |
| 91 | 19301 | 150 | 121 | 36 | 211 | 56 | 17 | 1435 |
| 92 | 19604 | 152 | 122 | 36 | 211 | 56 | 18 | 1450 |
| 93 | 19909 | 153 | 123 | 36 | 211 | 57 | 18 | 1465 |
| 94 | 20216 | 155 | 125 | 36 | 211 | 57 | 18 | 1480 |
| 95 | 20525 | 156 | 126 | 36 | 211 | 58 | 18 | 1495 |
| 96 | 20836 | 158 | 127 | 37 | 212 | 58 | 18 | 1510 |
| 97 | 21149 | 159 | 129 | 37 | 212 | 59 | 18 | 1525 |
| 98 | 21464 | 160 | 130 | 37 | 212 | 59 | 18 | 1540 |
| 99 | 21781 | 162 | 131 | 37 | 212 | 60 | 18 | 1555 |
| 100 | 22100 | 163 | 133 | 37 | 212 | 60 | 19 | 1570 |
The Forbidden is an enemy in Final Fantasy VIII.
As an undead enemy Forbidden takes on the properties innate to all undead units, namely taking half damage from physical attacks, being weak to Fire and Holy, being immune to Death and Doom and dying instantly from resurrecting abilities and items.
Forbidden uses sword attacks and magic. When its HP has dropped by 85%, Forbidden will change its tactics and use Iai Blow, which will cause Instant Death to a targeted character. Characters immune to Instant Death will receive normal damage.
Strategy
Edit
To dispose of Forbiddens in a single hit, one can use the Revive command taught by GF Alexander. Life, Full-Life, and Phoenix Downs will have the same effect.
Other appearances
Edit

Forbidden from Final Fantasy VIII appears as an enemy in Pictlogica Final Fantasy.

Ad blocker interference detected!
Wikia is a free-to-use site that makes money from advertising. We have a modified experience for viewers using ad blockers

Wikia is not accessible if you've made further modifications. Remove the custom ad blocker rule(s) and the page will load as expected.