Flute
Talk

0
13,964 pages on
this wiki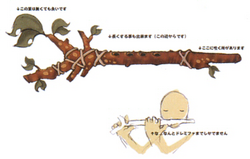 Flutes (笛, Fue?) are a recurring weapon type in the Final Fantasy series. They are wielded by a variety of job classes.
Appearances
Edit
Though not an equippable weapon type, the Wind Flute is a battle item that when used, calls forth a whirlwind to do damage.

Main article: List of Final Fantasy IX Weapons#Flutes

Eiko Carol, a White Mage, can equip flutes as her weapon.
List of Flutes:
Bards can equip flutes, called Wind instruments, in Final Fantasy XI.
List of Wind Instruments:
Flute
Hamelin Flute
Siren's Flute
Angel Flute
Cornette
Piccolo
Traversiere
Faerie Piccolo
Frenzy Fife
Storm Fife
Requiem Flute
Gjallerhorn
Flutes are just one of many Instruments used by Animists and Beastmasters.
List of flutes:
Conch Shell
Aona Flute
Black Quena
Satyr Flute
Flutes fall again under the category of Instruments and can be equipped by the Beastmaster, Animist, and Bard Jobs.
List of flutes:
Conch Shell
Black Quena
Satyr Flute
Blueleaf Flute

Deuce wields a flute as her weapon of choice.
List if Flutes:
Flute
Silver Flute
Baroque Flute
Life Flute
Military Band Flute
Master Flute
White Silver Flute
Meister Flute
Healing Flute
Angel Flute
God Horn
Kefka's exclusive weapons are the following flutes: Lamia's Flute, Nephilim Flute and Dancing Mad.
Kefka's three exclusive flute weapons return in Dissidia 012 Final Fantasy.