Relm:

I couldn't miss the chance to practice my drawing!

This article is in need of a few pictures. Perhaps you can help by uploading a picture.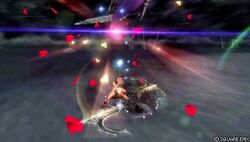 Flourish of Steel (連閃, Rensen?, lit. Connected Flashing) is a recurring ability in the series and is known best as being one of Lightning's signature moves, even though it originally was Odin's.
Appearances
Edit
XIII Flourish of Steel is Odin's summon attack, taking 1 ATB to use and inflicts physical damage multiple times to enemies within a small radius.
XIII-2 Flourish of Steel returns as an enemy ability used by Twilight Odin.
Dissidia012 Flourish of Steel is a Bravery to HP attack for Lightning. It is a Ground move that can only be chained from Launch, and is a high Melee priority physical attack. It requires 30 CP to equip when not mastered and 15 when mastered, as well as 300 AP to master.