Flan Amarillo
イエロープリン (

Ierō Purin

?, lit.

Yellow Pudding

)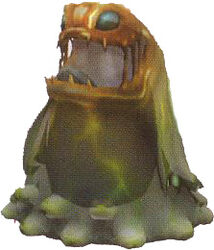 None
Statistics
Level
HP
MP
18
303
332
Strength
Magic
Defense
14
14
110
M. Defense
Agility
Accuracy
5
56
0
Evasion
Luck
0
4
EXP
AP
Gil
82
1
42
Flan Amarillo
イエロープリン (

Ierō Purin

?, lit.

Yellow Pudding

)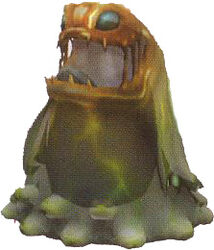 None
Statistics
Level
HP
MP
18
1,172
332
Strength
Magic
Defense
14
14
110
M. Defense
Agility
Accuracy
5
62
0
Evasion
Luck
0
5
EXP
AP
Gil
152
2
72
The Flan Amarillo is an enemy in Final Fantasy X-2. Any water spell works, as well Waterstrike. It is not a particularly threatening enemy, and can be easily dispatched.
Fiend Tale
Edit
In the Fiend Tale endings, one notable Flan Amarillo desired to become a literal flan dish and sought a world famous chief in Luca to make his dream a reality.
Minigame
Starting from 0, every success yields certain points, Spin: 1, First Ingredient: 2, Second Ingredient: 3.
Tips
The player should start by holding down

. Once the pop up box appears, the player can slide finger (no need to press individually) in a clockwise direction finishing at

. The player can then repeat the motion and watch below for the first ingredient to be added. It requires two button presses (
,

,

, or

). The player should repeat the motion until it is time to reverse.
The player should now hold

, and move in an anti-clockwise motion, finishing at

, and continue repeating. Second ingredient will pop up, and requires four button presses in a random order (
,

,

, or

).
Etymology
Edit
[view · edit · purge]Flan is an open pastry or sponge cake containing a sweet or savory filling. A typical flan of this sort is round, with shortcrust pastry, usually coated with sweet syrup. It is similar to a custard tart or a South African melktert.
[view · edit · purge]Amarillo is Spanish for "yellow".
Related enemies
Edit