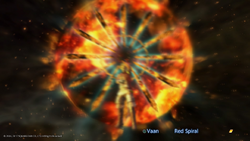 Flame Purge (百鬼・烈日の破邪, Hyakki - Retsujitsu no Haja?, lit. Hundred Demons - Evil-Crushing Blazing Sun) is a recurring ability in the series. It is Limit Break ability used by Basch fon Ronsenburg.
Appearances
Edit
XII Flame Purge is the level 3 Quickening for Basch.
Ad blocker interference detected!
Wikia is a free-to-use site that makes money from advertising. We have a modified experience for viewers using ad blockers

Wikia is not accessible if you've made further modifications. Remove the custom ad blocker rule(s) and the page will load as expected.