Relm:

I couldn't miss the chance to practice my drawing!

This article is in need of a few pictures. Perhaps you can help by uploading and adding a picture or two.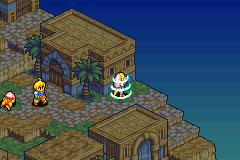 First Aid (応急処置, Oukyuushochi?) is a recurring ability in the Final Fantasy series. It is a weaker version of the Recover ability found in other games, restoring minor HP to one target.
Appearances
Edit
XII First Aid is a Technick that enables the user to heal a target HP when in HP Critical condition (less than 20% of max HP remaining) with a very low cast time. This technick will not work if the target is not in critical status. The health recovered is minor, less than of a regular Hi-Potion.
The technick costs 700 gil and 20 License Points. Balthier has already learned this technick when he joins the party and has it as one of his default gambits.
In the International Zodiac Job System version, Balthier still knows First Aid initially. The job classes that can use First Aid are Archer, Knight, Monk, Shikari, and Uhlan.
FFXIIRW First Aid is a skill learned by enemy Sky Pirates at level 30 and restores 50 HP to the user.
XV First Aid is a Recovery ability learned from the Ascension Grid for Gladiolus, Ignis and Prompto. It has the character recover 20% of their own HP when they are low on HP. Advanced First Aid can boost this to 40% recovery and Expert First Aid to 60% recovery.
TA First Aid is an ability used by the hume Soldier and bangaa Warrior job classes from the Shortsword and requires 100 AP to master. It has a Magic Power of 25 and is stealable through the ability Steal: Ability.
This heals a small amount of HP to the user with no MP cost. It also cures all status ailments, as long as the unit can act.
TA2 First Aid is available only to the Soldier and Warrior classes, learned for 100 AP from the Broadsword. It merely restores very minor HP to the user.
BD First Aid is a Salve-Maker ability. It restores HP to the ally with the lowest HP at the end of the turn, regardless of whether the user is silenced.
Treat is a Freelancer ability. It restores the HP of one ally by 20%. Like the Salve-Maker's First Aid, it can be used while the user is under Silence.
References
Edit