Firion
19,216 pages on
this wiki
Talk

19
Firion is the main protagonist of Final Fantasy II, and as such, the leader of the player's party. He is the adopted brother of Maria and Leon and he is the best friend of Guy.
Firion is the first main character in the series with a default name and a narrative driven storyline, unlike the playable characters of the original Final Fantasy.
Appearance
Edit
Though never stated in the English versions of Final Fantasy II, in Japanese guides for the NES release, Firion's age is given as 18. Firion has light brown skin, brown eyes, and white hair tied in a ponytail and covered by a blue, black, and orange bandana. He wears light blue shoulder pads and shin guards over white clothing, a brown belt with a gold buckle, and a red cape. His NES sprite was simply a minor modification of the Warrior sprite from the original Final Fantasy, with his field sprite being virtually identical—this depiction has not carried into any other portrayal of the character. Firion is wearing a cape in prototype screenshots of the WonderSwan Color version of Final Fantasy II, as he did in his artworks by Yoshitaka Amano. His sprite would not have one until the release of the PlayStation Portable version.
Personality
Edit
Firion tries to behave heroically and strives to protect his country and the people he holds dear. In his Japanese NES profile, it is stated Firion has a weakness for women, which could explain why he was so easily seduced by the Lamia Queen.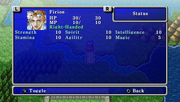 Firion's starting equipment is a Broadsword, a Buckler and Leather Armor. He begins as the most balanced member of the team as his attacks are on par with his magical ability, and his stats are almost perfectly balanced between Guy and Maria, who have stats specializing in physical/magical abilities while lacking in the other.
It is up to the player to decide what kind of warrior Firion becomes. In the battle with the Emperor shown in the Soul of Rebirth cutscene before the final battle, Firion is the party member who knows Ultima, but as with any spell, the player may teach it to whomever they wish. His ultimate weapon in the Arcane Labyrinth is the Ragnarok sword. Most of the Key Terms that are optimal for Firion are not learnable until the player has reached the Cyclone, and the best Key Terms are only available after returning from Palamecia, making the Ragnarok obtainable only near the end of the game.
Initial stats
Edit
| Stat | Level |
| --- | --- |
| HP | 30 |
| MP | 10 |
| Strength | 10 |
| Spirit | 10 |
| Intelligence | 10 |
| Stamina | 10 |
| Agility | 10 |
| Magic | 5 |
Other appearances
Edit
Firion's outfit is available as a veteran reward for players who have subscribed for a total amount of 840 days. Upon subscribing for 960 days, the player receives a Wind-Up Firion minion, as well as a Chocobo Barding based on Firion's outfit.
Triple Triad
Edit
Firion appears as a legendary (5-stars) Triple Triad card.
Firion Card

Card No.
69
Total

total stats of the card

26
Type
None
Description
Obtain
Currently Unknown.
Firion appears as a Warrior of Cosmos and stands as the hero representing Final Fantasy II, opposing the Emperor.
Firion travels with Cloud, Cecil and Tidus. As the three each go their separate ways to fight their personal battles, Firion begins to question his reason for fighting. His one true desire is to end the war and create a peaceful world free from tyranny and oppression. Firion carries a wild rose with him, his wish to see them bloom freely a symbol of the world he hopes to see. During the game, various other characters learn of Firion's dream and share his hope for a peaceful future, including Cosmos herself.
His alternate outfit is based on an alternate art by Yoshitaka Amano, giving him a different hairstyle and differently styled armor with a red cape.
Firion reappears as a Warrior of Cosmos in the prequel to Dissidia Final Fantasy alongside all the other characters from the original. He travels with Kain but is struck down by him, unaware Kain is incapacitating his comrades to save them from the manikins. In a series of flashbacks viewed in the Reports, Firion discusses his rose with Lightning when she finds it, and the two tell the other it stirs memories in them. Lightning returns the rose to Firion, but requests he let her have it when he recovers all his memories so her own recollections will be easier.
Firion's second alternate is based on another Amano design, giving him different armor, longer hair, and a purple cape.
Firion returns in the arcade reboot of Dissidia, and is classed as a Heavy type character.
Cloud:

I couldn't finish 'em. Looks like this's gonna get complicated.

The following tables are incomplete and require the level 30, 40, 50, and 60 Stats areas to be filled. If you wish, please examine the table and add anything missing. Remove this notice upon completion.
Firion is a default playable character. He is based on his Dissidia design, though he only wields the Blood Sword.
His stat and abilities are Offense and Speed oriented. His Limit, Blood Weapon, restores the party's HP every time they get a Good or better on notes after achieving a 50-chain in battle.
Firion's eye color in promotional artwork is turquoise; his in-game appearance and Curtain Call correct this to brown eyes.
| Level | HP | CP | Strength | Magic | Agility | Luck |
| --- | --- | --- | --- | --- | --- | --- |
| 1 | 217 | 6 | 20 | 11 | 18 | 16 |
| 10 | 864 | 11 | 46 | 25 | 42 | 36 |
| 20 | 1,583 | 17 | 74 | 40 | 67 | 58 |
| 70 | 5,179 | 45 | 216 | 118 | 197 | 170 |
| 80 | 5,378 | 50 | 225 | 123 | 204 | 177 |
| 90 | 5,576 | 50 | 233 | 127 | 212 | 183 |
| 99 | 5,755 | 50 | 241 | 131 | 219 | 189 |
iOS stats
Edit
Firion returns as a default playable character. If the player did not select him among their party of four, he can later be unlocked by collecting Indigo Shards.
Firion's stats and abilities are now Offense and Defense oriented. His Limit, Blood Weapon, functions the same as before, restoring HP on getting GOOD or higher by achieving a 50-chain in battle.
Abilities
Edit
Firion appears as a playable character.
Firion appears as a Legend, and can use his Lord of Arms ability.
Firion is an exclusive character only available from the Premium Character Shop as a random downloadable content, he uses the Glow Attack during battle.
Firion is a playable character who could initially be recruited during the Special Event Forbidden Treasure as the First Time Reward for completing the Normal stage of the event's fourth phase. He was also available via Seer of Destiny, where he was the First Time Reward for completing Semitt Falls Cavern on the Classic difficulty track.
Assessment
Firion's story role is Rebel Soldier and his combat role is Physical Attack.
Firion is one among many all-purpose warriors, and his weapon diversity proves it. That, and he has access to a large range of melee skills. Given the right equipment, Firion can act as his party's tank, then let off one of the most punishing single-target strikes in the game; many other characters in this situation have either spread-strike or random attacks that need to be focused in order to be effective.
Stats
Level
HP
Attack
Defense
Magic
Resistance
Mind
Accuracy
Evasion
Speed
1
201
12
8
8
8
8
20
20
83
10
1,014
29
24
18
19
18
20
20
89
20
1,750
49
39
30
32
30
20
20
95
30
2,431
69
53
43
45
43
21
21
101
40
3,077
89
67
57
58
57
21
21
106
50
3,700
109
79
72
71
72
22
22
111
60
4,304
128
92
87
84
87
22
23
116
65
4,600
138
98
95
90
95
23
23
119
80
5,469
168
116
118
110
118
23
24
126
Rank

Max: 5

4
4
2
2
2
2
3
3
2
Record Spheres
Job
S.Lv 1
S.Lv 2
S.Lv 3
S.Lv 4
S.Lv 5
Warrior
+1 ATK
+70 HP
+1 DEF
+1 ATK
+2 ATK
Red Mage
+1 ATK
+1 DEF
+1 RES
+60 HP
+2 ATK
Monk
+1 DEF
+1 RES
+1 ATK
+2 ATK
+80 HP
Gladiator*

Requires mastery of Warrior's Record Sphere.

+3 ATK
+3 DEF
+200 HP
+5 ATK
Use 4★ Support Abilities
Spellblade*

Requires mastery of Warrior and Red Mage's Record Spheres.

+3 ATK
+3 DEF
+170 HP
+6 ATK
Use 3★ Spellblade Abilities
Master Monk*

Requires mastery of Monk's Record Sphere.

+3 RES
+60 HP
+4 DEF
+5 ATK
+180 HP
Abilities
Firion can use Black Magic abilities up to rarity rank 1, Combat abilities up to rarity rank 5, Support abilities up to rarity rank 3, and Celerity abilities up to rarity rank 3.
His default Soul Break is Rope Knife which at the expense of one Soul Gauge segment deals ranged damage to one target. The axe Demon Axe (II) allows Firion to use Wild Rose Vow which at the expense of one Soul Gauge segment deals five successive physical attacks to one target. The sword Masamune (II) grants Firion access to Lord of Arms, five successive ranged physical attacks to one target and blinding it, at the cost of one Soul Gauge segment.
Both of Firion's Memory Crystals were first issued during Seer of Destiny. Breaking Firion's first level cap will grant him the Record Materia "Hold the Line", which increases his ATK stat as his HP decreases. Breaking his second level cap offers a chance to obtain "Rebel's Might", which allows the wielder to begin battle in Regen status while also boosting ATK and DEF.
Equipment
Firion can use the following weapon types: daggers, swords, axes, spears, staves, bows, and thrown weapons. The axe Demon Axe (II) allows Firion to use Wild Rose Vow. The sword Masamune (II) allows Firion to use Lord of Arms.
He can equip the following armor types: shields, hats, helms, light armor, armor, and bracers.
He can equip accessories.
Firion appears with mainly fire-elemental cards, although his Dissidia artwork card is Shine-elemental. His cards depict his Yoshitaka Amano artwork, his artwork from Final Fantasy I & II: Dawn of Souls, and his appearance from Theatrhythm Final Fantasy.
Firion appears as an opponent and on Triple Triad cards in the version available via Final Fantasy Portal App. On Easy he uses the rule All Open. On Normal he uses Three Open and Swap. On Hard he uses Plus and Swap and the rare five star cards of himself and the Emperor can be won from him, among others. He uses the trade rule One.
Other media
Edit
A costume of Firion in his Dissidia Final Fantasy attire appears in Kingdom Hearts Mobile.