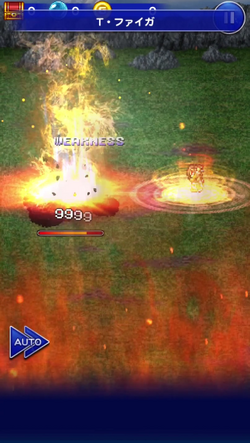 Firaga Fury (T・ファイガ, T Faiga?, lit. T. Firaga) is a recurring ability in the series. It is an Overdrive ability for Lulu, originally part of her Fury skillset.
Appearances
Edit
X Firaga Fury is part of Lulu's Fury Overdrive, usable once Lulu has learned Firaga. It is 43% the strength of a regular Firaga, is a Rank 5 ability, and hits anywhere between 6 to 12 times after 15 rotations.
Ad blocker interference detected!
Wikia is a free-to-use site that makes money from advertising. We have a modified experience for viewers using ad blockers

Wikia is not accessible if you've made further modifications. Remove the custom ad blocker rule(s) and the page will load as expected.