Fiore DeRosa is a non-player character in Bravely Default, Bravely Default: Praying Brage, and Bravely Second: End Layer. He is the leader of the Bloodrose Legion and bearer of the Red Mage asterisk.
D 's Journal entries
Edit
Bloodrose Legion Leader
Behind his ladies' man veneer, he has set multiple schemes in motion to ruin Florem's society based on Crystalist values.
A 38-year-old man of unknown origin. His full name is Fiore DeRosa, and he holds the red mage asterisk. He is slowly but surely corrupting the devout nation of Florem from within with his meticulous schemes.
Likes: Exploitable women, rising to power, fame
Dislikes: Children, stubborn underlings
Appearance
Edit
Fiore is a 38 year old man with rose-colored hair, a small black goatee, and grey eyes. He wears an open red shirt with a large rose on his left shoulder as well as red and black gloves. He has a small red scarf around his neck. He wears black pants with rose designs down the sides and a red belt with a rose buckle. His knees length boots are red and black. He wields the sword Bloodrose.
Personality
Edit
Fiore is a womanizer, but unlike Ringabel, sees women as tools to achieve his ends of rising up the ranks.
Bravely DefaultEdit
As a Red Mage, Fiore uses Black and White Magic with his "Revenge" abilities which gives him extra BP whenever he is attacked. Fiore can also charm his opponents, with Edea charmed at the start of the battle and he can charm various characters at any given moment. However, one can give Edea an item that will nullify the charm status altogether from the very start of battle leaving one to focus upon Fiore.
Bravely Second: End LayerEdit
Fiore is a Red Mage and utilizes a variety of Black and White Magic in battle.

Creation and development
Edit
Fiore is voiced by Jōji Nakata in the Japanese version. He shares his Japanese voice actor with Grimoire Valentine and Weiss the Immaculate from Dirge of Cerberus -Final Fantasy VII-.
He is voiced by Steve Staley in the English release. He shares his English voice actor with Kadaj from Final Fantasy VII: Advent Children and Papalymo from Final Fantasy XIV.
Other appearances
Edit
BDPB Fiore appears as an obtainable unit.
BADR Fiore appears as an obtainable unit.
Error: invalid codename. See Help:Codenames for more information. Fiore appears as an enemy.
Non-Final Fantasy guest appearancesEdit
Fantasy Earth ZeroEdit
DeRosa's weapon appeared in a collaboration event.[1]
Other media
Edit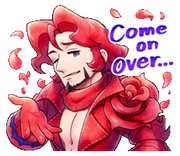 Fiore appears on a sticker set for the LINE communications app. The sticker set he appears in is titled "Bravely Stickers - Volume 2".[2]

Bravely Default
Bravely Second: End Layer
Etymology
Edit
[view · edit · purge]Fiore means "flower" in Italian.
[view · edit · purge]The surname De Rosa (DeRosa in the United States) is a common Italian surname meaning "pink", derived from the Latin word Rosa which means "rose."
References
Edit