Ad blocker interference detected!
Wikia is a free-to-use site that makes money from advertising. We have a modified experience for viewers using ad blockers

Wikia is not accessible if you've made further modifications. Remove the custom ad blocker rule(s) and the page will load as expected.
The Final Fantasy XV Universe[1] (ファイナルファンタジーXV ユニバース, Fainaru Fantajī Fifutīn Yunibāsu?) is a sub-franchise within the Final Fantasy series. It was revealed at the Uncovered: Final Fantasy XV event in March 2016. The purpose of this sub-franchise is to expand the story and world of Final Fantasy XV to other media, such as anime, movies and mobile gaming.
The stories told through the Final Fantasy XV Universe mostly take place during Noctis' fight against the Niflheim Empire following their invasion. This expansion of the narrative was designed to negate the necessity of releasing Final Fantasy XV as a series of games, something the team had firmly decided against.[2] It won't be necessary to watch the anime or the movie or any of the supplemental material to enjoy the game.[3]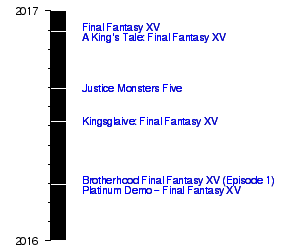 During interviews concerning the Final Fantasy XV Universe, it was compared by interviewers to Fabula Nova Crystallis: Final Fantasy, a subseries of games connected by a common mythos from which Final Fantasy XV originated. Director Hajime Tabata repeatedly stated that it was a standalone expansion: as opposed to other subseries such as Fabula Nova Crystallis, Final Fantasy XV Universe focused on a single narrative and world as opposed to multiple disconnected settings. He defined it as his attempt to make Final Fantasy XV work in the modern market.[4][5]
References
Edit