The Final Fantasy XV Universe[1] (ファイナルファンタジーXV ユニバース, Fainaru Fantajī Fifutīn Yunibāsu?) is a sub-franchise in the Final Fantasy series that was first revealed at the Uncovered: Final Fantasy XV event in March, 2016. Its purpose is to expand the story and world of Final Fantasy XV to other forms of media, such as films, anime series, and mobile games.
Stories told in the Final Fantasy XV Universe tend to focus on Noctis Lucis Caelum and take place during his fight against Niflheim. They negate the necessity for multiple Final Fantasy XV games, something in which developers had no interest.[2] The contents of this franchise are standalone titles; they can be enjoyed on their own or as part of a larger tale.[3]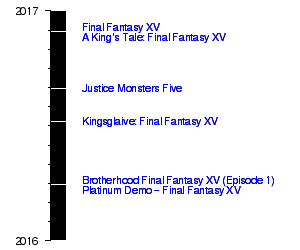 During interviews about the Final Fantasy XV Universe, Hajime Tabata repeatedly stated it is no longer a part of the Fabula Nova Crystallis: Final Fantasy sub-series. According to Tabata, the Final Fantasy XV Universe focuses on a single narrative and world, rather than several disconnected ones. It is Tabata's attempt to make Final Fantasy XV work in the modern market.[4][5]

Final Fantasy XV was originally called Final Fantasy Versus XIII. It was to be part of Fabula Nova Crystallis: Final Fantasy, but this connection has been reduced to unexpressed thematic elements that were used to build the game's new lore. Terminology and specific branding has been removed to distance Final Fantasy XV from the Lightning Saga.[6][7][8][9][10]

In FINAL FANTASY XV UNIVERSE E3 2017 Trailer, at 2:23 an image resembling Etro's gate appears that highlights various aspects of Final Fantasy XV Universe.
References
Edit