XV
Final Fantasy XV, originally called Final Fantasy Versus XIII, is the fifteenth installment in the main Final Fantasy series and a former entry in the Fabula Nova Crystallis: Final Fantasy sub-series. The extent to which it connects to Final Fantasy XIII and Final Fantasy Type-0 has been reduced, and it now features an original lore.[1][2][3] The game was released worldwide on November 29, 2016 for the PlayStation 4 and Xbox One. It supports the PlayStation 4 Pro, but is optimized for the console's standard version.[4]
The story is told over the course of 15 chapters. It focuses on Noctis Lucis Caelum, a prince from the kingdom of Lucis who fights to reclaim his throne and must go on to fulfill a greater destiny. Final Fantasy XV aims to examine its characters' humanity and place them in a more realistic setting than most Final Fantasy games. Its prominent themes are friendship, destiny, and legacy.
The first half of Final Fantasy XV is open-world and enables players to take on a variety of sidequests, explore, and play mini-games. Objectives later become more specific, in accordance with other Final Fantasy titles.
Final Fantasy XV is part of the Final Fantasy XV Universe sub-franchise. It takes place parallel to the feature film Kingsglaive: Final Fantasy XV, and has a prequel anime series Brotherhood Final Fantasy XV. The game is also connected to A King's Tale: Final Fantasy XV, Justice Monsters Five, and King's Knight -Wrath of the Dark Dragon-.
Final Fantasy XV is an open world, action role-playing game in which players assume control of Noctis Lucis Caelum, a prince who can perform a variety of actions related to both field exploration and combat.
The world is a single, connected landmass that is explored primarily in the party's car, the Regalia. Locations can also be investigated on foot and by riding on chocobos. Certain locations that were visited in the past can be fast-traveled to.
Players can use gil to purchase items and equipment and accept sidequests from the NPCs they encounter. These offer additional rewards and allow for gameplay experiences that are separate from the main story. During some cutscenes, players can choose how Noctis interacts with other characters.
It is possible to continue playing Final Fantasy XV after its story concludes. Post-game content includes new quests and challenges that cannot be unlocked otherwise. New equipment also becomes available. This additional material is intended for parties that are of a higher level than that required for the story's final chapters.
Final Fantasy XV supports the PlayStation 4 and Xbox One's social media functions allowing players to share screenshots and video clips. One can also access the PlayStation 4 version on the PlayStation Vita, which uses data streamed from the console version.
Battle system
Edit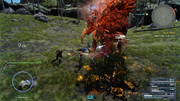 The battle system is called "Active X Battle," or "AXB." Combat is seamless and takes place in real-time environments that incorporate all regions of the surrounding landscape. The "Wait Mode" freezes time when the player is not moving so the player can select targets and actions at their leisure. This was enhanced with the implementation of the Crown Update, which enables players to obtain information from Libra at a faster pace, as well as replenish the Wait Gauge by defeating enemies.[5]
Players can destroy parts of some foes' bodies, temporarily debilitating them. Monsters come in many sizes and use different attacks, even if they are of the same species.
Combat begins as soon as Noctis and friends are approached by an enemy, attack an enemy, or get too close to it. A red "encounter gauge" appears at the top of the screen when one is near a hostile unit; players usually have the option to flee at any time.
The party's HP is restored over time. If the members lose all their HP they enter the "Danger" status and are unable to attack or use abilities until they are rescued or use an item. Party members in Danger status continuously lose max HP. Once their max HP becomes 0, they get Knocked Out. Knocked out party members can still be saved with a revival item, and there is a window to revive Noctis if he becomes KO'd. If Noctis remains KO for too long, it is Game Over. As a result of the day one patch, the screen now flashes red when Noctis is low on HP.[5] HP lost from the max HP gauge slowly recovers overtime, but much more inefficiently than the regular HP. The player can use recovery items like Elixirs to heal the whole HP gauge.
Noctis can respawn enemies by blowing a special whistle included in the Final Fantasy XV day one patch.[5]
Maneuvers
Edit
There are three available button layouts. Combat relies primarily upon three buttons.
The attack button has Noctis attack enemies. When held, Noctis will continuously attack with his selected weapon, and when out of range he will approach his target to attack them. Pressing the attack button in combination with directional buttons can execute different versions of the attack. Attack prompts can appear when allies perform Techniques and after parrying enemy attacks. The player can perform aerial attacks by jumping before using the attack button, or by warp-striking to airborne targets. When Noctis learns Airstep from the Ascension grid, he can stay airborne when attacking, although this will consume MP. Attacking while mid-air can have Noctis perform different attacks than usual, such as descending upon enemies from above with a spear.
The defense button has Noctis phase through enemy attacks when held and dodge roll (when tapped). Phasing through enemy attacks consumes MP, although this can mitigated by unlocking nodes in the Ascension Grid. Holding the defense button next to suitable cover has Noctis grouch and restore his HP and MP more rapidly than usual. Dodge rolling does not make Noctis invincible for the duration of the roll, and is often used for positioning Noctis during battle. The defense button is used to parry certain enemy attacks with a well-timed button press when prompted. Successful parries can usually be followed with a counterattack.
The warp button allows Noctis to point-warp to out-of-the-way locations (when held), or warp-strike to targeted enemies when pressed in combination with the lock-on button. Tapping the warp button has Noctis warp forward, and can be done on the field. Warping consumes MP. Warp-striking enemies deals more damage the further away from Noctis warps. Point-warping fully restores Noctis's MP, and if he is left hanging from a high altitude, it is considered a form of cover and his HP restores faster. Some enemy attacks send Noctis falling through the air, and the player can avoid fall damage by warping mid-fall when the button prompt appears.
If Noctis's allies are nearby, he can team up with them to perform link-strikes, powerful combo finishers that are performed automatically if one is in the proper situation. Noctis and friends can also blindside enemies if they strike from behind.
Equipment
Edit
The player can equip weapons and accessories. Magic is also equipped to a weapon slot. Accessories boost stats provide elemental and status protection, and some are specific to certain party members.
The game has a total of 109 melee weapons. Noctis can equip all weapons and some types are exclusive to him, whereas party members can equip two types of weapons as primary and secondary arms, as well as Elemancy magic. Different weapon types deal different type of damage, and when an enemy is weak to the player's attacks the damage numbers appear orange. When an enemy resists the player's damage, the damage numbers appear purple.
Noctis can have up to four weapons equipped and his fighting style changes depending on which of his equipped weapons is active. The player can freely cycle between them via the d-pad. Some weapons can be upgraded by Cid Sophiar; these are designated by a yellow "+" in the Gear menu. Others boost their wielders' stats when equipped. The Royal Arms drain Noctis's HP when attacked with, but are often especially strong against daemons.
When Noctis uses firearms, he is unable to string combos together, but he automatically reloads the weapons after enough shots have been fired. Ignis, Gladiolus, and Prompto use their Secondary Arms (Lances, Shields, and Machinery, respectively) situationally.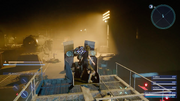 In imperial bases, Noctis can use heavy arsenal turrets to damage enemies from a distance.

Techniques and the Armiger
Edit
During combat, a tech bar comprised of three segments gradually fills. The player can issue commands to Noctis's allies, as well as any guest characters present. If the party member's Technique is offensive it can usually be followed up with an attack from Noctis if the player presses the attack button at the right time.
Noctis unlocks Armiger when he has collected enough Royal Arms. After a circular gauge fills through a combination of offense and defense, the player can activate Armiger to boost his attacks and summon all of his collected Royal Arms to his side. These shield Noctis from enemy attacks and makes all of his moves warps. While in Armiger, maneuvers don't expend HP or MP. While Armiger is active, Noctis can perform an Armiger Chain, a powerful technique that allows the entire party to damage foes several times in rapid succession. Armiger ends when the gauge is depleted.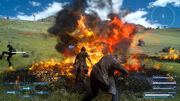 There are two types of magic: elemental magic and ring magic. Elemental magic is available from the start, and ring magic is unlocked in the thirteenth chapter.
Elemental magic does not cost MP. Instead, it must be equipped like a weapon. Spells in this class can be used a certain number of times before the spell will be depleted, and they can also be equipped by Noctis's allies. Players can craft new spells through the art of Elemancy. The player can restock the necessary elemental energy by absorbing it from special spots on the field. By adding treasures, ingredients, or items to a spell during crafting, players can create magic that has a variety of different effects. For example, some debilitate enemies, while others heal their caster. Elemancy allows players to obtain powerful spells early on.
Elemental spells are area-of-effect attacks that harm both enemies and the party. Weather affects a spell's effectiveness; casting Fire on a clear day chars the surrounding landscape and causes monsters that fear flames to flee. Conversely, Fire spells are quickly extinguished when it is raining, but Thunder spells are enhanced. Damage the environment sustains from magic is not permanent.
Ring magic is exclusive to Noctis and is accessed when the Ring of the Lucii is equipped and set as his active weapon. Called "arcana," spells accessed through the ring consume MP. They either consume an enemy's life-force to heal Noctis, damage foes through a well-timed dodge, or eradicate all foes in the area.

Summons are called "Astrals." They behave situationally and can only be summoned by Noctis. They are acquired through story events.
The chance to summon comes up randomly when in battle. The game does a "summon roll" every ten seconds, determining whether a summoning chance will activate or not. Different summons have different conditions for being summoned. For example, Titan has a chance of being summoned if Noctis's allies are in KO or Danger state. When the summoning chance activates, the screen turns red, small crystal lights float in the air, and the battle music changes. The player can then call an Astral by holding the necessary button. If Noctis is killed the summon is cancelled, or the player can ignore the summon chance and it will eventually dissipate.
The summons are the strongest attacks the player can perform, and deal damage to all enemies in battle. The player can summon once per battle.
Ascension grid
Edit
By spending ability points (AP), players can unlock abilities and stat boosts for Noctis and his comrades. Accumulated AP is shared between all party members. The Ascension doesn't only affect combat, but can also be used to extend buffs obtained from food cooked at camp, make Noctis sprint longer, among various other effects.
There are nine Ascension grids:
Armiger
Magic
Recovery
Techniques
Combat
Teamwork
Stats
Exploration
Wait Mode
Difficulty modes
Edit
Final Fantasy XV has two difficulties: Easy and Normal. These can be switched between freely. The ability to change difficulty levels was decided upon based on feedback developers received on Final Fantasy XV Episode Duscae.[6] Carbuncle can appear to save the player in the Easy Mode.
The field
Edit
The world of Final Fantasy XV is seamless and initially open. The player is free to drive or fly the Regalia without hindrance. Noctis and friends can call chocobos to their side by blowing a whistle, and as of the day one patch, Noctis is able to warp outside of battle and use the car's "music player" while exploring.
Noctis can fish at designated locations, and he can find non-player characters some of whom give him quests. Some portions of the surrounding terrain can be destroyed. Noctis's friends occasionally point things out to him, and the conversations they have with him often allow the player to discover optional material organically. Players can see their destination on the world map by looking for

or

; this aids navigation and prevents one from getting lost. Items can be procured from the field and glow before they are picked up; many of them can be exchanged for gil, a currency that can also be earned for completing sidequests. During some cutscenes, players are given the option to choose how Noctis will respond.
Final Fantasy XV features a day and night cycle, which affects which enemies spawn and which fish are around fishing spots. Daemons only spawn at night, and if the battle draws for so long the sun comes up they will take damage from the sunlight. Initially, the Regalia cannot be driven on auto-pilot during the night, but the option for it unlocks at after level 30. The player can still fast-travel with the car. The Starscourge gradually causes the nights to lengthen, and thus the party will wake up later in the later chapters, and the sun begins to go down earlier.
Camping, lodging and restaurants
Edit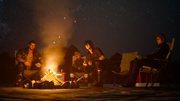 Camps are safe havens at which the accumulated Experience Points of Noctis and his friends are tallied. They are also where the party eats meals to gain status boosts. Camp can be made at any time of day, but only in designated areas. If Noctis and friends do not rest they do not level up, and their status boosts gradually disappear.
At camp, the player selects which meal Ignis cooks determined from the list of ingredients the party has obtained from shops, procurement points and monsters. Each meal has a different effect, and some meals are different party members' favorites.
When camping in certain locations, Noctis is invited by his friends to accompany them on tours, sidequests with special objectives. During a tour time does not progress until it is completed and the player cannot stray from the area near the camp.
Increased monster activity at night is an incentive for players to camp. The party can camp out in the open or stay in hotels or other facilities at outposts. Using these adds a multiplier to the party's accumulated experience, but it does not allow status-boosting meals to be eaten.
Another way to eat outside camp is by visiting restaurants. The dishes cost gil but provide buffs that last longer than the initial buff duration for camp food. At restaurants the player can also talk to the local tipster to unveil icons on the map and do hunts.

Mini-games and sidequests
Edit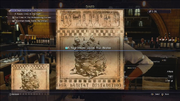 Players can enjoy fishing, chocobo racing, and the pinball game Justice Monsters Five. Players can also take on over 200 sidequests that promote exploration and offer several bonuses.
New Game Plus
Edit
New Game Plus was added in version 1.03. This enables the player to re-experience Final Fantasy XV after clearing it while retaining the following from their previous playthrough:
Character levels
Ascension grid progress
Collected weapons
Collected items
Obtained recipes
Gil earned
In New Game Plus, Noctis's Engine Blade returns to its most basic form; any upgrades to it are not carried over. Players also cannot maintain the Regalia Type-F.
DLC and VR
Edit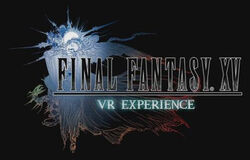 Gladiolus, Ignis and Prompto will have their own downloadable episodes, but what they include is yet unknown.
Final Fantasy XV is to include a virtual reality experience in which players control Prompto Argentum. This was revealed at E3 2016 and is not a separate product. Instead, it is considered "something extra."[8]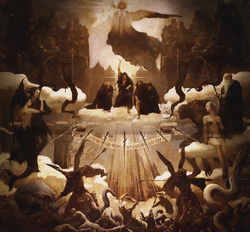 The world of Eos is comprised of three continents: Lucis, Accordo, and Niflheim. The northeastern land of Lucis possesses a powerful Crystal, which was gifted by the gods in antiquity to the reigning Caelum dynasty. Accordo, located in the south, is made up of islands and has been annexed by the Niflheim empire, which lies to the west and benefits from its advanced magitek technology. The province of Tenebrae is under Niflheim's control, but maintains some autonomy due to the presence of the Oracle, a priestess who has the power to fight the Starscourge, a plague that lengthens nights and turns people and animals into vicious daemons. Watching over Eos are the Astrals, divine beings that can appear in the mortal realm, usually as colossal and powerful beings.
For hundreds of years Lucis and Niflheim have been at war. While many lands have been lost to the empire, the Lucian capital of Insomnia remains untouched due to the Wall, a barrier maintained by the king and the Crystal's magic. Peace talks have begun in hopes of bringing an end to the conflict, one of the conditions being a marriage of Prince Noctis and Lady Lunafreya.
Characters
Edit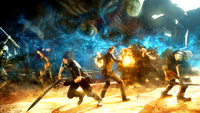 Playable character
Noctis Lucis Caelum - The main protagonist and sole playable character. A Lucian prince who must fulfill a great destiny.
Party members
Ignis Scientia - Noctis's royal adviser and longtime friend. A tactician and strategist who drives and cooks for his friends.
Gladiolus Amicitia - Noctis's bodyguard and longtime friend. A man sworn to protect the king at all costs.
Prompto Argentum - Noctis's friend from high school. A man of common birth determined to prove his worth.
Guests
The story of Final Fantasy XV focuses on war.[10] It also touches upon one's defiance of the will of divine beings.[11] When asked about the themes of Final Fantasy XV, Hajime Tabata stated the following:
The soundtrack of Final Fantasy XV is primarily composed by Yoko Shimomura, who is known for her contributions to the Kingdom Hearts series. Shimomura's pieces encompass themes of "friendship" and "filial bonds."[13]
Yoko Shimomura has been a part of the Final Fantasy XV staff since the days of Final Fantasy Versus XIII. Since she was initially hired to work on a spin-off title, Shimomura did not feel pressured to follow in the footsteps of other Final Fantasy composers. She had a clear concept for her music, thus she was not effected by the transition into Final Fantasy XV. The transition did mean new music had to be composed, however.[14]
The main theme of Final Fantasy XV, "Somnus," is performed by Aundréa L. Hopkins.[15]. The piece's title refers to Hypnos, the Roman god of sleep, in accordance with the logo.
"Omnis Lacrima" (which means every tear in Latin) is the boss theme. It is the second piece from the game's soundtrack to have been released to the public, and it is a bonus track on Yoko Shimomura's compilation album, memoria: The Very Best of Yoko Shimomura, which was released in 2014.[16] "Omnis Lacrima" is featured in three trailers: the DKΣ3713 trailer released in 2008, the Square Enix 1st Production Department Premier trailer released in 2011, and the gameplay trailer released at E3 2013.
A new piece from the soundtrack served as background music for the game's trailer from Tokyo Gameshow 2014. It was a collaboration between Yoko Shimomura and the Video Game Orchestra, a group that previously worked with Masashi Hamauzu during the production of the soundtrack of Lightning Returns: Final Fantasy XIII.[17]
At Uncovered: Final Fantasy XV, it was revealed a cover of "Stand By Me" by Florence + the Machine would serve as the theme song On August 12, 2016, a new single was released titled "Songs from Final Fantasy XV." It features "Stand By Me" and two new songs: "Too Much Is Never Enough" and "I Will Be."
On September 7, 2016, an hour long called "Final Fantasy XV Live at Abbey Road Studios" was live-streamed on YouTube and Twitch.
The Final Fantasy XV: Original Soundtrack was released on December 21, 2016. It can be purchased for ¥3,800, and it features 80 pieces that span four discs. For ¥5,000 the soundtrack can be obtained on Blu-ray.[18]
Development
Edit
Final Fantasy XV was originally titled "Final Fantasy Versus XIII." The game was directed by Tetsuya Nomura, part of the Fabula Nova Crystallis: Final Fantasy series, and intended to be playable on the PlayStation 3. When Final Fantasy Versus XIII was rebranded, its development team was reorganized. At E3 2013, it was announced the game, now called "Final Fantasy XV," would be for the PlayStation 4 and Xbox One. It operated on a new engine, and Hajime Tabata became its director. When these changes took effect, Final Fantasy Versus XIII was approximately 25% complete.[19] Given its new title, Square Enix had to decide how to preserve as many elements of the game as possible.
Final Fantasy XV operates using Square Enix's Luminous Studio engine. The game is meant to be a "fantasy based on reality," thus its look is derived primarily from present-day Earth. Cars seen in Final Fantasy XV resemble their real-world counterparts, and Roen was contacted to design the costumes of the game's characters. To design a more corporeal world, Square Enix looked to Final Fantasy VIII for inspiration; it added more fantastical elements to the conclusion of Final Fantasy XV in a similar fashion to Final Fantasy VII.
During the development of Final Fantasy XV, Square Enix staff went on trips in small groups. They explored caves, visited a zoo, and climbed mountains for research purposes. Creating a realistic fantasy proved challenging for developers, but they were able to get further inspiration from the depiction of 2015 from the film Back to the Future II.[20] This enabled staff to create locations that were both familiar and unfamiliar. Many of Square Enix's resources had to be allocated or outsourced; the company allowed the architecture surrounding its office in Kyoto to influence that which appears in Final Fantasy XV.[21]
The original scenario of Final Fantasy XV was written by Kazushige Nojima back when the game was still known as "Final Fantasy Versus XIII." This served as the basis of its new story, which is a "road trip adventure" focusing on brotherhood.
Square Enix aimed for Final Fantasy XV to be multi-regional; it was revealed on March 23, 2016 that the game would be the first in Final Fantasy history to be localized into Latin American Spanish and Brazilian Portuguese. In addition to the standard Japanese and English, Final Fantasy XV was also dubbed in German and French.[22]
On March 30, 2016, Square Enix hosted a promotional event called "Uncovered: Final Fantasy XV." Here, the company revealed the Final Fantasy XV Universe sub-franchise, as well as the initial release date of Final Fantasy XV: September 30, 2016. The game was later delayed until November 29.
While Final Fantasy XV is for the PlayStation 4 and Xbox One, Square Enix is considering a PC port.[23] In October, 2016, Hajime Tabata stated this would need to be better than the console versions of Final Fantasy XV, and it would take over a year to develop because Square Enix must adapt the game's engine.[24]
At E3 2013, Tetsuya Nomura discussed the possibility of Final Fantasy XV having sequels:
In a later interview at Japan Expo 2013, Nomura was more cautious when asked about this subject:
In an issue of Game Informer released on April 5, 2015 that focused on Final Fantasy XV, Hajime Tabata stated there are no plans to create sequels to the game.[27]
In March, 2016 at Uncovered: Final Fantasy XV, the Final Fantasy XV Universe sub-franchise was revealed. Square Enix has stated its purpose is to "expand the story and world of Final Fantasy XV to other media," as well as to eliminate the necessity for sequels.[28]
Final Fantasy XV was originally slated for release on September 30, 2016. The game was then delayed until November 29. The original date was prematurely leaked before Uncovered: Final Fantasy XV, at which it was subsequently revealed by Square Enix. According to Hajime Tabata, September 30 was chosen as the initial release date of Final Fantasy XV when he became the game's director in December, 2013.[29] On November 17, 2016, retailers in Peru began selling Final Fantasy XV twelve days in advance.[30]
For $59.99, players can purchase the "Day One Edition" of Final Fantasy XV, which includes the downloadable weapon "Masamune." Pre-order incentives for Xbox One users include the Noctis Special Outfit and Carbuncle pet. Those with a PlayStation 4 can obtain a dynamic theme.
For $89.99, players can purchase the "Deluxe Edition" of Final Fantasy XV, which includes Kingsglaive: Final Fantasy XV on Blu-ray and is packaged in a steelbook decorated with artwork by Yoshitaka Amano. Those who buy this version of Final Fantasy XV can also obtain the "Royal Raiment" costume for Noctis, "Masamune," and the Regalia's "Platinum Leviathan" skin.
30,000 players were able to purchase the "Ultimate Collector's Edition" of Final Fantasy XV for $269.99; this was exclusive to the Square Enix Online Store and included Kingsglaive: Final Fantasy XV and Brotherhood Final Fantasy XV on Blu-ray, a special soundtrack, a Play Arts Kai Noctis figurine, a 192-page art book, "Royal Raiment," "Masamune," and "Platinum Leviathan." Those who bought this version of Final Fantasy XV also received the "Travel Pack," "Camera Kit," "Angler Set," and "Gourmand Set." Given the demand for these units, Square Enix made more available, but restricted them to one copy per person.
American Express appears in Final Fantasy XV as a form of product placement. Those in Japan who obtained a new American Express Gold card or Business Gold Card before August 31, 2016 were able to receive a copy of Final Fantasy XV; the first 100 of these customers were also given a Play Arts Kai Noctis figurine. People who spent over ¥150,000 within three months were rewarded with a ¥10,000 gift card that featured one of five Final Fantasy XV-related designs.[31]
A special PlayStation 4 Slim has been released in honor of Final Fantasy XV. It depicts the moon. Currently, there are no plans to do this with the PlayStation 4 Pro.[32]
PlayStation 4 Pro support
Edit
As of version 1.05, the game supports the PlayStation 4 Pro. It features two new settings named "Lite Mode", which increases the frame rate to 60FPS, and "High Mode", which upscales the visuals to ultra HD 4K resolution.
Downloadable content
Edit
By purchasing a Season Pass, players can access downloadable content. Anyone who purchases this obtains the Gourmand Set, as well as guaranteed access to the following:
"Holiday Pack" (Free version available)[33]
"Booster Pack" (Free version available)[33]
"Episode Gladiolus"
"Episode Ignis"
"Episode Prompto"
"Multiplayer Expansion: Comrades"
The Holiday Pack was released on December 22, 2016. It contains a new outfit for Noctis, "Mog Choco T-Shirt," and carnival tickets that allow access to a special event that is held between January 24 and February 20, 2017. The Season Pass grants access to the Holiday Pack+, which features exclusive items and a second outfit for Noctis, "Carnival Style." All downloaded items are automatically added to the player's inventory upon installation, but the outfits can only be obtained during the event.
On January 24, 2017, all of the game's pre-order DLC was made available for purchase via the PlayStation Store and Xbox Live.
On January 31, 2017, Square Enix announced more details. The Booster Pack will be available on February 6, 2017, along with a Booster Pack+ version for players who purchased the Season Pass. The Booster Pack contains items, including a new outfit called the Magical Exosuit, which can make the party invincible for 30 minutes once every 24 hours. Episode Gladio will release on March 28, 2017, and Episode Prompto will release sometime in June 2017.[34]
The "day one patch" for Final Fantasy XV, dubbed "Crown Update," improves the game's camera so it is easier to track action that transpires in narrow areas. An Ascension tree has been implemented for Wait Mode, and Noctis can now use a "Monster Whistle" to summon enemies. Scenes from Kingsglaive: Final Fantasy XV and Omen have been added, as have galleries for obtained fish and recipes. Players can now upload the photos Prompto takes to Facebook and Twitter.[35]
Noctis can now perform certain actions inspired by Omen. Libra operates at a faster pace during Wait Mode, and the Wait Gauge can be replenished by defeating enemies. Noctis can now warp outside of battle and shop from the Regalia. Players can freely change field music, and they can access the main menu while the Regalia is in "Auto" mode. The screen now flashes red when Noctis is low on HP, several bugs have been fixed, and slight changes have been made to towns and the open world. Menu functionality has been improved, sidequest balance has been adjusted, and new fishing spots have been added.[5]
On December 21, 2016, the 1.03 patch for Final Fantasy XV was released. This adds a New Game Plus option and frames for the photos Prompto takes. Several bugs have been fixed, as have problems some players experienced with the game's display area. This patch lastly enables content from the Holiday Pack to be used. On January 24, 2017, the 1.04 patch added the Moogle Chocobo Carnival. The carnival ended on February 20 with the 1.05 patch, that also added selectable resolution options for PlayStation 4 Pro users, new limited-time quests and contests, increased the level cap from 99 to 120, enables players to store up to 200 photos from the original 150, lets the player listen to the in-game music player while riding a chocobo, and adds two tracks from the NieR series to the player. When first released, enemies defeated by summoning only yielded EXP to Noctis. After the 1.05 patch, every party member that has not fallen will gain the EXP as well.
On March 27, 2017, Square Enix released the 1.06 patch for the game. The patch adds a new playable segment in Chapter 13 named Verse 2: For King and Comrade, in which the player takes control of Gladiolus as he explores Zegnautus Keep with Ignis. The segment can be accessed through a choice at the start of Chapter 13, or from the Special section of the main menu if the player has already completed the game. Additional changes were made to Noctis's segment of Chapter 13, such as tweaks to the Ring of the Lucii and more cutscenes featuring Emperor Aldercapt and Ravus Nox Fleuret. The patch also removes some of the world's invisible walls allowing the player to explore more freely and collect newly-placed items that can be found atop previously inaccessible structures. Additionally, winning snapshots from Square Enix's photo contest have been added to the screens in Takka's Pit Stop at the Hammerhead, and the timed quest feature has been temporarily suspended. Patch 1.06 also makes the game compatible with the Episode Gladiolus DLC and adds two songs from it to the main game's music player.
Reception
Edit
Critical reception
Edit
According to Metacritic, Final Fantasy XV has a score of 81 out of 100.[36]
Commercial performance
Edit
Speaking with European press after Uncovered: Final Fantasy XV, Hajime Tabata stated Final Fantasy XV should sell 10,000,000 copies "to be a success". He then clarified to Famitsu this being merely his team's ultimate goal, and not the point where the game turns a profit.[37]
A half-hour after they were made available for pre-order, the 30,000 copies of Final Fantasy XV Ultimate Collector's Edition were sold out.[38] 10,000 more copies were produced, and they went on sale May 23, 2016.[39] When the next batch of Final Fantasy XV Ultimate Collector's Editions was made available in Europe, they were immediately sold out.
During an Active Time Report on April 21, 2016, it was announced Final Fantasy XV pre-orders were doing better in Japan than expected.[39] The next month, Square Enix CEO Yosuke Matsuda stated his company expected Final Fantasy XV to be its biggest FY2017/3 title, as it had already racked up an impressive amount of pre-orders worldwide.[40]
Two days after the game's official release Square Enix announced that the game had topped five million in worldwide shipment and digital sales. It broke the record for most first-day digital sales in Japan and saw a new record for the total of release date shipment and downloads in Asian regions excluding Japan.[41] The game recouped its development costs in the first 24 hours of its release.[42]
The game debuted in Japan with almost 700,000 copies sold (excluding digital sales). Director Hajime Tabata commented that the ration of sales between the Japan and overseas was "as expected", with sales in Japan being "pretty good" considering the situation of the local market, referring to the small hardware installed base in Japan.[43] Final Fantasy XV had the best console launch month in the US for the franchise. It was the best-selling title on PS4 for the month and the second best selling title for December overall.[44] On 10th January 2017 Square Enix publicized the game had shipped and sold digitally over six million units.[45]
Packaging artwork
Edit
Physical copies of Final Fantasy XV have reversible covers. One side features the game's logo on a plain background, while the other hosts a picture.
At E3 2016, the cover for North American versions of Final Fantasy XV was revealed. This was changed slightly upon release, and it was revealed Mat Kishimoto, the Senior Product Marketing Manager at Square Enix America, sent over 50 concepts for the cover artwork to the Business Division 2 art team for feedback before the final design was chosen. Takeshi Nozue, the director of Kingsglaive: Final Fantasy XV, also gave advice during this process.[46]
A live demo titled "Final Fantasy XV: The Overture was featured at Tokyo Game Show in 2014.[47] Another demo, Final Fantasy XV Episode Duscae, was made available to those who purchased Final Fantasy Type-0 HD. This was available for a limited time[48] and upgraded a short time later to Final Fantasy XV Episode Duscae 2.0.
Square Enix had planned a free version of Final Fantasy XV: The Overture.[49] It later revealed Platinum Demo – Final Fantasy XV at the Uncovered: Final Fantasy XV event in March, 2016. This featured an updated battle system, and it was made available until the end of 2016 due to fan demand.[50]
Throughout 2016, fans had other opportunities to try Final Fantasy XV. That summer at E3, they were able to battle the Astral Titan in the exclusive Trial of Titan demo. During an Active Time Report on November 10, 2016, Final Fantasy XV Judgment Disc was announced. Set for release on November 11, this demo allowed players to experience a portion of the first chapter of Final Fantasy XV. It was promised bugs found in Final Fantasy XV Judgment Disc would be fixed.[50]
Production credits
Edit
Voice cast
Edit
Scheduling conflicts and costs prevented the cast of Kingsglaive: Final Fantasy XV from reprising its roles in Final Fantasy XV.[56]
Allusions
Edit
Final Fantasy XV has many allusions to the Fabula Nova Crystallis: Final Fantasy series, the numbers 13 and 15, other Final Fantasy games, real-world locations and products, popular culture and folklore and mythologies.
There are many small details in Final Fantasy XV. For example, Noctis drinks coffee in a different fashion from his allies because he is a prince.[59]
In the Final Fantasy XV reveal trailer shown at E3 2013, Noctis uses a "Link Form" command to perform many complex actions.[60]
Final Fantasy XV is the first main-series Final Fantasy game since Final Fantasy IX to feature a party comprised of four characters.
Final Fantasy XV is essentially the conclusion of Square Enix's Fabula Nova Crystallis: Final Fantasy project. The game is part of its own sub-franchise and is only loosely connected to an overarching mythos.
Final Fantasy XV was released around the same time as the

CW Invasion crossover arc

. As a result, commercials for the game aired between episodes of The Flash, Arrow, and Legends of Tomorrow.
External links
Edit
References
Edit
Ad blocker interference detected!
Wikia is a free-to-use site that makes money from advertising. We have a modified experience for viewers using ad blockers

Wikia is not accessible if you've made further modifications. Remove the custom ad blocker rule(s) and the page will load as expected.